Friday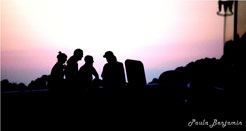 The festival was setup in a fashion where all you had to do was turnaround from one stage to the other to see the music, (ah finally no running from one stage to the other) which is a nice variation from other larger festivals. Adjacent to the stages the vendors and non-profit organizations were aplenty. The Boy Scouts selling delicious kettle corn, drumSTRONG drumming against cancer, Stick Boy Bread Co. serving up some scrumptious cinnamon rolls and Loose Lucy's selling some vibrant clothing are just to name a few. The festival also had a very nice children's area with very big inflatable bouncy playgrounds that I was so tempted to jump into but was shoed away because of my height and age. Boo!

We started the festival off with music from a fantastic Asheville band by the name of Now You See Them (Dulci Ellenberger - Melodica, Shane Conerty - Guitar, Jason Menser - Drum) who were on the main stage which was sponsored by Chaco.  Their seamless harmonies and funny storytelling keep me enthralled throughout the set. Even through Shane's 2 broken strings the band fascinated the crowd with their fun, quirky personalities. Sitting in on the set was Matt Williams on violin and Daniel Shearin on bass delivering a complete taste of the bands folky pop sound. Turning it up a notch for a couple of songs members of Holly Ghost Tent Revival sat in and blew it up literally! with Hank Widmer on trombone and another member on trumpet.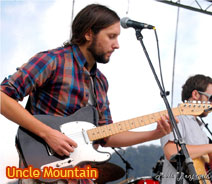 Up next on the 2nd stage which was sponsored by Footslogger of Boone was Uncle Mountain from Asheville where got another dose of Matt Williams and Daniel Shearin. Uncle Mountain consists of (Dan Shearin - Guitar, Marley Carroll - Keys/Percussion, Ryan Furstenberg - Guitar/Harmonica, Ryan Lassiter - Drums/Percussion - Matt Williams - Bass/Violin/Mandolin.) The feel of their music was a rocking folk sound with very interesting rhythmic chord progressions.  Getting a taste their debut CD "Salt Sweet and Memory Feet" left me wanting to see what they brought to the table in a live setting and they did not disappoint. Their live performance was much more lively and full of energy than their CD makes them out to be. Adding to the mix, friends Hank Widmer and Shane Conerty graced the stage with their take on a great song which I believe was called "Break Me Down."

The music never stopped, turning our chairs around it was time for Holly Ghost Tent Revival from Greensboro, NC.  A must see for any music enthusiast. These guys bring the heat with enthusiasm in full throttle.  The energy protruding from each band member radiated off the stage into the crowd who gladly lapped it up.  HGTR sound a bit like The Avett Brothers meets swing, these guys have the stage presence to keep anyone's attention for a whole set and beyond.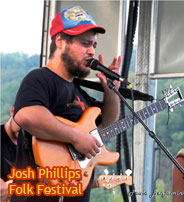 After such a great set it was time for one of my favorite local bands Josh Phillips Folk Festival yet another from Asheville, NC.  Josh is the quintessential essence of a great rocking folk lyricist. His music can move you with so much meaning and soul it's hard to walk away.  The set started off with a bang with "Come Smoke Some Hash with Me" His ability to capture a moment was on point.  Within the set Shane Conerty made another appearance on stage and raged the kazoo and ukulele. The highlight of the set was Josh's rendition of "Creep" by Radiohead, which was off the chain.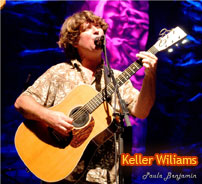 The 1st headliner of the night goes to the king of loop, Keller Williams.  His set list was pure heaven (Instrumental Jam > I Love California > Best Feeling Jam > All in my Mind > Franklin's Tower > Kidney in a Cooler > Uncle Disney > Sex & Candy > Boob Job > Freaker by the Speaker > Shakedown Street.) His set started off with a little feedback from his bass but soon it all came together seamlessly. "I Love California" soon became "I Love North Carolina" which got the crowd pumped up.  It is always nice to hear Keller's take on the Dead with Franklin's Tower and Shakedown.  While we are on the subject of covers I have to say he pulled off a very nice Marcy's Playground tune "Sex & Candy" as well.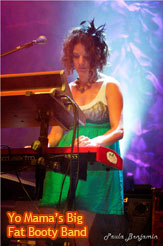 Adding to the excitement of the night was the 2nd headliner, Yo Mama's Big Fat Booty Band. The Booty Band set the bar to the top with their performance. It was probably one of the highest energy shows I have seen in a very long time. The band took the stage and from the get go I thought they were going to spontaneously combust with excitement.  The Booty Band consists of (Al Al Ingram - Bass, JP Miller - Guitar, Derik Johnson - Trombone, GB Hollowell - Saxophone, Mary Frances -Keys, Lee Alan - Drums.) Throughout the set Al Al with his bat wings attached jumped around so much I thought he might fly off into the crowd. The rest of the band also showed that much enthusiasm, with Derik jumping on the bass speakers and JP throwing his guitar all around his body while playing. The Booty Band was just finishing up their "doin' it hard tour" so to have that much energy after touring from Alaska to Seattle and back was mind blowing. The show ended on a good note but that was it for the night.  The authorities put the hammer down and told the promoters the noise ordinance took effect at 11pm.

Saturday
Today's music started off with a fusion of Indie rock with Doc Aquatic and Naked Gods. Both bands were not what I expected to wake up to but the raw sound of their music was enough to get me going.  Soon after, the Snake Oil Medicine Show gave us a show to remember. SOMS consist of (Caroline Pond - Ukulele/Violin, George Pond - Guitar, Andy Pond - Banjo, Jake Wolf - Bass, Billy Seawell - Drums.)  The music created by SOMS showed a positive feeling that the band members shared with the audience. The variously textured harmonies reached a plethora of genres such as rag-time, jazz, reggae, post-newgrass and a phenomenal instrumentation.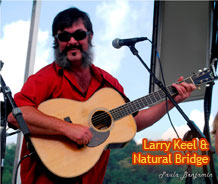 Later that day the music just seemed to get better and better with Larry Keel and the Natural Bridge sharing their fishin' and pickin' stories as well as downright good bluegrass.  The Natural Bridge was missing one key player on banjo, Jason Flournoy who I later learned left to pursue other musical interests. Taking his place was Shannon Wheeler on fiddle, a very nice addition indeed. The set was as expected bluegrass Larry Keel style and to add more love, Steve "Big Daddy" McMurry from Acoustic Syndicate graced the stage for one. The Bluegrass party didn't just stop there it continued with Acoustic Syndicate who took the main stage right after Larry.  AS brought the heat with so much complexity in their set (Long Way Round > Wake Up/Just As > Fleeting Moments > Easy to Slip > King for a Day > Sunlight Falls > Song for Me > Better for This > Carry the World >Skin it Back.) I loved the new tunes they brought out especially that "Song for Me." Billy Cardine sat in for the entire show on Dobro and Larry Keel came out for the last song. I think Billy was the icing on the cake for me, adding so much more depth the music.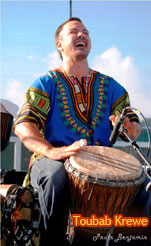 The world beat of Toubab Krewe took the Footslogger stage shortly after, keeping the Synchronicity between the two stages flawless.  Toubab Krewe is (Teal Brown - Drums, Drew Heller - Guitar/Soku, Justin Perkins - Ngoni/Kora/Guitar, David Pransky - Bass, Luke Quaranta - Percussion.) Their music is tough to generalize; Toubab's music crosses the boundaries of African traditions, acoustic funk and a catchy earthy. The set was one of the better Toubab shows I have seen. (Djarabi > Kaira > Makiama > Asheville to Abidjan > Konkoba > Masani Cisse > 51' Ladder > Hang Tan > Lamine's Tune > Cluck Old Hen > Sirens.) Larry Keel ended up sitting in for Lamine's Tune and Cluck Old Hen which was a very nice treat to see Toubab get down to some Bluegrass roots.  Their set seemed to take everyone by surprise with Justin's waling on the Kora which soon ended to one of the biggest applauses of the weekend which in turn gave us a great Sirens encore.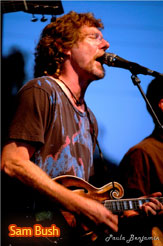 The 1st headliner of the night was Good ole Sam Bush.  I was so ready to see some Sam, I haven't seen him play since I think it was '04 Bonnaroo when his whole set was geared toward a full Bob Marley set when the power went out. So needless to say I was way overdue.  Sam started off playing the fiddle for 3 songs which was a nice change up.  Fiddlin' his way through "Howlin' at the Moon" was unbelievable to watch, it just shows the versatility that Sam Bush Possesses.  Big props for the rest of his band which was phenomenal as well, they happen to be up for the instrumental band of the year, making his drummer Chris Brown the first ever drummer to win that award, I see why now. The set went like this, (Mahavishnu Mountain Boys > Howlin' at the Moon > Puppies and Knapsacks > Roll On Buddy Roll On > On the Road > Circles Around Me > Out on the Ocean > The Ballad of String bean and Estelle > Blue Mountain > The River's Gonna Run > Bringin' In the Georgia Mail > Funk 55.) Damn! He can play that mandolin.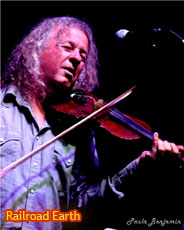 The 2nd headliner of the night was Railroad Earth. I have to say that it was probably the best set of RRE I have ever seen or heard. I couldn't believe my ears starting with the first 4 songs (Bird in a House > Lordy, Lordy > Mighty River > Head > Little Bit O' Me > 1759 > Happy Song > Seven Story Mountain > New Lee Highway Blues > Fiddlee.) "Bird in a House" being one of my favorite songs I was on the floor after hearing that.  All the songs they played were good but there was something else that night about their music. The songs were played with so much conviction and sincerity you could feel the passion steaming off the stage. I really wasn't that big of a fan, I mean I liked RRE but I was never head over heels about them.  Well that night changed my feelings forever, I was honestly moved and felt that feeling you get when your heart flutters and the hebby jebby's take effect. It was that good!

I look forward to coming to Boone in years to come and having the beautiful mountainous landscape overlook the music in every direction. A very well maintained festival made Music on the Mountaintop a fun filled family experience for everyone that attended.

- Brad Winecoff
- Photos by Paula Benjamin