HGMN vended the first Magnolia Music Festival there in October 1997 and we took the booth there as often as possible over the next 20 years. I've personally vended over 50 festivals there and always look forward to returning. So while the amazing music park was nothing new to me, it was my first time attending Hulaween and also my first time sans vending booth at the park. That's right - nothing to do but take in as much music and camaraderie as possible!
The HGMN team rolled into Live Oak on Thursday so we could be on hand for Hulaween's "Pre-party". Most fests pre-parties are merely a warm up for things to come, easing you into the weekend. The lineup for this pre-party was better than the majority of entire festivals that took place this year. Umphrey's McGee, Lettuce, Joe Russo's Almost Dead, Greensky Bluegrass, The Devil Makes Three - just to name a few.  Wowza!
We arrived just in time to see The Nth Power rock the Amphitheater Stage. I'd been wanting to see this band for months. For this set they were a lean and mean power trio that sounded way bigger than their footprint. Their music is powerful and positive - striving to shine the light onto issues that need our attention.  Singer/guitarist Nick Cassarino yells "Fuck Trump!" just before laying into "Truth" the first single from their latest album, released last winter our Harmonized Records label.
TRUTH exists all around You
Don't Believe what they spit at You
They don't want you to know Love
They don't want you to know that You are Strong
They don't want you to look Above
They don't want you to Know that You Belong
From The Nth Power - Live: To Be Free (go listen now!). 
Check out this clip of "Take My Soul" that went live via the HGMN Facebook page.
After setting up camp and attending a spaghetti dinner social with friends, we made it back in for some serious funk from Lettuce.  A band that were regulars at the park during the Bear Creek Festival era.  It was great to experience them on the Amphitheater Stage once again. For their Thursday set they played lots of their classics - it was an epic dance party!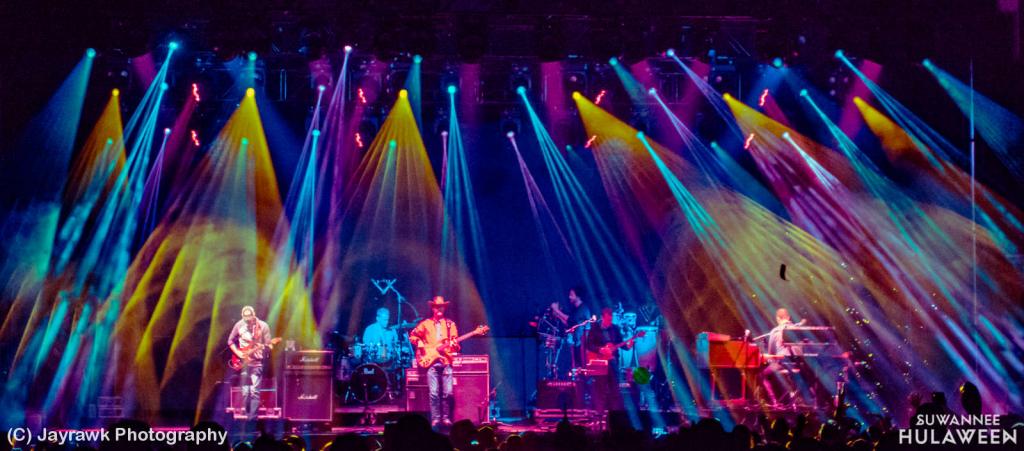 After Lettuce the horde of music fans headed to The Patch to see Umphrey's McGee. As usual, UM brought the fire! Highlights included 40s Theme, Wappy Sprayberry>All In Time from the first set and the second set had a Day Nurse sandwich that contained Pink Floyd's "Shine on You Crazy Diamond"!  Such an impressive band, complemented by an amazing light show helmed by Jefferson Waful. Check out the full show here.
Also performing two sets at the Thursday night Pre-party were the amazing all-star group, Joe Russo's Almost Dead (aka JRAD). The members of the band have performed in many groups that are were are very familiar with here at HGMN (Furthur, Fat Mama, Brother's Past, Benevento/Russo Duo, Ween etc).  They are taking the Grateful Dead catalog and infusing it with their virtuosic energy, often taking those songs to places never before imagined. It can be quite a psychedelic experience! Their setlist: Alligator, Rubin & Cherise, Throwing Stones, Ramble on Rose, Feel Like a Stranger>Jam>Bird Song>Truckin'>Space>Truckin'>Bird Song>Truckin'>Mississippi Half-Step Uptown Toodeloo, Playing in the Band, The Other One, Shakedown Street.
Greensky Bluegrass provided more great late-night action out on the Spirit Lake Stage.  I went out to hear the band (and did) but also had to spend some time wandering through all the amazing art installations around the lake. Hulaween certainly knows how to entertain all the senses. I wish I had another whole week just to spend exploring these installations - many of which are interactive.  Anders Beck told a story of an EDM fan he met earlier in the day that had discovered Greensky Bluegrass by accident at last year's Hulaween and fell in love with the band. They dedicated a "breakdown" to him that segued into a dark "Bring Out Your Dead". Our buddy Rex Thompson at Live For Live Music captured it on video here.  Tom Hamilton from JRAD came out and sat in on a rousing finale of Handle With Care.
FRIDAY
Dumpstaphunk kicked things off on The Meadow on Friday. At times I could swear Ivan Neville was channeling Headhunters era Herbie Hancock. With two great bassist in the band it doubles up the good fat that goes straight to your bottom - shake it!
The Nth Power returned to The Amphitheater stage for a Tribute to Bob Marley set. For this set the trio added two keyboards, backup singers and another guitar player. This set featuring Marley classics was a lot of fun and had the audience of thousands singing along.  Get Up, Stand Up, Don't Give Up the Fight!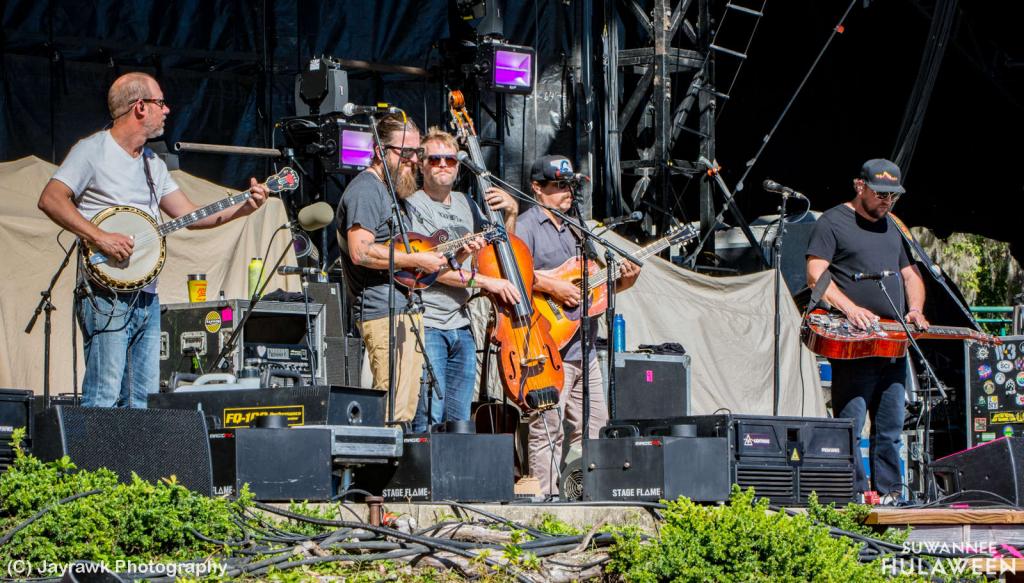 Greensky Bluegrass at The Meadow was next and it was perfect music for a perfect afternoon. Songs included: Dustbowl Overture, Run or Die, Room Without a Roof, Jaywalking> Gumboots, Past My Prime, Don't Lie, While Waiting, Miss September, Worried About the Weather
Mike Gordon and his band (Scott Murawski, Craig Myers, Robert Walter & John Kimock) were joined by two guest females: Emily Elbert on vocals/guitar and Madi Diaz on vocals/keys. A highlight was the band's cover of Aerosmith's "Sweet Emotion". The set often touched on a nice reggae groove - a good place to showcase Gordon's low end skills. Check out this video of Yarmouth Road (which also includes some great talk-box action from Murawski).
The Benevento Russo Duo was conveniently scheduled on the same stage shortly after Mike Gordon. The promoters had some foresight there prompting a reunion of the famed Duo w/Mike Gordon tours from circa 2005. Gordon sat in on the encore "Scratchitti" - apparently it had been eleven years since they last played it together.  https://www.youtube.com/watch?v=akgxAEjaRww.
The String Cheese Incident took up residence on The Meadow stage for the first two of their seven sets of the weekend. These sets included a lot of genre hopping including bluegrass, funk, rock and electronica.  The "Collaboration Jam" encore was a collaboration with the players and dancers from Beats Antique.
Set One: Colorado Bluebird Sky, Search, Valley of the Jig, These Waves, Djibouti Bump, Rhythm of the Road, Sirens, Nothing But Flowers
Set Two: Howard, Close Your Eyes, Black Clouds, Sweet Spot, Wake Up, Way Back Home, Beautiful
Encore: Collaboration Jam
Lettuce and The New Mastersounds brought more sets of funky greatness to wrap up our Friday. Wow what a day!
SATURDAY
BIG Something kicked off Saturday with a BIG Bang! Kudos to the band for embracing the spirit of Hulaween and performing in costumes and with a themed set of "Insane Assylum" songs. They are no stranger for these sorts of antics, having hosted their own epic Costume Ball every year since the band's inception (except this year, where they brought it to Hulaween instead). They mixed select covers into the set to play on the theme, including: "Insane in the Brain" by Cypress Hill, "Let's Go Crazy" by Prince, "I Wanna Be Sedated" by The Ramones and "Psycho Killer" by the Talking Heads. Those last two were debuts - the band had never played them prior. Here's a video our good friend Lee Fishburne shot of Psycho Killer (hey, that's me pointing at the camera at 1:31).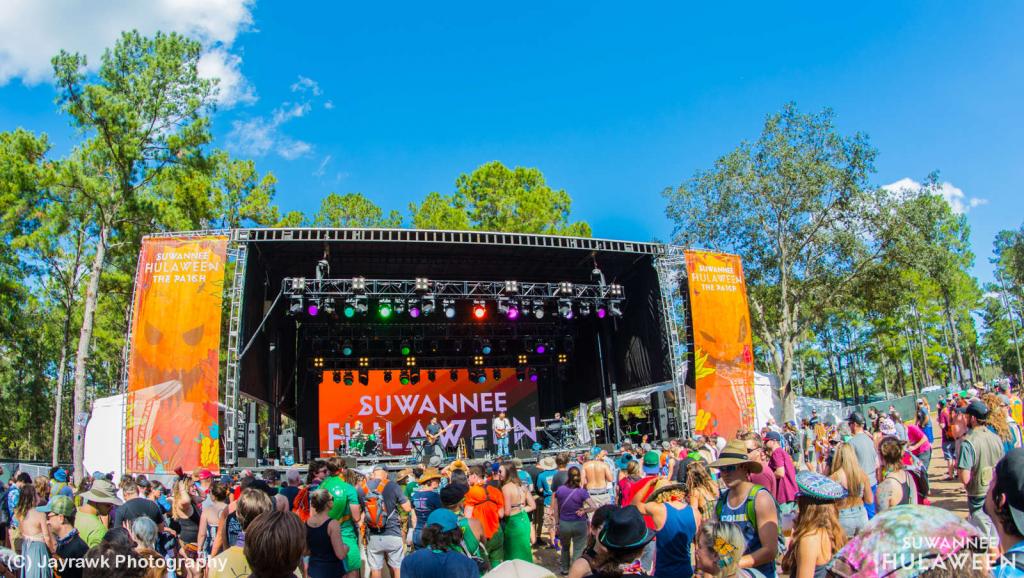 Perpetual Groove is perhaps at the best form of their career. After some lineup changes and a several year hiatus, the original quartet regrouped last year and has been sounding better than ever. The band found their groove soon after some sound issues had been addressed. The set included: It Starts Where it Ends, Space Paranoids, Robot Waltz,  Golden Path, Stealy Man, and Sweet Oblivious Antidote was an energetic finale (the title track from their first CD).
The String Cheese Incident performed three sets! It was nice to settle into one spot for a few hours after walking many miles throughout the weekend to experience all the other musical awesomeness.  During set two, they did "You Wreck Me" a tribute to the recently departed Tom Petty.  Pedal steel phenom Roosevelt Collier joined in during "Outside Inside", and sax wizard Kamasi Washington sat in for "Bumpin' Reel". Set three was they're "Night of the Loving Dead" theme set and included all covers based on that theme. Many extra musicians joined the party including a horn section and backup singers.The production was also on point - large images of Frankenstein and the Bride of Frankenstein were raised over the stage. At one point dozens of large heart shaped light-up balloons were sent into the crowd. Later, a massive amount of confetti was released. There were pyrotechnics! We were all feeling the LOVE for sure - such a great theme.  Here's the complete setlists:
Believe, One Step Closer, Sometimes A River, Falling Through The Cracks, Give Me The Love, Can't Wait Another Day, Joyful Sound, Rumble
Let's Go Outside, Rollover, Song In My Head, You Wreck Me, Outside and Inside, Bumpin' Reel
Love Rollercoaster (Ohio Players), Did I Hear You Say You Love Me (Stevie Wonder), Love and Happiness (Al Green), Higher and Higher (Jackie Wilson), I Think I'm In Love(Beck)>The Power Of Love(Huey Lewis)> If You Love Somebody Set Them Free(Sting)> Is This Love(Bob Marley), Turn On Your Love Light(Bobby Blue Bland), Let Love Rule(Lenny Kravitz), What I Got(Sublime)>Crazy In Love(Beyonce)> Whole Lotta Love(Led Zeppelin), Encore: All You Need Is Love(The Beatles)
Damien "Jr Gong" Marley performed a fiery set of reggae and dancehall. A fine way to bring the main stage to a close. He even returned to the "love" theme of the day performing his father's anthem "Could You Be Loved."
SUNDAY
Having seen TAUK multiple times this year (love those guys) - I opted for the much rarer appearance of the Jerry Douglas Band. Many tough decisions like this had to be made throughout the weekend. There were many bands on my list to see that just couldn't happen without a couple of clones.  Douglas is the best dobro player alive - I don't think anybody would dispute this (not even Anders Beck from Greensky - who is also high up on that list). He is music royalty and I'm glad I got to enjoy his band on this sunny crispy cool and breezy fall afternoon. While they did some bluegrass - I think a better categorization of JDB would be Progressive Americana. Acoustic music lovers should seek out this music.
Cadillac Jones rarely tours and it had been many years since I last had a chance to see them. So I made sure not to miss this set! They do super groovy instrumental jazz-funk so well. Bassman "Hutch" is very animated and fun to watch. They played tracks from their entire catalog including a great "Inverted Jenny" from their latest LP Cabin Fever.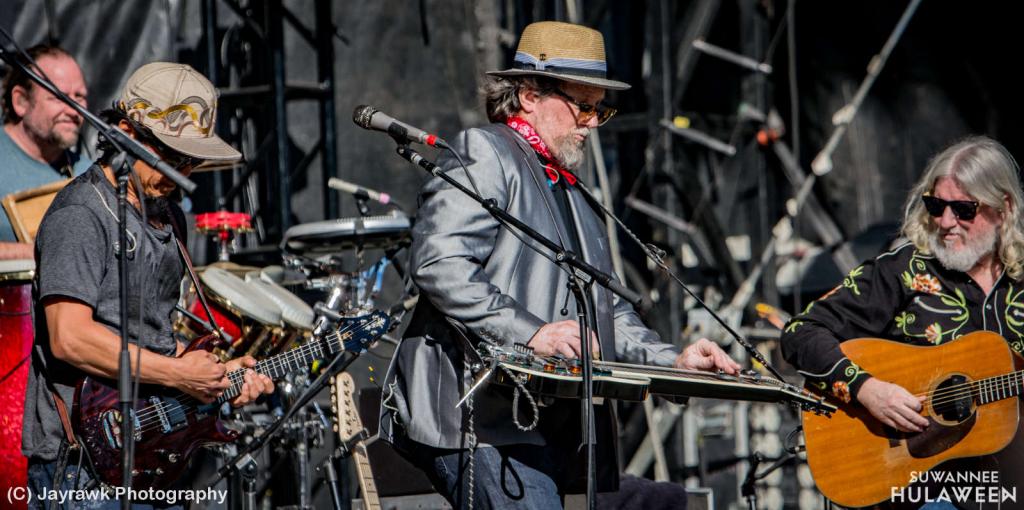 The String Cheese Incident played two more sets on Sunday! A highlight for me was when they brought out Jerry Douglas and several members of his band for a great version of Weather Report's "Birdland"!
SET 1 Born On The Wrong Planet, Mouna Bowa, Get Tight, Don't It Make You Wanna Dance, Freedom Jazz Dance, High On A Mountain Top, My One And Only, Birdland > Wheel Hoss > Birdland
SET 2 Dirk, Restless Wind, Hi Ho No Show, Hotel Window, Colliding, 'Round The Wheel, Just One Story
Lotus is always on my must-see list. Glad I didn't miss this one. Beautiful set from one of the best livetronica/post-rock acts ever. The audience was in pure bliss - some even moved to tears. Setlist: Spiritualize, Sid > Sunrain, Whitelight Fadeaway, Nematode, Gilded Age, Greet The Mind, Age of Inexperience
Caught a bit of Moon Taxi at Spirit Lake while on the way to see Here Come The Mummies at the Campground stage. Having seen a bit of footage of the Mummies - I was intrigued. This set ended up being one of the most fun of the weekend! The entire band was in head-to-toe mummy attire, but that didn't slow them down one bit. They played one hell of a funky, raucous set that included a great deal of choreography and a healthy dose of humor.  For a group of undead guys, they sure are a lively bunch! I could see these guys becoming Hulaween regulars - they certainly have the Halloween vibe going for them.
What a fantastic way to wrap up the 2017 festival season. You should make plans to attend in the future. Don't wait too late to get tickets - this one sold out in advance.  If they keep the talent, art and vibe on this level I'm willing to wager future Hulaween's will as well.
- Lee Crumpton
- photos by Justin Barnett