Words: Margaret McNab
Photos: Elisabeth Vitale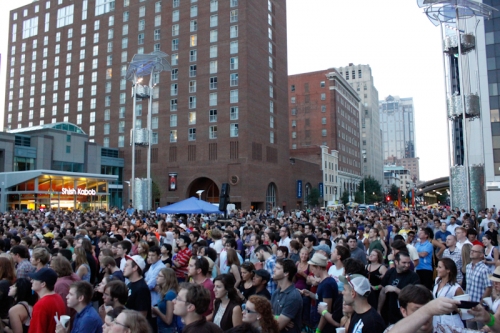 The inaugural Hopscotch Music Festival, hosted in Raleigh, NC went off without a hitch. The Independent Weekly set about launching a festival of national proportions: three nights of programming at ten clubs featuring a nice balance of national acts and local favorities. An ambitious undertaking indeed. All told, the well-hyped festival was a raging success, a testament to the potential of this North Carolina community and hopefully, a taste of things to come.
THURSDAY, DAY ONE: The Very Beginning

The weekend of festival goodness kicked off with local record label, 307 Knox's, Day Party at King's. With a stroke of luck I scored a fantastic parking space and was able to catch the tail end of Gray Young. They played for an eager crowd of day drinkers. I'll be sure to stay tuned for the release of their fall 2010 album, Staysail. The band opened for Best Coast, The Cults and Collection of Colonies of Bees later that evening at Tir Na Nog. The venue was at capacity early so I was unable to catch any of the line-up. This is the first of many shows I regret having missed... North Elementary followed up Gray Young at the Knox party. Gray Young's John Harrison closed out the party and set the tone for a fantastic evening of music.
The break between day shows and Hopscotch festival shows presented an opportunity to get my bearings in downtown Raleigh. All in all not a terribly difficult city to master but hey, I'm not so good at reading maps but I'm great at getting lost so why not be prepared?
At the stroke of 9:30 I headed over to The Hive to catch Raleigh locals, Old Bricks. Like seemingly every venue in town, The Hive was nearly packed to capacity. I'd heard great things about Old Bricks but wasn't able to get a good listen until I stepped onto the back deck where the outside speakers filtered out the majority of the reverb. I found Old Bricks' vocals reminded me of Connor Oberst, while the instrumentation exists somewhere in the vein of Department of Eagles. A post- Hopscotch visit to their Myspace confirms it... I dig these guys.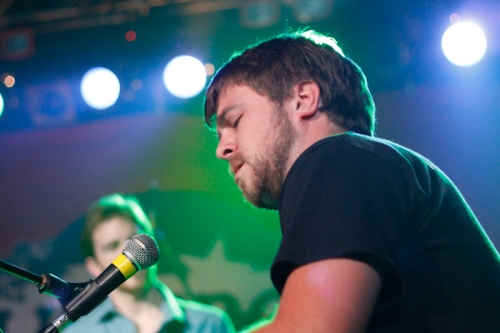 From there we rolled over to the Lincoln Theater to catch another local act, American Aquarium. I'm a sucker for the pedal steel and thick Southern accents so I made my way to the stage to get a load of these seven dudes. After a few songs I found myself thinking of Lucinda Williams. I'm all for a future collaboration if that should ever present itself as a possibility. And it probably should.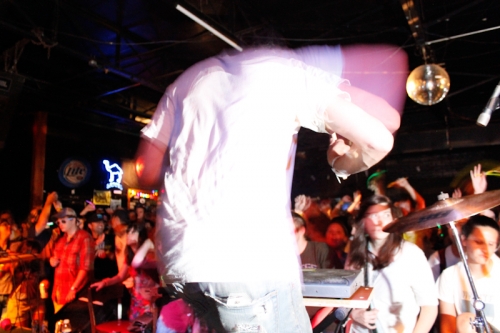 After catching the first half of American Aquarium, it was time to head out to the Berkeley Cafe for Javelin and Future Islands. The line curved around the block but with a flash of our VIP bands, which guaranteed priority access, and much to the chagrin of those waiting at the front of the line - who were, incidentally, friends of mine - we were in. What can I say? Javelin brings the party. The duo pumped out quirky electro-pop that had the crowd moving. A Javelin recording just cannot compete with their live show. They're engaging, dynamic and command the stage; a surprise when you take into account the fact that it's two dudes: one on guitar, the other on a drum machine and cymbals. This was easily one of my favorite shows of the entire weekend.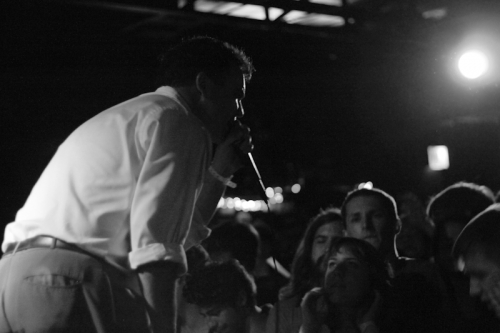 Raleigh Natives, Future Islands followed up Javelin at Berkeley. While I am familiar with their music, I had certainly never seen them live. Their presence is highly theatrical which is to be expected given their new-wave roots, I suppose. Lead singer, Sam Herring's robust voice brings the drama to catchy, simply orchestrated melodies: all in all, a great performance.
After a good twelve hours of music I was ready to head home and eager for another two days of Hopscotch. I, inevitably, got lost on my way home from Raleigh which was totally not awesome and added the better part of an hour to my drive.... I'd be staying in Raleigh the next two nights.
FRIDAY, DAY TWO: Return to Hopscotch

Friend Island, a day party presented by Portland, OR based record label, Hometapes, provided both our first musical experience of the day and a decadent breakfast of coffee and Pop-Tarts. Sated on sugar and caffeine we were treated to Milwaukee, WI's Collections of Colonies of Bees. These guys are completely engaging and entirely special - I could go on for days. So instead, I'll just INSIST you click on the link, give them a listen, buy the record and brace yourself for the next time they come through your town.
After ducking through the Friend Island crowd at the Pour House, I made my way over to Troika Music Festival's day party at King's. There was a great show of support for Troika, a yearly celebration of local music hosted in nearby Durham, NC. Bellafea was just finishing their set when I arrived. I was only able to catch their last two songs but I look forward to seeing them and feasting my eyes on lead singer/guitarist, Heather McEntire again in the near future.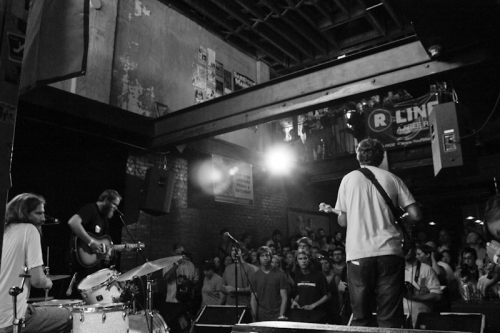 From the Troika party it was back to Friend Island for Megafaun. This show tops my list of best day show performances. If you haven't heard of them, shame on you. I wasn't able to make their all night monster jam at King's on Saturday and have caught nothing but grief for missing it. Apparently one of the most captivating shows of the weekend. Their mini-album Heretofore was released Tuesday, September 14th - a fitting follow up to a blow out weekend.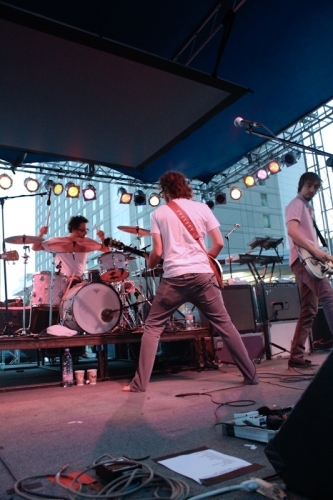 With the day shows wrapped up, we took a quick dinner break and listened to The Rosebuds off in the distance. The buildings lining Fayetteville Street channeled the sound straight from City Plaza to our outside table; it almost felt like we were in on The Rosebuds experience as well. Almost. Broken Social Scene took the stage as I made my way past security.  I had expected the City Plaza shows to be packed but there was only a modest showing for the enormous outside space. I wasn't blown away by Broken Social Scene.  That may have been more of a reflection of the venue than the band. I found a number of the performances on the main stage at City Plaza were a bit lackluster; some of these shows would have translated better in the more intimate club settings.  That said, Broken Social Scene did give their Hopscotch audience a good taste of their new material while also drawing some favorites from their catalogue.  The four-piece horn section was certainly a highlight of the show. Moving on...

Panda Bear was up next. The sun was setting as he began to play and the visuals accompaniment made for an ambient evening of electronic music. After staying for the majority of his set we moved on to Lincoln Theater for 9th Wonder where a host of MCs including Actual Proof and Raekwon would be taking the mike. The room was relatively empty, easily the sparsest crowd I witnessed all weekend. I imagine things picked up late night but I really have no idea. Nobody at the venue seemed to know the plan for the evening much less who was on stage at that moment. We could see a number of folks lurking backstage but after twenty decidedly low-key minutes we moved on.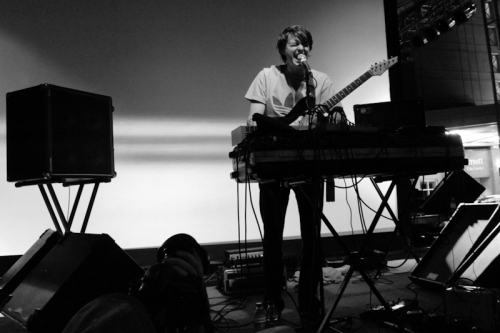 After being briefly lured by the distant sound of the lap steal into Luego at Deep South we bounced into King's for Ben Frost and Atlas Sound. I had no expectations for this show and no frame of reference for the music other than a friend's recommendation: "it's dark, man." I'd happened to share a drink with Frost earlier in the day and was intrigued to learn that he'd been selected for a year of mentorship under Brian Eno. I was totally down to check it out. Ben Frost's set up was similar to Panda Bears: one man, guitar, electronics; the music is altogether something else. The bass hit me somewhere in the stomach, rattled my ribcage and landed somewhere in my sternum. It was like having someone mix the soundtrack to a dark, disturbing vampire movie on my face. Uh, whoa. This packed out crowd was undeniably heavy on the dudes, light on the women. I took the whole scene as
my cue to step downstairs for a drink while I waited for Atlas Sound.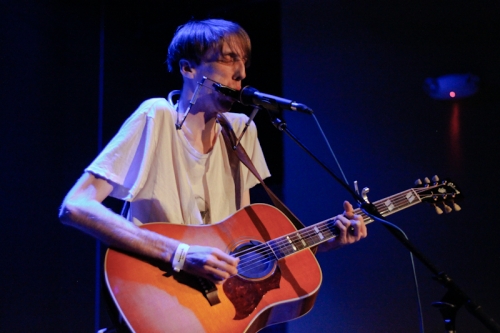 Two drinks later, I climbed the stairs back to King's to embrace the final act of the evening, Atlas Sound. Spellbinding is the word that comes to mind. This was my favorite show of the evening and a fantastic note to end the evening on. His stage presence is unassuming but each song took the audience on an emotive journey. I'd see him again in a heartbeat.
So ends the second night of Hopscotch. With aching feet we hoofed it to a friends house where I would log just four hours of sleep before hitting the streets of Raleigh in the morning. I doubt that anyone who attended all three days of the festival got much rest judging by the general air of slap-happiness by the third and final day.
SATURDAY, DAY THREE: Hopscotch, no! Please don't go!

The third and final day of Hopscotch was a whirlwind of music, spotty weather, elation and exhaustion. I nearly crippled myself in what seemed to be sensible flats at the outset of the festival. By the end I was cursing their ever-loving yellow suede uppers while hobbling from venue to after-party to breakfast. I'd missed seeing Sharon Van Etten at the Pour House on Thursday so my first stop of the day was Trekky Records' day party. For a midday show, the room was nearly at capacity. Van Etten's voice lilted through the crowd, bittersweet and dreamy. Gracious and gritty, Sharon Van Etten is absolutely charming both onstage and off. Do yourself a favor and give her a listen.
Upon leaving Trekky's party we stepped next door to check in on another local record label party. Churchkey Records' favorite, Hammer No More The Fingers, was setting up in Tir Na Nog. Unfortunately, not fast enough to prevent me from getting talked into an afternoon Long Island Iced Tea. Foolish, foolish girl. HNMTF was just as solid as ever and why wouldn't they be? They've been playing together since they were ten or something like that. I look forward to seeing much, much more from these fellas in Durham.

Back at City Plaza, The Love Language was well into their set. It was apparent that performing on the main stage of Raleigh's first ever Hopscotch festival was a very special honor. They put on a fantastic performance for their hometown crowd - engaging the audience between each song. They were able to pull off a very intimate show in spite of the size of the outside venue - this was probably the most successful show I saw on the main stage. The band left for two months of tour dates the following day. No Age followed up The Love Language. Technical problems slowed up their set. Guitars cut in and out and the sound itself was just... off. Tough break; I'll reserve my opinions of these guys for another time.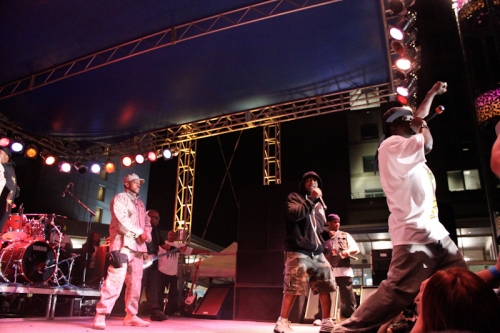 A long break followed No Age as Public Enemy was preparing to take the stage. Photographer Liz Vitale and I took this opportunity to decompress in the media lounge. And by "decompress" I mean we were all splayed out in what appeared to have been a blow up kiddie pool dressed up as a couch. Public Enemy's hype man stopped by for a laugh at our expense and some quick banter before we all headed back to City Plaza. Public Enemy's set was extraordinarily tight. They are both musicians and entertainers, that magical combination that lends itself to long careers and mainstream celebrity. It had been threatening to rain for most of the day and the drizzle set in midway through Public Enemy's set. They kept the energy high and expertly engaged the crowd. Flava Flav took several time-outs to endorse his various side projects including everything from reality TV to an upcoming book to a line alcoholic beverages (Chateau la Flav being my favorite). It was a rare experience to witness Chuck D, Flava Flav and Public Enemy - one that I will not soon forget.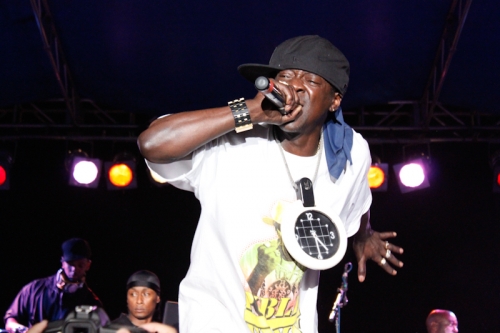 We sought refuge from the rain at Juan Huevos at The Hive. Juan Heuvos served up his brand of fun electro-hip hop backed with visuals by Jessye McDowell. Check out their collaboration here (http://vimeo.com/14946516) - this dude is a trip. From Juan Huevos we ducked into Bear in Heaven at the Lincoln Theater. I absolutely love this band. I adore their 2009 release Beast Rest Forth Mouth. They're unbelievable live and were they were on top of their game at Hopscotch. Check them out - this matter is urgent.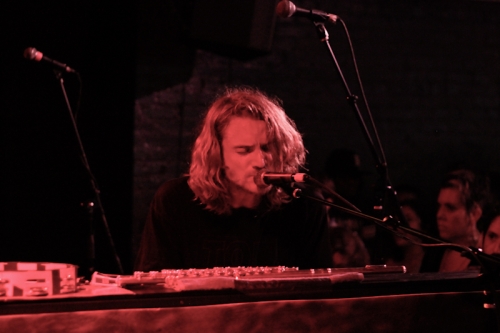 Our next stop was Dungen. By this point, we were dashing from venue to venue, fortunately, we were able to make it into each show with ease in spite of the large crowds. This was my first experience with Dungen. I was definitely feeling it - Swedish psychedelic rock suits me just fine. 

In my estimation, the first ever Hopscotch was a raging success. There was a palpable feeling of community throughout the weekend and a generosity of spirit and support that is rare to find at large, established festivals. Hats off to Grayson Currin and Greg Lowenhagen of the Indy for organizing this event. 'Til next year....