Although marquee, big-name events like Jamcruise, Bear Creek, and others receive the lion's share of the press when it comes to the festival "scene," I've always had more fun at smaller festivals.  In these types of scenarios, the properties tend to be more manageable, easier to navigate, and not choked with every last social group on Earth.  With that parameter in mind, I found myself greatly anticipating this past weekend in Prospect Hill, North Carolina, where I would be attending the annual "Groove in the Holler."  The event started Friday afternoon, but I wasn't able to get on the festival grounds until midway through Moon Water's set, which was somewhere in the 9:00 hour.  After maneuvering my way through the masses toward the bonfire, my dear friends Caitlin and Megan find me, and the evening is off to a smashing start.  The evening is cool, but not cold, so the bonfire provides an excellent dose of warmth and camaraderie, and I settle in there for the long haul.
Funkuponya takes the stage next, and delivers another set of their trademark, ridiculous jazz-fusion funk.  Leo Kishore offers his expert chops on bass, while guitarist Doug Carter and keyboardist Brian Werner shine in their own right.  In what would be a characteristic of the whole weekend, guitarist Keith Allen (of the Mantras) joined the band for a spirited display of guitar ferocity.  I enjoy Funkuponya's excellent set, my campfire buzz, and the spirited conversation of lovely ladies.  Greensboro's own Brand New Life delivers a sonically aggressive set, featuring excellent horn play from Casey Cranford, Walter Fancourt, and lots of other sit-ins.  After receiving warm applause from a well-lubricated, fiercely enthusiastic crowd, Brand New Life proves to be a spirited introduction for Actual Proof, who rocked the Holler until the early morning...  As the set concludes, I can feel the long day in my bones, and make my way up the hill towards the tent, ready for some slumber.
Rain and fierce tornados had been all the recent talk on the Weather Channel, and the early morning light comes at us with a solid dose of rain.  Megan looks at me and suggests we wander up the hill, and seek solace in her SUV for the pending weather.  We are still somewhat spent from the night before, so we fall out quickly.  We wake two hours later to the clicking, unnerving tap of hailstones, and Megan proclaims that we may just Die... I assure her that will not be the case, and the frantic storm exits quickly.  We are unaware that tornados are rumbling through the Tar Heel state, causing countless deaths and damage.  I can't see music until I've recovered, so I miss the early sets of the day.  However, once the rain has concluded, the inspiring tunes of Mac and Juice prove to be a welcoming boon to my spirits, and my mood.  This is going to be a lovely night, and Mac and Juice, with their cerebral mix of covers and folk songs offer a heartfelt punch to start the day off.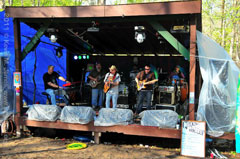 The kind folks in Downhome Groove offered a great set, and I was thrilled, as Nick and Tyla Olson are good friends and even better people.  Greensboro's Electric Soul Pandemic takes the stage, and delivers an enthusiastic dose of jam-driven funk and rock.  I've seen the guys in ESP several times recently, and am old friends with J-Bird, who plays keys and sings for them.  They deliver a top-notch set, and I find myself proud of my hometown friends.  As is the case throughout the weekend, all of these sets were filled with sit-ins and crossovers, providing an excellent weekend of musical cross-pollination.  In these sorts of smaller festivals, such collaborations are typical, and establish a spirit of harmony amongst the musicians and festival goers.
Now that dark is approaching, dinners are consumed, and people are settling in for a cool night in the Holler.  The storms have rolled through, but they thankfully did not destroy the property or convert it into a Woodstock-ian mud field.  It's a bit chillier tonight, so I know I'll be huddling even closer to the fire.  I witness some great sets all weekend, and enjoyed the sets of Wax Planet and Big Daddy Love as the night settled in.  Crowd favorites, Big Something, contributed an excellent, nearly 2 hour set, featuring a first time played version of Phish's "Possum," and other excellent songs.  I have found myself especially enjoying tracks like "Illuminated" and "The Glow" recently, and they contribute two excellent versions.  I enjoy another round of scintillating conversations, the smiles of lovely festivarians, and manage to hug all of my awesome friends left and right.  Fire-dancers and fire-cannons blast through the periphery of "My Volcano" and back rubs and head scratches become frequent around the campfire.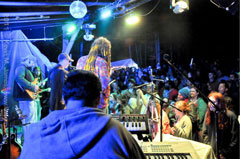 Big Something concludes their energetic set, and they yield the stage to an up and coming player in the late night jam scene, Boone's own The Native Sway.  I've seen the Sway a few times over the last few months, and find myself warming to their sound more and more with each listen.  They explode out of the gates with a dose of guitar driven, cranium crunching rock.  They play until nearly 5 in the morning, and never noodle mindlessly, or without purpose.  It was the perfect sort of muscular bravado that I needed, and I enjoyed the Native Sway set more than I ever had before.  Keith Allen, as the featured "Artist at Large" for the weekend, and Brent Vaughn, percussionist from the Mantras, sit in with Native Sway for the last portion of the set.  In paying homage to the Mantras (which had 5 members in attendance at various points throughout the weekend), the Native Sway rips into a feverish rendition of "Jabberwocky, Possum Holler Edition" as their set nears its end.  Once the musical entertainment for the night has concluded, a late night drum circle develops, but I feel drawn to the Explorer and the relief of golden slumber.  I make my way through the dark, find my way "home" and enjoy the warmth of the SUV.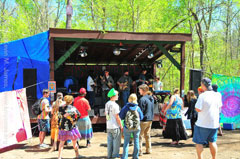 I wake up the next day, and enjoy the sunlight, and the brightness of a new day.  Everyone wandering around the campground seems to be in a special mood, and I feel it myself.  I make small talk with everyone, gush like a madman at my friends, and enjoy a wonderful day in the Holler.  I can't stay for all of ATV's 11 am set (featuring Keith Allen, Brian Tyndall, Brent Vaughn, and Justin Powell from the Mantras), but Megan and I get a few tracks in before we have to head down the road, back to our lives in Greensboro.  I say goodbye to my Festival Boss, KiKi, and head back to Greensboro, reflecting on the glow of a particularly jubilant, fun festival.  Now THAT is how you do it.
In reviewing Groove in the Holler, it really was a special, wonderful event.  The event was marked by a distinctly "rowdy" vibe, yet everyone was personable, and looked out for "family."  Such conglomerations of people have to be rare, but also must surely be appreciated.  Where can you let your Freak Flag fly as High, as you can at a place like Groove in the Holler?  For me, that's very charming.  I'm surely looking forward to next year.  I bet everyone who was there feels the same.
Article by: J. Evan Wade
Photos by: Kevin M. James