Nestled peacefully on the Blue Ridge Parkway near Floyd, VA this festival has endured the test of time and has brought glorified happiness to thousands.
Wednesday
Driving along the Blue Ridge Parkway was as serene as it has ever has been, beautiful green pastures with over-sized bales of hay and the occasional deer grazing in the distance blanketed the landscape. The feeling of being on top of the world engulfed me as we entered the venue. Check in was easy without hassle until we pulled in and were told that we could not drive our car to our prospected camp to drop off our equipment. How lame! Having a car pass, I really didn't understand their logic but we did not question their authority and moved on down the road where we finally found semi-level ground to pitch the tent. Being Wednesday I figured we would have found a spot with relative ease but not this year. It looked as if people started showing up on Monday or even last week. If you didn't have a car pass, parking in the satellite parking area was the only other option; once you are dropped off by the shuttle you then have to lug everything you have through the venue and then scramble for what real estate was left.
By the time we got set up it was time to hit the pre-party in the Beer Garden where many local and nationally known brewery tents were set up. Foot Hills, Magic Hat, and Star Hill were among a few of the beers on hand. One thing different this year was that you had to buy a souvenir metal cup for 6 dollars before you could drink so your first beer is going to cost 11 dollars. Kind of steep if you ask me but I total understand where the organizers are coming from. In order to cut down on waste that's a perfect idea, you're not likely to leave that cup anywhere. We made it in time to see The Mantras a band on the rise from Greensboro, NC. (Further, Funky Jank Patrol-> Low Spark of High Heeled Boys-> Hobo Ken, Water Song-> Electric Moment-> Man U Rawk, Immigrant Song-> Rock Peace Blues*, Magillicuddy. Joey Recchio sat in on guitar for Rock Peace Blues.
Thursday
It is so nice to be able to lie in your tent after 9am; the trees hanging down provided plenty of shade the whole weekend. Most campers get to setup on the outskirts of the music and activity areas making life a little easier. Looking at our over-sized program guide it was filled with everything under the sun. The first thing I noticed was Floydfest is teaming up with Satellite Art to bring us satellite images of the grounds while people gather together to make a large X that can be seen from space. Very cool indeed! Throughout the guide were posters of all the previous Floydfests another great sentiment for those that wanted to re-live their past experiences. 
The activities throughout the festival were staggering to say the least there were probably more activities then hours in the day. A lot of the activities culminated within the Children's Universe where inspiration filled the hearts of the kids. Becki the balloon Lady, Drumstrong: Drumming to beat cancer, Katherine Devine's Art Workshop, and an open filled the weekend along with youngster playing their hearts out on the Children's Universe stage. I have to say that I was blown away by some of the young kids and their abilities. Probably the most notable was an all-girl group who called themselves Miss Behavin. These girls at age 11 have a spark which captivated their audience; all the girls were multi-talented switching between guitar, drums, and piano giving a top-notch performance.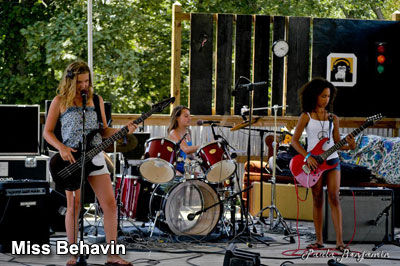 The Activities outside the Children's Universe would fill a whole page, so I will name a few that sparked my interest. You could play Disc Golf on a new 9 hole course, Mountain Bike, or fulfill your dream of becoming a trapeze artist with the Aerial Trapeze Academy. Along with a plethora of activates there was also the visual arts to witness. Scintillation Fire who create captivating fire shows rich in story, costume, originality, and surprise and The Fire Dragon which is a fire breathing mobile car made of old playground, trailer and bicycle parts.
The music for me started when Trampled by Turtles came on the Main Stage. This band from Duluth, Minn. is probably one of the fastest picking bands out there; they combine a flawless ability to intertwine bluegrass with a rock influenced attitude. As the finger picking heated up the band pushed the limits of the acoustic boundaries and they seemed to culminate a presence that the audience ate up.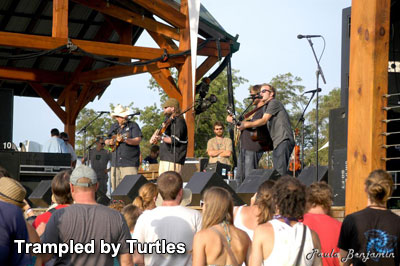 Next on the agenda was New Monsoon from San Francisco whose world music astonishes me every time I see them. Their mix between banjo mingled with the hard hitting shreading of electric guitar which is smoothed over by the organic sound of the keys brought down the house. Checkout their new album, "New Monsoon Live", which features their current line-up of drummer Sean Hutchinson, bassist Marshall Harrell, Bo Carper, Jeff Miller and Phil Ferlino, the album encapsulates the band's upmost passion that was very prevalent in their performance here at Floydfest.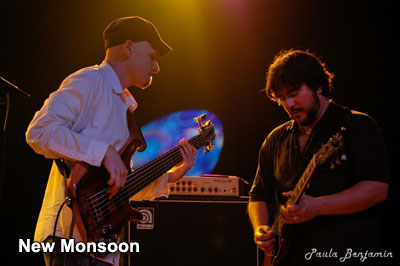 The night continued with superior music by Old Crow Medicine Show. For a little over 2 hours they played everything under the sun in Old Crow fashion to the point where they had said "we are running out of material", with Wagon Wheel of course being the crowd favorite. 
Immediately following Old Crow was Toubab Krewe on the Hillside Stage who filled the hills with an African medley of melodic world beat symphonic sounds with their staple instrument the Kora played by Justin Perkins.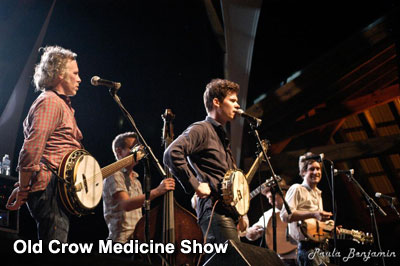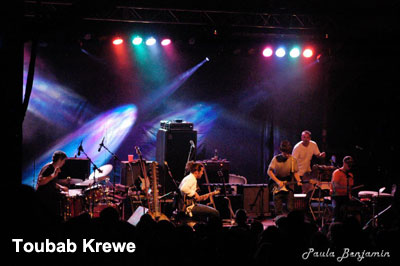 The late night shows took place down in the Global Village which was located down a hill away from the main festival grounds. Big Something, an Under the Radar contender, took the stage around 1am and shook the ground with their pop rock sound. The brilliant musicianship and peculiar lyrics portrayed an exciting fun atmosphere. Their tones touch on various different genres creating a flavorful full sounded platform that is executed perfectly. During the set the band pulled of some amazing covers like Peter Gabriel's "Sledgehammer" and an encore to remember! Queens "We are the Champions;" vocally as everyone knows is a difficult feat to pull off.
Friday
I know one thing for sure, that this festival gets things going early. Starting at 8am with Yoga with Jeff Tiebout and continuing throughout the day the festival had an assortment of different workshops like hooping, salsa dancing, drumming, fire spinning, crystals and the list goes on and on. Today the music included sets by Toubab Krewe, Rubblebucket, Cyro Baptista & Beat the Donkey, Sam Bush, John Brown's Body, Railroad Earth, Robert Randolph, Yard Dog Road Show, and Dirty Dozen Brass Band just to name a few of the 60+ acts playing today. 
We checked out some of Rubblebucket who sounded like a blast from the past. They reminded me of an 80's indie rock band with a new age twist as well as the mandolin legend Sam Bush another veteran of Floydfest. Cyro Baptista was probably the most surprising band of the day. The world percussion great gave us an ear full of unique sounds and flavorful antics.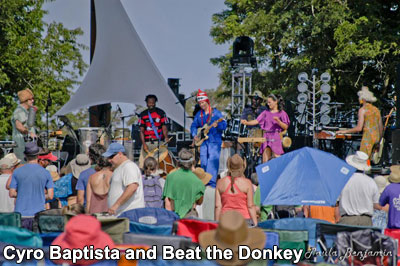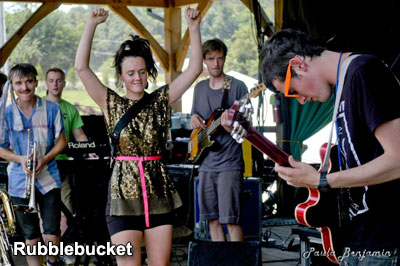 Yard Dog Road Show also gave a show to remember, bringing together burlesque and music seamlessly. It was fascinating to watch as the actresses came out and danced around with next to nothing on as they moved with finesse. Each act during their performance was to say the least visually stimulating and seemed to marvel the previous act with things like sword swallowing, magical human dolls, and other interesting scenarios that made the whole show a captivating spectacle. I was so enthralled by the show I almost forgot that Robert Randolph was playing on the main stage at the same time.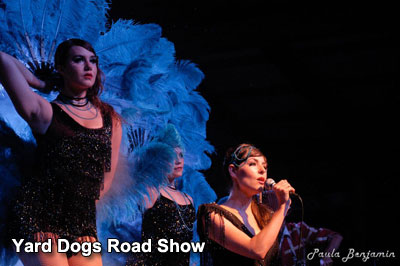 We hurried over for the last bit of his show which was just in time to see Sam Bush with his trusty violin up on stage for an excellent rendition of "The March." Shortly after, we decided to catch The Dirty Dozen Brass Band on the hill side stage. New Orleans was in the house with a party fit for Floyd, they busted out with classics like "When the Saints Come Marching in", and "Ain't Nothing but a Party" which set the tone for the their uplifting set. The Late night shows we were given another dose of New Monsoon and down in the Global Village Papadosio was raging till all hours of the morning.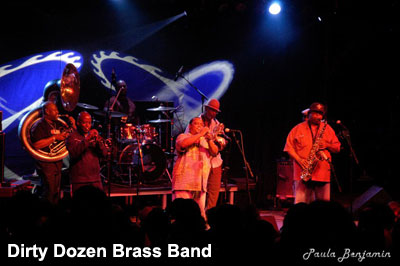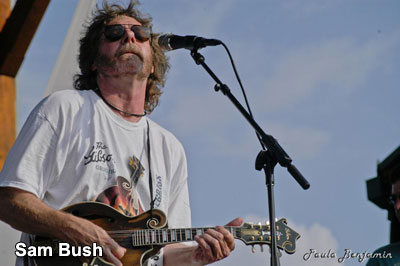 Saturday
Today was another fun filled day with about 100 different things to choose from to do. For starters a strong performance by Jorma Kaukonen, Jack Cassidy and Barry Mitterhoff doing a phenomenal acoustic set by Hot Tuna. (Blue Railroad Train, Hesitation Blues, River Of Time, I am the Light Of This World, Death Don't Have no Mercy, I Know You Rider, Come Back Baby, Vicksburg Stomp, Parchman Farm, Keep Your Lamps Trimmed & Burning, Just Because.) What a great way to start the afternoon, the soothing finesses of Jorma's guitar playing soothed the soul. A lot of the songs they played came from their self-titled first album back in 1970 including "Hesitation Blues", "Know you Rider", and "Death Don't Have no Mercy." For 21 Years fan have eagerly waited for Hot Tuna to produce another album and in April of this year Jorma and the gang set stage for the resurrection of the studio. Their new album titled "Steady as She Goes" is a testament that Hot Tuna has withheld the test of time.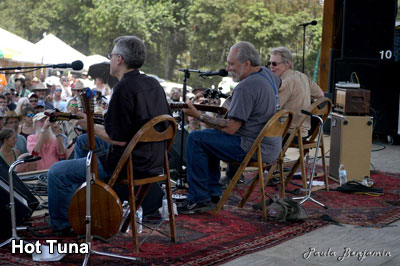 Wanting to keep the vibe alive we decided to catch Jorma again but this time with Larry Keel in the serene cozy setting of the porch stage. The porch, a graceful place where talent finds its home was jam packed with people wanting to catch an intimate glimpse of this duo with Jack Cassidy. Set up as a panel, a gentleman pries into the brilliant minds of the artists in hopes of discovering their stories though storytelling and songs. We learned from Jorma that the guitar is an everlasting instrument with endless ways to be discovered in fact he just learned a new chord from Larry just a bit ago and will probably make a new song out of it. Larry then reminisced about the past and how great it's been to be a part of Floydfest and being able to play with such greats like Vassar Clements and Jorma. Larry then played Del McCourys "Mtn Song" about living in the Blue Ridge Mountains. It was nice to watch Jorma and Jack both catch on to the song so quick, I don't think they had ever heard the song before.

As the day progressed Yonder Mountain String Band graced us with their new grass genre bending abilities. Soon after on the main stage Taj Mahal the master of the blues took his place. His set was a soulful journey through the ages. Taj Mahal is a Grammy award winning guitarist who has such a strong stage presence that he catches every ones attention span from beginning to end. Mahal has reshaped the meaning and possibilities of blues music over his 50 year career by blending it with nontraditional genres, including sounds from the Islands to Africa. As the rain started Taj pulled out an all-time classic "Lovin in my baby's eyes," Which ended the set.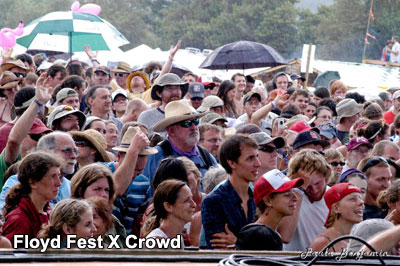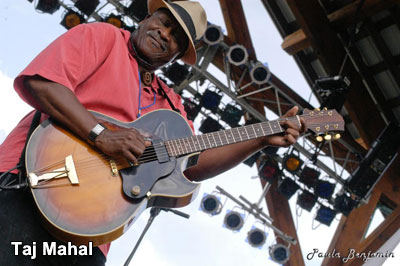 Up next was the surprise set of the weekend, Shane Pruitt who we were fortunate enough to catch the tail end of was amazing. I had seen Shane play before being local in the Upstate of SC but nothing prepared me for what my ears had in store. He has a certain ability to make his guitar talk and his emotional facial expressions dripped with the feeling of immense passion. His encore was an old cover by Derek and the Dominos "Why does love have to be so bad" and Holly Sh** it brought tears to my eyes, and not to many songs or players can do that at a given moment. After such an emotional set we headed to the main stage again for another band I had never heard of but really sparked my interest from what I had heard about them. Locos Por Juana who is best described in my eyes and a Spanish Reggae band who delivers a solid high energy performance.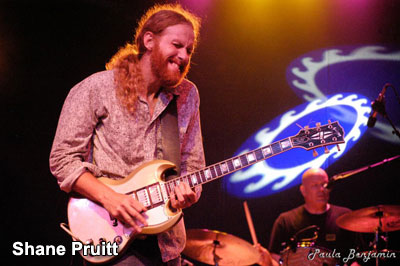 Sunday
Today was a perfect way to end the festival with a rock-solid array of Bluegrass greats including Peter Rowan, Tony Rice, David Grisman, Larry Keel, and Del McCoury. It's so satisfying to know that the organizers of Floydfest can pull together such a stellar group of veterans that all have had such an enormous impact on music. We all know that these guys are not getting any younger so any chance to see them is a blessing. (For the exception of Larry Keel who seems to be getting younger as time passes.) These Bluegrass legends were all magically brought together by the father of Bluegrass Bill Monroe. His songs were flowing like water during a lot of the sets during the day as well as various stories about him. The intertwining history of the artist is like the 6 degrees of separation of Bill Monroe. Del McCoury played for Bill in 1963; during one of their show is where Grisman and Jerry Garcia met which led to the introduction between Grisman, Rowan and McCoury. Rowan then took over McCoury's place in Bill's Bluegrass Boys and McCoury set of to create "Early Dawg" with Grisman in 1966. In 1967 Grisman and Rowan collaborated together and created the band "Earth Opera." All day the old time music flowed from all corners of the venue. The porch was on fire with a stint of Peter Rowan playing with Tony Rice then The David Grisman Sextet followed by The Del McCoury Band. All these sets were as intimate and you can get with a band. The day was closed out by a magical set by Del McCoury on the hill side stage, wow what a way to end such a wonderful festival.