Floydfest emerged and redeemed themselves with some major logistical victories. The transit system took the most noticeable upgrade; "I heard they hired out the same system that is used for Coachella and SXSW."  The charter busses were super cush compared to the school busses of days past; they were air conditioned and comfortable. Directions for departure and gear check were specific and left no room for error; the whole system was efficient and fast. In fact, I did not observe a single waiting line the entire festival. Well done, ATW Productions. Slam dunk.
This is an upgrade, and an inevitable evolution for Floydfest. Anytime you place the population of a medium sized city into a small location and endeavor to move the entire group from one place to another, you must develop a system for doing that efficiently. They tried valiantly though unsuccessfully for years, and this time, they nailed it.  Sitting on the air conditioned charter bus waiting to depart for what was to be my 9th Floydfest, I realized that it has evolved from a small, grassroots festival that carted its patrons in school busses with wagons on the back, bouncing up and down on the winding roads like school kids, to this hyper efficient, citified transit. I reminisced about the experience of yonder years: watching anxiously out the window as your cooler clings to its life, feeling sorry for the one who lost her backpack and for the driver who had to stop and retrieve it, then everyone cheering loudly when he did. I reminisced about feeling connected to your neighbor in the seat and feeling like a school kid, because when was the last time you rode on a school bus with a group of your peers? This was not an average day. It was a nostalgic experience unlike any other. And that experience was the portal into a world of free-flowing expressive energy like you have never known. There were trapeze artists and painted up people and picking circles and lots & lots of friendly energy.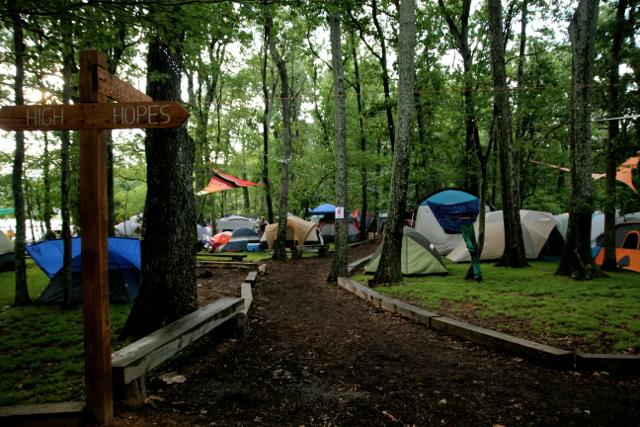 So, with the evolution, there was casualty. The new and improved system feels more like a city, and a transportation experience that you are used to. But such is the flow of life, and the inevitability of change. Floydfest has grown into a phenomenon of musical entertainment, drawing thousands and thousands to this majestic mountaintop in the Blue Ridge. It swelled and swelled and swelled, and then it had to shift.
So the trip in was as smooth as could be, and once on site, the camping situation was also sharply improved. I don't know what it was like in the off site lots, but on site, it was like butter finding a good spot. We were greeted at various points by a campground attendant, which was a nice addition to the volunteer offerings. We arrived on Wednesday for the stay-cation, which was a fantastic idea. We enjoyed relaxing and wandering the site, before the festival really actually started. This option to come as early as Wednesday and stay as late as Monday is another smart improvement.
This year's lineup was basically about 40 acts in the "On The Rise" contest, those bands that are there playing just for the opportunity to be heard at Floydfest, alongside heavy heavy hitting headliners: Miss Lauren Hill, Thievery Corporation, Ziggy Marley, Ray LaMontangue, Ben Harper & Charlie Musselwhite to name a few.  All of the OTR bands were good, of course, but some of them were just average, which is a big change for Floydfest. I'm used to having my mind blown at every stage, and this year, not so much. I also came upon the same bands over and over, as they were each slotted for as many as 5 sets over the weekend. Again, this is a recovery year that needed to scale back, and I fully expect the original energy to re-emerge.
Let's talk Miss Lauren Hill. My best friend and I were pumped; we were so ready to dance. We grew up with her music, and that is the reason my friend came to Floydfest. What we were hit with was totally different from what we expected though. She and her band gave a psychedelic, futuristic, Parliament style set that was so hard hitting and complex I could barely catch the groove to dance. It was awesome to watch; I would've liked to be able to sit and watch it theater style. As an artist myself, I know that it is very important to allow the artist to express whatever is in their creative realm at the time, whatever they are feeling and exploring. So even as I was a little disappointed in not getting to dance to all the hits I was expecting in their normal format, I reveled in awe watching this hyper talented legend of my generation present mix ups of her hits in a totally new format with a mind-bendingly tight band. Towards the end of her set she gave us the smooth steady hip hop sound we were craving. It was mostly just an awe-inspiring experience in the Dreaming Creek field.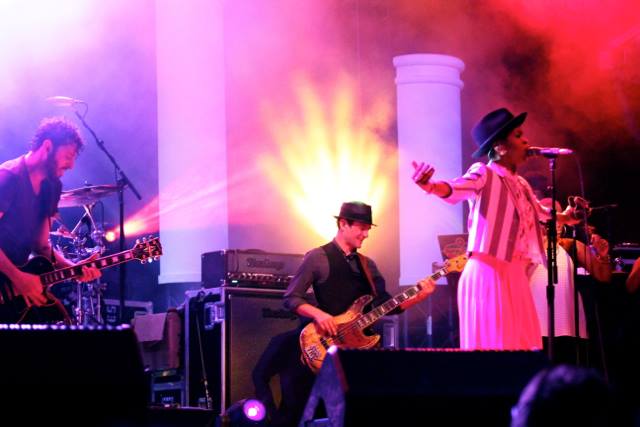 Lauren Hill
If I wasn't a loyal Floydfestian who comes every year for whatever Floydfest wants to feed me, because I know I can always count on the quality of music, I would've come for Thievery Corporation. My household has watched their 9:30 Club documentary umpteen times and we know the music like it's ours. We were elated at the chance to hear it live. This seems to have been the strategy for ensuring people bought tickets: headliners that were sure to draw. They absolutely rocked; what an experience. Thievery Corporation is like a little UN with representation from all over the planet. This was a perfect fit for Floydfest; that global vibe I love about this event was ever present with this pick.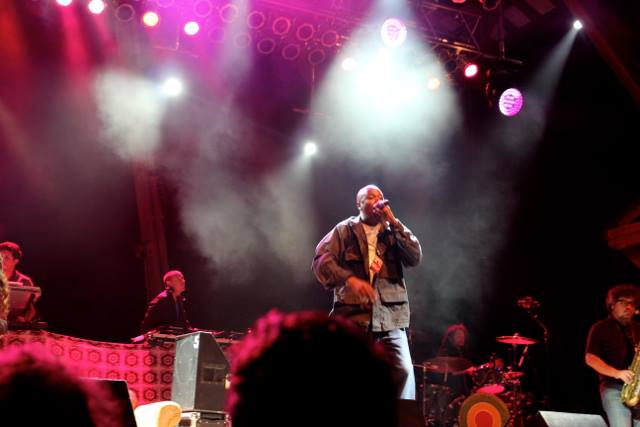 Thievery Corporation
I wandered for a while for the first couple of days before I found music that really hit me and caused that ever recognizable Floydfest glow. I found it in Adam Ezra Band Friday night. Beautiful soulful Americana rock caught my ear and I made a beeline for the beautiful Hill Holler stage. That feeling that lifts you and makes you close your eyes and soak in the sound, forget the world and bliss out; this was it. I had a strong feeling they would capture the OTR contest, and I was right; they came in 2nd place.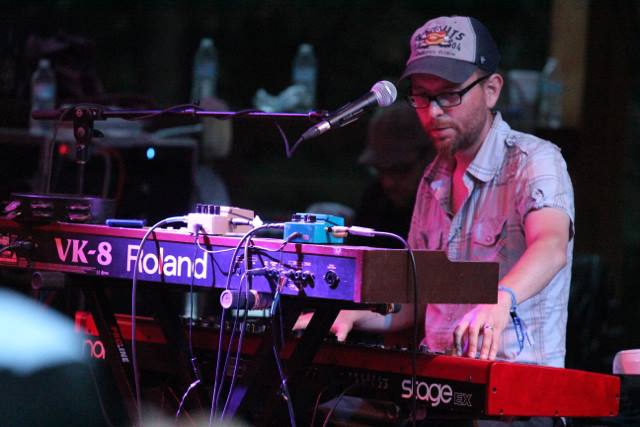 Adam Ezra Band
Around camp and all throughout the site I kept hearing buzz about Swamp Candy. I never caught them but I know they knocked it out of the park, sweeping the OTR contest in first place.
Of course, Rising Appalachia, a Floydfest favorite, killed their first main stage performance after years of gracing every supporting stage. Though small compared to some of the bigger bands and sounds, their sweet southern folk hop filled out that magnificent sound system as good as any. These ladies are dripping with soul.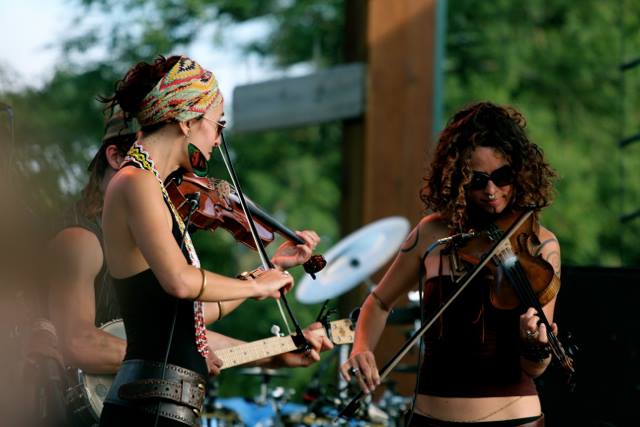 Rising Appalachia
A Michael Franti show is all about the human experience. Watching him interact with people and give them that transcendent feeling as if you have touched magic is inspiring. He is all for the children too, pulling them up on stage for the time of their life. This is one of the strongest revolutionary voices of our generation. I was happy to hear a few from Yell Fire and honestly would've like to hear every bit of that album at Floydfest Revolution. But he is on this kick of bringing joy and I have to appreciate it. He told a touching story about almost dying with the appendix rupture he experienced, and it sounds as if he has really made some personal discoveries. So, even as the sound gets popper and departs from that revolutionary confrontational hip hop I love so much, I respect where he's at with the music. And wow, his band is solid.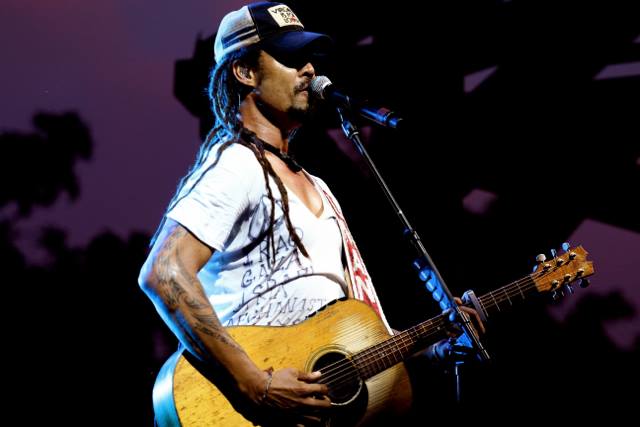 Michael Franti
Most of the tried and truly awesome elements of Floydfest were perfectly in tact: the wine garden was twinkly and magical as ever, vendors were amazing, etc. The new structures on site show that there are creative and caring people behind the scenes and the stages are truly magical. Guests can pick from a plethora of complementary activities exploring the Blue Ridge from hiking and biking to disc golf excursions. There did seem to be something missing though; the free flowing creative energy with hoopers and trapeze artists and festie community that looked like they had been there for years… dancing dragons and impromptu music and magic making didn't seem to be present. We camped in the Global Village, which is always one of our favorite spots; in years past it has been its own festival within a festival. You find off the charts, earth shaking funk parties and fire breathing dragons to boot. This was another unfortunate casualty of the shifting of Floydfest. This was a recovery year and with the trimming of the fat, some things were lost. Saturday night the Global Village showed a movie, Avatar. The mind bending dance experience was absent. All of this is perfectly understandable though. This was a recovery year, and kudos to ATW Productions for enduring the challenges that this past year has presented. People can be incredibly cruel in their critique, having no sense of the unbelievable amount of work that it takes to produce an event of this caliber. I applaud and support ATW Productions and fully anticipate Floydfest rising back to full force, and I appreciate the experience that was Floydfest 2014.
All that being said, rock on, Floydfest. You have created a legacy and influenced many. People have come to you and discovered life changing music, and a whole way of life. They have made life long friends and connections to art that will carry on and create because of you. Art, music and probably babies have been born as a result of the environment you create for people to flow within. Thank you, thank you, and thank you. See you in 2015.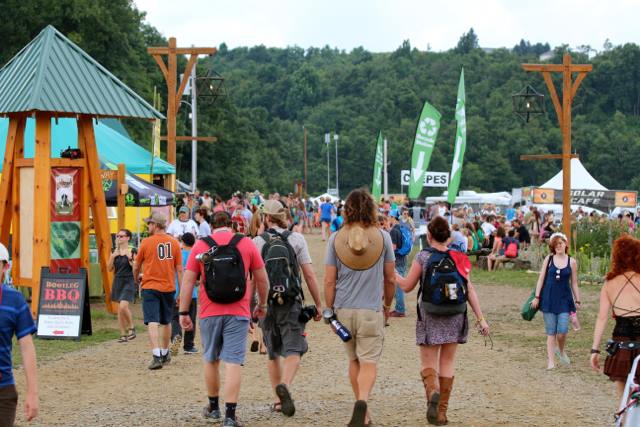 ?
I definitely recommend investing in a stay cation package and joining in the fun. 
Review by Lori McKinney
Photos by Robert Blankenship