BY Cassandra Chalkley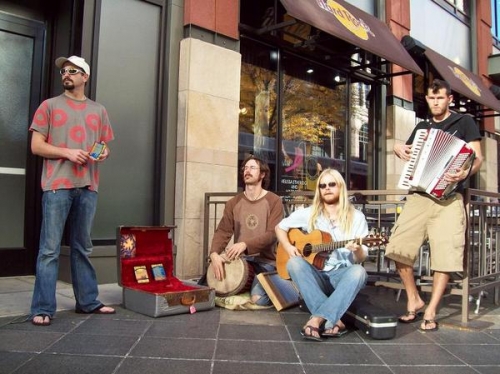 Equaleyes is a four piece band based out of Boise, ID. The band performed in an upstairs bar called The Reef, a high class pub and grill with a full bar in the middle. The place seemed more fit for a house band, not exactly the size for a crowd the band is capable of pulling in. There were more than a hundred people there, packing the dance floor. 
The first thing that stands out about this Boise base blues rock band is the way they meld their talents. Local music lovers have been loving their funky bass, and extremely tight rhythm for years, as they mix together tribal beats and  bluegrass, attributing Idaho's mountains, rivers and lakes with sweet melodious songs full of heart and soul. The crowd hot from dancing, they push steady pounding rhythms to crescendos that explode into cheerful jams, tensing guitar leads, and the occasional psychedelic freak out.  While their songs have evolved over time, they are a jam band that incorporates some improv into their 90 percent composed repertoire.  While some of their songs have become seventeen minute jams, they also bring a sentimental lyric and jazz influenced keyboard leads . One of the most memorable moments of the night, "Guess that's the way I had you in my Dreams," a barn floor stompin' country love ballad, followed by a spicy, sexy song featuring guest keyboardist Kendra, accompanying in a phenomenally soulful piece to make hearts melt.

Equaleyes has just finished recording their third album, to be released  in March, as they return from their Mountain states tour which will take them through Utah and Colorado.  This summer, they'll be playing Desert Rocks Music Festival in Moab Utah the weekend of
Memorial Day with Groundation, The Mother Hips, WIsebird, Stonefed, and several other bands from the region, May 28-30, 2010.  For more information and tour dates, see their site at www.equaleyeslive.com.
Upcoming Tour Dates

Friday, February 19, 2010
Grand Targee Ski Resort
Alta, WY     

Saturday, February 20, 2010
Grand Targee Ski Resort
Alta, WY     

Wednesday, February 24, 2010
Crusty's
McCall, ID     

Wednesday, March 03, 2010
Whiskey Jaques
Ketchum, ID     

Thursday, March 11, 2010
The White Owl
Logan, UT     

Friday, March 12, 2010
The Downstairs
Park City, UT     

Saturday, March 13, 2010
The Hogwallow Pub
Salt Lake City, UT     

Monday, March 15, 2010
Cervantes other side w/ HOME
Denver, CO  

 
Wednesday, March 17, 2010
Whistler's Cafe
Nederland, CO     

Friday, March 19, 2010
Connor O'neills
Boulder, CO     

Saturday, March 20, 2010
Hodi's Half Note
Fort Collins, CO     

Monday, March 22, 2010
Cervantes Otherside(Quixotes)W/Fatty Lumpkin
Denver, CO     

Tuesday, March 23, 2010
Salida Cafe
Salida, CO     

Thursday, March 25, 2010
Fly me to the Moon Saloon
Telluride, CO  

 
Friday, March 26, 2010
The Summit
Durango, CO  

 
Tuesday, March 30, 2010
Mystic Hot Springs
Monroe, UT     

Friday, April 02, 2010
Woody's
Moab, UT     

Saturday, April 03, 2010
Woody's
Moab, UT     

Friday, April 09, 2010
Liquid(Yonder Mtn. Afterparty!)
Boise, ID     

Tuesday, April 20, 2010
The Muse Lounge(Joe's - 4/20 SHOW!)
Eugene, OR