Thursday
Today's arrival into the park was a piece of cake except of course for the missing press laminate that one of us always seems to get shafted on in the beginning no matter what festival is being held here. They'll work it out eventually. This time we were fortunate enough to surprisingly pull into the venue within the security checkpoints. The check points are setup on different ends of the main road that runs through the event. On the left of the road pulling in first is the music hall and a restaurant which is next to the resort pool and the county store.
Driving on is the nicely shaded Amphitheater where hammocks are hung for a nice relaxing chill spot; on the right side of the road is where the vendors like Home Grown are set up as well as the other 2 stages, The Meadow Stage and The Porch Stage. Luckily we just missed the rain which was a good thing because it looked as if the place had a flash flood in certain places, especially down in the field where the meadow stage was.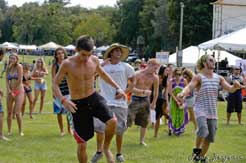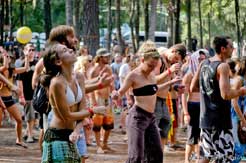 Being right across from the Amphitheater we were able to listen to the loop master Zach Deputy while we setup camp. Zach, I believe has one of the best vocals on a man I have ever heard. His range is so dynamic, its mind blowing how high he can get. His newest album is a must have called "Another Day" where he continues doing what he does best, intertwining his island infused catchy rhythms with sweet juicy vocals. There is good news on the forefront for those that are Zach fans; In February Zach will be showcasing a full band playing all his soulful tunes which should be amazing to see.
Later that night a set from Perpetual Groove and EOTO finished out the night. EOTO I have to say stole the show. This String Cheese side project is unlike any other SCI side project, the other band members seem to stay close to the SCI sound and genre but EOTO goes far beyond the eclectic sounds of Cheese. Their bass in your face electronica is a fast paced full throttle dive into the improv unknown, you never know what you're going to get. The multitalented Michael Travis never ceases to amaze me; handing over the drum sticks to his cohort Jason Hann, Travis takes on many different instruments and makes the groove work.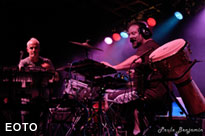 Friday
Today we woke up to the humid sticky heat which is to be expected this time of year, which was one good reason why I moved out of Florida many years ago. Starting off the day for us was Spiritual Rez on the Amphitheater stage, a reggae infused dub-funk band that creatively meshes together their own style of music from the soul-roots of reggae like Bob Marley, Toots, and many more. Lead singer Toft Willingham really knows how to stir up some early afternoon energy with his up front personality making for a strong well rounded set.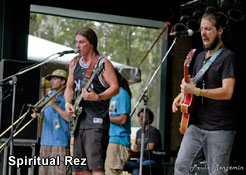 Soon after was The Mike Pinto Band, who we happened to walk up on at the right time and they blew me away. Who the hell is this Mike Pinto guy and why haven't I heard of him until now? This band brought back the old school Ska with a really nice harmonic reggae punk style. Mike Pinto can F**'n belt out the vocal harmonies. Sticking to the California throw back tunes he infused some songs I swear sounded like some old Bad Religion. During the day I started to see somewhat of a theme with the type of music the festival was geared toward during the day, a dub step reggae sound riddled the grounds with every band I turned around and saw. There was Spiritual Rez, Mike Pinto, Passafire, Iration, Easy Star All-stars, and The Movement, all being somewhat of the same genre.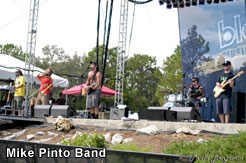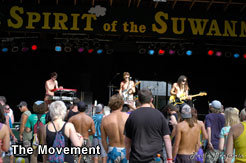 The Easy Star All-Stars were probably one of my favorites of the day. Easy Star brought us Dub Side of the Moon, and Radiodread which they played some of. Before night fall we went into the Music Hall and caught a DJ set from Vlad the Inhaler, a very cool name with a very unique experience of visuals and a blend of thumping beats mixed with some popular songs.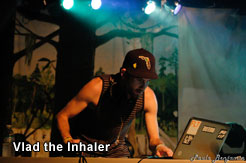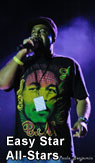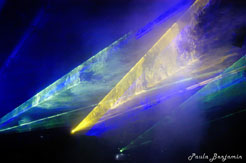 When night fell the electronica came out of the wood work with sets from Zoogma, Ghostland Observatory and a DJ set and headlining act Girl Talk. Zoogma was on the money and Ghostland was an eye opener with so many lasers that it would make your head spin. "Ghostland Observatory is not a band, but an agreement between two friends to create something that not only heals their beat-driven hearts, but pleases their rock 'n roll souls." Ghostland Observatory consists of Thomas Ross Turner and Aaron Behrens. Turner, the producer/drummer/keyboardist of the duo, always sports a Texas flag cape and awes crowds with his affluent ability to take beats beyond their normal decibels, rhythmically finding his way to a spacey far out place which is why their music differs from all others of its kind. Behrens is the voice behind Ghostland with a high pitched striking vocal that will move your soul. This is probably one of the best light shows out there and a must see if they come to your town.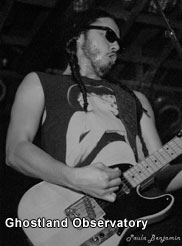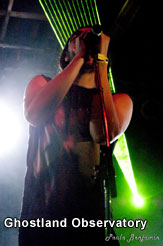 The last act of the night was Girl Talk a DJ who makes a living by intelligently dubbing songs from every genre with different raps. I could fill a whole page with the songs that I heard from him. Some artist he included in his prolific mix were Rush, Lady Gaga, Michael Jackson, Nirvana, Busta Rhymes, Bon Jovi, Foo Fighters, Old English, Red Hot Chili Peppers and on and on and on, I really don't see what the big hype is taking 5 sec clips of songs and mixing them but I tell ya people love it and went crazy for it. Just seeing Pretty Lights the week before I don't think he can touch that kind of forward thinking DJ'ing.
Saturday
Another hot sticky humid day was in store for us today with music starting at noon with Florida's own Aquaphonics. Aquaphonics had a nice blend of funk and electronica to start off the day followed by a mix of more dub-reggae sublime sounding bands like Ballyhoo, The Expendables, Simplified, Pepper, and Tribal Seeds, and Sidereal.
Being kinda tired of the same kind of music we headed to the pool for a nice relaxing dip for a bit then headed to the music hall where the AC was blasting and the DJ's were raging. While we were relaxing in the nice cool hall we got to check out Pogo whose mastery of film manipulation was phenomenal. He would play clips behind him of different movies like Alice & Wonderland, Snow White, Little Mermaid, Up, Mary Poppins and many others all while syncing their voices and sounds to his beats. That has got to take so much time and effort to pull off, I'm sure it's all pre-done and there is not much to do live but my god it was just amazing to watch.
The night time brought out a little more diversity with the likes of Buckethead, The Flaming Lips & Sound Tribe Sector Nine.
First off were The Flaming Lips and I have to say they put on one of the best festival shows I have ever seen in my life. I thought I was at a New Year's Eve show. For starters the lead singer Wayne Coyne comes out before the show and gives a disclaimer about the high powered strobe lights that will be throbbing in your eyes during the show. He says "If you start having a bad reaction to the lights stay where you are and look away." The show started off with a huge screen as a backdrop lit up with stars and a florescent naked lady dancing around, the lady soon sits down and spreads her legs and this is where a door opens that is perfectly placed between the legs of the lady on the screen and the band members come out. Wayne then gets in to a large plastic bubble that is blown up and tossed into the crowd, as he continued to crowd surf in the bubble tons of huge balloons started bouncing above the audience and confetti was shot out of large cannons blanketing the crowd with every color of the rainbow. After a rocking start they went into a song I actually knew "She don't use Jelly - Vaseline." The screen shows a girl in a bathtub with a plate of eggs and toast which I think I remember was an old MTV music video. Throughout the set Wayne would continuously try to get the crowd going by saying " Come on! Come on! Come on Mother F'er's" We decide to make a drinking game out of it like the drinking game that people play when they see Michael Franti and he says his famous words "How You Feel'in." By the end of the set I must have downed a 6 pack. For most of the show a video camera was attached to Wayne's mic so we got to be up close and personal with his face. Ego tripping at the gates of hell was another great tune done acoustically, then out of the blue a big disco ball comes down with lasers shooting everywhere and Wayne grabs some really big costume hands out of the crowd and starts flailing around the stage with large sharp teethed animals being projected on the screen. One of the highlights musically was when they pulled out Pink Floyd's classic "Brain Damage.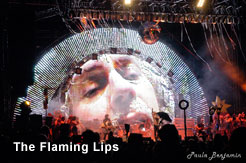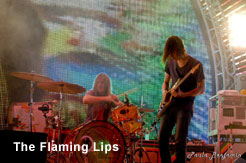 We left soon after to see Buckethead. Now Buckethead is something else, I thought I was going to see the Buckethead band but to my dismay Buckethead goes on the road as a solo act. With his white plastic mask and KFC bucket on his head he robotically moves around the stage shredding like a guitar hero. We were very curious about what he looked like and what his bio is like so we Googled him and found out that he played with Gun's and Roses from 2000-2004. We also wanted to know what he looks like behind the mask and could not find anything; he really keeps his looks under wraps. I wonder if he drives down the road after a gig with his mask on.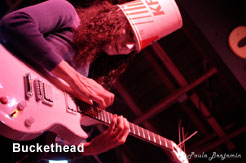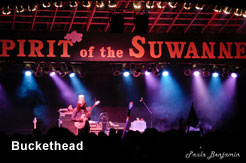 Following his crazy ass show it was time to chill to the melodic sounds of STS9. This show was good but I don't think it compares to the last time I saw them at the All Good Festival, I think it had to do with the sparse crowd and the lack of energy they showed. Besides the energy of the crowd the set was hot and went like this: (Suwannee Intro, Scheme, The Unquestionable Supremacy of Nature, Evasive Maneuvers > Monkey Music, 20-12, Simulator, Grow, Rent, Inspire Strikes Back, What Is Love? When the Dust Settles, Arigato.) The set was a nice blend of classics intertwined with some fresh new songs.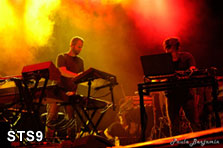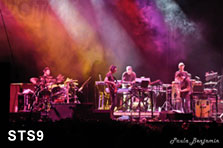 The overall feel of the festival was good, a little too hot and humid but good. I would like to have a little more variety throughout the day, but if you are all about dubstep/reggae and electronica then this is your festival for sure. It hands down had the best of the best when it came to the certain genres. Thanks Blackwater for taking such good care of us.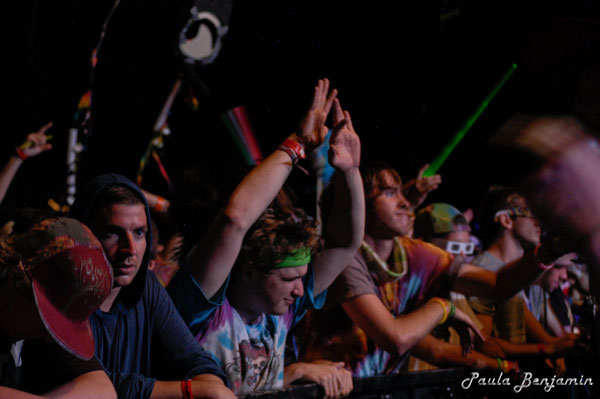 Article by: Brad Winecoff
Photos by: Paula Benjamin