FRIDAY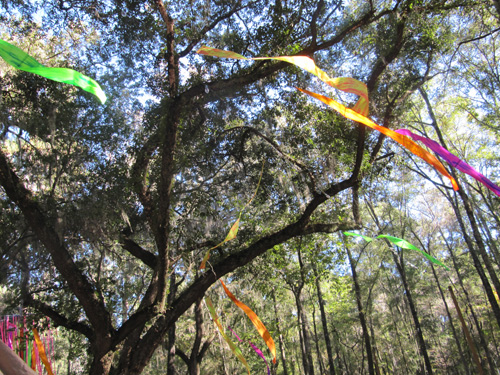 Driving through Northern Florida the landscape was blanketed by an arboreal tapestry of exceeding interest and beauty, which derives from the great diversity of beautiful moss covered oak trees, pine trees and shrubs. If you've never been to The Suwannee Music Park it's 700+ acres of land running alongside the Suwannee River with an assortment of activities like canoeing, horseback riding, Frisbee golf, and lots of great trails for hiking.  Upon arrival on Friday early afternoon, check in was a breeze, driving in was nice with no hassle from security.  Before us was one of the biggest tents I had ever seen, it looked like they borrowed it from the Ringling Brothers and Barnum & Bailey Circus (actually the same "Comedy" tent used at Bonnaroo).  The tent was called the purple hat tent in remembrance of Rachel Hoffman, an area music aficionado who died last spring. The 23-year-old college student was known among festival organizers and musicians at Suwannee for her "free spirited," enthusiasm for live music, and her trademark purple fuzzy hat that she wore at music festivals and concerts. There were 3 other stages as well.  The second stage was the Uncle Charles Stage another stage with a remembrance of Charles Mitchell "Uncle Charles" Carrithers, 84, of Live Oak, Fla. who passed away on Saturday, Feb. 7, 2009, at his home at the Spirit of the Suwannee. The third stage is the Amphitheatre Stage, this is the original stage built for the music park which was interwoven with hammocks hanging from the beautiful moss covered trees. The last stage was built right in the campground area in front of a nice pond surrounded by huge cypress trees.  We set up our camp on the other side of the circus tent as you come into the venue next to the horse stables and a cool looking tree house. After setting up, we looked at the schedule and were pleased to see that most bands playing were playing x2 or more and the sets were at least an hour and a half long.  I saw Zach Deputy on the schedule 6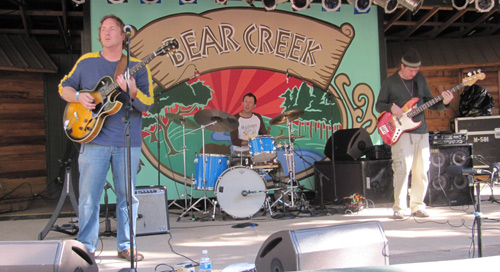 times; man is he a trooper or what. The first band that we got to see was Shak Nasti. Hailing from Orlando Fl. Shak Nasti is an eclectic jazz and funk trio that has the taste of New Orleans in their blood. Sitting in with them was Roosevelt from The Lee Boys, who got down with it on his pedal steel guitar adding so much depth to the already funkedafied set. I could tell by that set and the rest of the schedule that the promoters of the festival had the idea to bring New Orleans funk to Suwannee.  After being funked up by Shak Nasti we headed over to the campground stage to see Sol Driven Train.  Dressed to a tee, it looked as if the guys held up the Live Oak High School Marching Band and traded clothes for their set.  These guys really know how to throw it down, with their soulful horn section belting through the campground I could see tons of people gathering for what would be a fantastic set.  Song after song the band seemed to get warmed up and ready to get down with the seamless catchy rifts that kept everyone there enthralled. Definitely one of the most entertaining bands of the weekend!  Next on the schedule was Bonerama, another taste of New Orleans funk.  With a triple trombone threat which filled the amphitheatre with grooves that only New Orleans bands can deliver.  Sitting in for a couple of songs were Fred Wesley, composer, arranger, bandleader and author known worldwide as one of the architects of funk music. Fred's work with The Godfather of Soul James Brown in the 1970s established him as the world's funkiest trombone player, Skerik on Sax & Mike Dillon on percussion , two great musician that graced us with their presence during this set and throughout the weekend with their ability to play with just about anyone and also members of Garage A Trois.  From one song to the next the funk just got stronger and stronger to where I almost danced out of my shoes, literally.  After my blood was pumping with funk I was excited to know that the next band was Eric Krasno and his side project 2nd Chapter, who consist of Adam Deitch, Nigel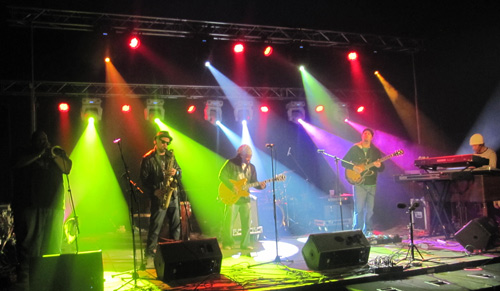 Hall, & Louis Cato. Knowing how good Eric is with is other bands Soulive and Lettuce, I knew that he would not disappoint us with this endeavor and I was right. Right of the bat the band delivered with his soulful quartet who gave a show to remember. Vocally and musically they were on with help from Kofi Burbridge who sat in as well. Kofi is yet another superstar that seemed to jump up on stage and set the tone of perfect harmony with his flute and keyboard playing with many different bands throughout the weekend.  After such an incredible show we headed to the tent to check out Dubconscious from Athens Ga. in the purple hat tent.  The tent was jam packed and after about 10 minutes the heat was unbearable, it was as hot as a sauna during the show making it very uncomfortable to watch.  We decided to hang outside the tent for a bit where I was able to hear some of the show which was filled full of energy, They really know how to incorporate recent social and environmental awareness into their lyrics with a dub style danceable reggae.  As night approached, Toubab Krewe from Asheville NC; was next on the line up.  On the way to the amphitheatre I noticed that the festival was selling sets from bands that had played that day throughout the weekend.  To be able to buy a CD and reflect on the music you just heard is a great concept.  The Toubab Krewe set was absolutely off the chain with Skerik sitting in on a couple of songs it was nice to see a saxophone join the melodic world beat symphony that was being portrayed.  It's amazing to see a Kora which is a 21-string harp lute played by Justin Perkins incorporated so smoothly making Toubab Krewe sound like no other band out there today.  The sets of music just kept going as we did with Hill Country Revue up next on the Uncle Charles Stage.  This was for sure the loudest music I heard all weekend. Hill Country Revue is a collaboration of musicians from North Mississippi All-Stars along with Kirk Smithhart, Ed Cleveland and Daniel Coburn. The best way to describe them is a type of southern rock, funky, blues with one hell of a washboard sound. The sounds emitting from that washboard were amazing, if you had closed your eyes you would have thought that there was a DJ up there scratching records.  Although we were exhausted after that set there were a couple of bands left for
the night that needed to be heard and seen. Karl Denson's Tiny Universe was up next, opening with one of my favorite songs "Can You Feel It" which is a soulful and tasteful song with lyrics that go, "The music is good for your soul," putting a staple on the overall feeling of the festival. The late night went to Lotus who played in the Purple Hat tent. It blew up but it was not what I had expected.  I have seen Lotus countless times and know that they can put on one hell of a show, but tonight was a little different.  The mostly electronic band showed me that there is a lot more to Lotus than electronic dance music.  It seemed to me there was a lot more rocking and a little less snyth, which made it very pleasing to see such diversity in the band.
SATURDAY
    Today we woke up and decided to take a hike along the river to see the Suwannee landscape.  The river was black because of the flow from the Okefenokee Swamp where it has become saturated with the tannins from billions of leaves, roots, and bark.  There were limestone ledges towering over the river with beautiful cypress and tupelo trees rooted into the river, the moss gave it a very eerie feeling.   After our nice long hike it was time to get our groove on with Robert Walter & the 20th Congress.  I just love to see Robert Walters play the keys.  The tones he gets out of that organ just blow me away. The deep, rich, soulful, jazzy and of course funky set is what I need to get the day started right.  I was excited to know that Steve Kimock was up next and his new side project Crazy Engine.  This new endeavor by Steve consists of: Melvin Seals from the legendary Jerry Garcia Band, his 19 year old son Johnny Kimock on Drums and on bass Trevor Exter.  Just seeing his son up there wailing on the drums and keeping up with some of the best musicians out there was amazing.  Kimock played some of his old time favorites like Ice Cream Factory as well as some old time Jerry favorites like That's what love will make you do.  Another appearance from Roosevelt on the lap steel guitar made the set even more enjoyable.  I really wanted to see some of the Garage a' Trois set but I was so captured up in the moment from Kimock that the set ended and it was time for Lettuce to take the stage down at the amphitheatre.  Another collaboration of some of the best artists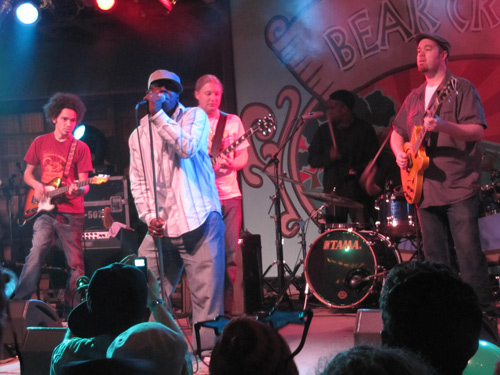 around Lettuce produced the funk and musical prowess that was bellowing throughout the park.  If you were at the festival and missed this set shame on you. This set was the best set of the weekend and in my opinion the best I've heard in years. There were so many great artists sitting in like Derek Trucks, Skerik, Kofi Burbridge, Nigel Hall, Roosevelt and The Shady Horns who all joined in and made this show go beyond my expectations. After such an incredible show I was so ready to get down with what was next.  Galactic of course another power house of funk from New Orleans had a lot to prove playing after such an epic Lettuce set.  And that they did with help from Roosevelt, Corey Henry from the Re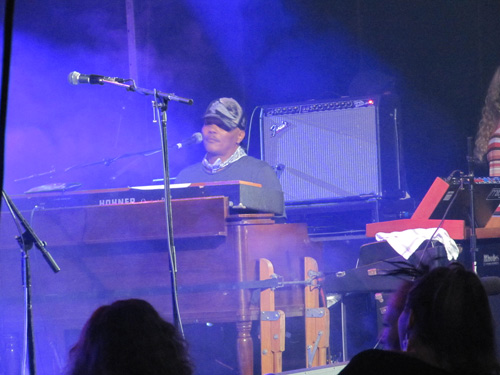 birth Brass Band, and Mike Dillon.  Starting with the classic song Baker's Dozen, the set rose to the occasion with a steamy funk that only Galactic knows how to produce.    After that I was just about pooped but I knew that we had two more bands to rage to.  The Dumpsta Jam was up next and the funk continued throughout the night with Ivan Neville's Dumstaphunk and friends. Again Derek Trucks graced us with his smooth guitar along with Skerik and Nigel Hall sitting in. which again made this festival one of a kind. Towards the end of the set Ivan had asked for about 10 girls to come up and dance and by the end there were at least 30 girls dancing to the groove.  I don't see how they managed to play with everyone on stage like that but they pulled it off like no other.  Ivan also mentioned who the mystery band was going to be. Soulive! My girlfriend I speculated that it was going to be The Derek Trucks Band since he was here and the rest of the members were playing at the festival too.  After Ivan Neville announced the band we were off to the tent to check out Soulive. Another Eric Krasno creation and arguably the best set the mood with their Jazzy/Funk style of playing. The Evans brothers who seem to work seamlessly with Krasno filled that tent with as much energy I though the top of the tent was going to blow right off. Wow!  After such a long day of dancing, there was still more.  The late night set was going to be the icing on the cake with Karl Denson and his Tiny Universe.  Karl seems to always play better when he knows he is closing out the night.  We decided to see a bit of it and for sure he raised the roof, but after such a long day of dancing I was ready to call it a night. I could rest easy knowing that the promoters of Bear Creek have a good thing in mind executing the x2 for most band of the weekend. It was pleasing to know that if you missed a band one day there was no need to worry because they would be playing again later. 

SUNDAY
    Waking up Sunday morning it was pretty darn cold; I almost forgot we were in Florida. The dampness and humidity probably made it seem a lot colder than it really was. Soon after some good coffee and breakfast I was so excited to see Sunday's line-up.  I'm sure lots of people after seeing it took Monday off of work just so they wouldn't miss it. By noon time it was getting warmed up and it was time to see our first act of the day. 
Donna Hopkins
set the stage for the day down at the amphitheatre.  With
Bobby Lee Rodgers
proudly sitting in on the set, it was an afternoon wake up call to everyone around. Roosevelt also sat in for a couple.  In the afternoon
The Yonrico Scott Band
took the stage.  I can see why Derek Trucks picked Yonrico and Kofi Burbridge to be a part of the Derek Trucks Band.  They play together so well together, and as an added treat Erik Krasno, Nigel Hall, Mike Dillon, and Roosevelt all sat in for the set.  I just loved seeing this collaboration of artist play together all weekend nonstop. Next on the schedule was
Zach Deputy
out on the campground stage.  Finally we got to see Zach, knowing that he was play at least 6 times if not m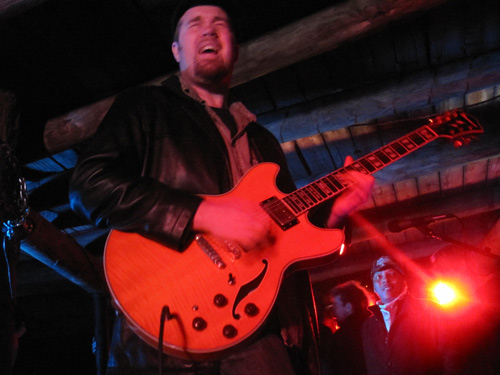 ore we knew we would catch him eventually. Zach really knows how to capture a crowd with his rhythm and rhymes.  The reggae beat and fun filled lyrics really hit the soul and makes you move whether you want to or not. I also love how he can sound like one acoustic guitar player to a full band with a full range of musical sounds with songs.  After Zach we were able to catch a breath from the music and check out some of the great vending that Bear Creek had to offer.  From great BBQ to scrumpcoius Gyros the food was delicious. The arts and crafts were in abundance as well with Indo from Asheville representing their beautiful clothing line and Creative Oddities who had really cool items such as a Garden Reflection which is an assortment of glass beads strung together with little mirrors and different eye catching charms. Home Grown Music Network also had a booth on hand turning fans on to all sorts of great music. The closing of the festival went out with a bang with
Galactic
playing again with
JJ Grey
sitting in for Sympathy for the Devil by the Rolling Stones. And some out of place crowd surf which I thought was very uncharacteristic but it worked out and no one got hurt.
The New Mastersounds
took the stage next on the Uncle Charles Stage. The New Mastersounds coming all the way from England sure fit into the mix very well and to see others sit in like
Kofi Burbridge
made it even better.  Being their last US date I think they saved the best for last. They went straight into a perfectly formed set of high-quality hard-hitting funk. The organ played by Joe Tatton provided many of the sets best moments, shifting effortlessly from scorching energetic groove to pleasant sounding melodies that kept everyone warm and fuzzy.  The Festival left some of the best for last with a musical collaboration that is very rare to see.  Dr Claw who consist of
Eric Krasno, Adam Deitch, Nick Daniels, Ivan Neville, and Nigel Hall
, with help from the
Shady Horns
and
Kofi Burbridge
sitting in turned out to be one hell of a show. Opening with The Headhunter's "God Made Me Funky" the set put a new improved meaning on the work FUNK. They also played Stevie Wonders "Higher Ground" and a Herbie Hancock tune making this a delight to hear.  I feel very privileged to have witness such a set by these outstanding musicians. The closing set was by
Dumstaphunk
at the amphitheatre stage.  Closing with Dumstaphunk was a great choice by the promoters. It put a staple on Bear Creek funk.  There is a stylish yet raw talent from Tony Hall (guitar, bass, and vocals), Raymond Weber (drums, vocals), Nick Daniels (bass, vocals) and Ian Neville (guitar) and Ivan Neville (Keys).  These members come together and throw down a fundamental rocking funk straight from New Orleans.  In your face funk or IYFF if you will is what this band is about from the first note to the last.
    In closing, the Bear Creek Festival was the funkiest party I have ever been to.  This well executed festival with one of the most solid lineups is for sure going to be around for a long time to come.  However the music alone is not what made Bear Creek so special, the kind and friendly people that Bear Creek attracted is what helped in making it one of the most memorable experiences of my life.  Long live the FUNK!
- review by Brad Winecoff
- photos by Myke Scaffidi