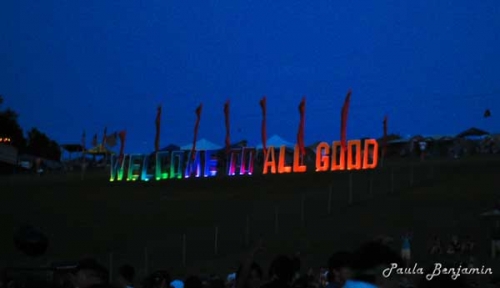 Thursday
Upon arrival a hot tormenting 2 hour wait filled our sun filled afternoon, that's really nothing when you think about waiting in line for Bonnaroo.  Once in, the transition from car to camp was relatively easy, the only fall back was that we were pitching a tent amidst a world of RV's, but the good thing was it was on flat ground. Looking over the beautiful mountainous terrain I could tell that flatness was hard to come by.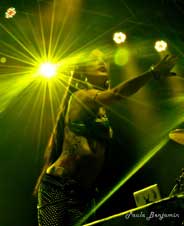 The music for the day started with a hot set from Hot Buttered Rum from Colorado then to one of my new favorite acts Beats Antique who I was hearing and witnessing for the first time and was blown away. BA is considered a "Live Electro-Acoustic, Heavy Bass, Belly Dancing and Roots Music". The beats with an Indian flare fired up some sick dub-step to a harmonic violin. The 3 members gave us a pulsating show to remember when they put on head masks, what I could make out was a zebra head, a wolf head, and a penguin, throw in some wrestling masks and you have yourself a party.  I highly recommend looking these guys up.  The John Butler Trio came on right after DJ Who featuring the acrobatic stint of Cirque Oya with no downtime between the two sets.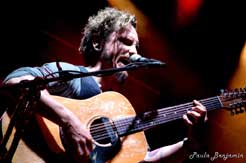 Throughout the weekend the 2 stages were on the money when it came to the set times.  The Aussie favorite gave us a solid two hour performance (One Way Road, Used To Get High, Pickapart, What You Want, Gonna Be A Long Time, Treat Yo Mama, Jenny, Guitar Solo, Revolution, Ragged Mile, Don't Want To See Your Face, Better Than, Zebra, Funky Tonight, C'mon Now, Close To You) To you guys out there, those clean catchy vocals from JBT will sweep girls right out from under you so watch out. I had seen JBT last year and I have to tell you it was like night and day between the two shows. Closing out Wakarusa in a tent compared to the marveling superior sound system on the main stage of All Good with 2 larger than life screens on either side of the stage putting you up close and personal with every band throughout the weekend, a big thanks to Icips.net for the awesome video. A surprising long sit down guitar solo by John Butler is what did it for me, the scales and chords he hit was like a breath of fresh new air, it culminated into a full bodied well-orchestrated masterpiece.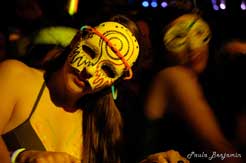 The late night set put everyone in a different place with the stage lights and audience eye candy; it was like being in the outer reaches of space with thousands of glow sticks.  We decided for this show to make the trek up the hill to catch Sound Tribe Sector nine from the VIP lounge and wow! The scene was blanketed by thousands of glowing people concentrated together down below in this half bowl landscape lit up with every color in the rainbow.  STS9's set went off without a hitch (Circus, When the Dust Settles >Hidden Hand, Hidden Fist, 20-12, Arigato, EHM, Abcees, Hubble, Scheme >Rent, Unquestionable Supremacy of Nature >Inspire Strikes Back.) When they started off with "Circus" I thought the place was going too spontaneously combust with excitement, the sweet melodies just kept coming throughout the set especially 20-12 and ending in a glorious immersion of "Inspire Strikes Back." Again comparing it to the last time I saw them hands down better. (See my review of last year's Wakarusa.)
Friday
This was the morning of generator hell; I don't think tents and RV's were meant to coexist.  Waking up to the sweet hum of an engine sputtering along to keep things nice and cool to our neighbors I about lost it, but I kept my composure and just woke up a little earlier than I really wanted too. I now started questioning myself "would we have rather rolled down a hill in our sleep or have a generator near our head, Hmmm.  Needless to say we didn't move, we would rough it out with the fantastically sounding generators for 2 more days' hip-hip hooray.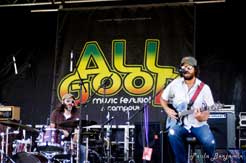 Being from South Carolina we had to go represent for the 11:50am set of Danger Muffin from Folly Beach, SC on the Grass Roots Stage that was conveniently located in the camping area.  Their gritty rock sound has hit the scene hard this year playing big festivals and getting air time on Sirius Satellite Radio. "Where is the damn shade in this place" I was thinking as I slowly cooked in the sun.  Shade was a hot commodity when it came to seeing the music during the day. I think I saw one lonely tree in the corner where the 2 main stages were located. People had the right idea bringing umbrellas to block the blasted sun, this was one luxury item that I wish we had, but instead I just looked forward to passing clouds and the cool breezes to give me a break.
Poor me right?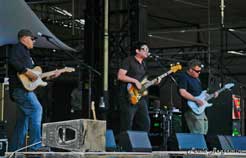 As the day got hotter the main stage did too starting with Giant Panda Guerilla Dub Squad. The amount of people enduring the heat to see the band was staggering.  As the sweat poured off eager faces the band blasted the sweet dub reggae sounds (Foundation > Change You > Burkina Faso, ?, Pockets > Healing, Love You More > Seasons Change > On The Moon, ?, Far Away, Forty-Five, ?) After this set the only thing on my mind was shade so we moseyed back to camp and got ready for Galactic.  This midday's New Orleans funk band sounded as good as I have ever seen them, they have come a long way from the days of the houseman.  Bridging the gap between the funk and the vocals was none other than Corey Henry (of Rebirth Brass Band) and Corey Glover (of Living Color). When's the last time you listen to Living Color?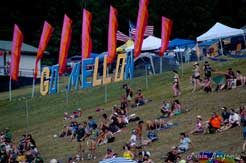 Immediately following Galactic was The Everyone Orchestra. TEO has always been about a magical collaboration of different artists all contributing and following the orchestrator mastermind Matt Butler's direction. Challenging both artist and audience, Matt throws the energy from audience to artist around like a whirlwind, making his show very unique and different every time. This set was good but I thought I was at the Hot Buttered Rum show with That One Guy sitting in.  I don't believe there was anyone else on stage but them. It actually worked out because we missed Hot Buttered Rum in the beginning. As Matt Butler conducted, That One Guy shook me to my core with the bass coming from his fantastically constructed device he calls "The Magic Pipe" a 7 foot tall aluminum u-shaped instrument with all kind of thingamajigs on it from swiveling pipes, metal gears, bass strings and electronic buttons that mimicked a drum kit.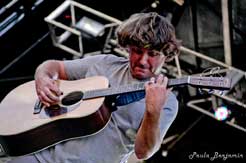 Keller, Warren Haynes, and Toubab Krewe all gave notable performances rounding out the late day.  When Furthur graced the stage the moon was as full as it can get, the mood was set and the time capsule was ready to take us furthur. (SET 1 - Jack Straw, Bertha, Money for Gasoline, Ramble on Rose, Big River, Cold Rain and Snow, Viola Lee Blues, Love Light. SET 2 - Truckin >New Speedway Boogie > Corrina > The Mountain Song > China Cat Sunflower > I Know You Rider > She Came in Through the Bathroom Window > Terrapin > Standing on the Moon, Going Down the Road > We Bid You Goodnight.) From start to finish Bobby and Phil fed off the stellar drumming of Joe Russo and the rest of the band and Warren Haynes jumped up for Love Light giving us a very special moment.  I was taken in by Beatles cover from Abbey Road; I had heard that Furthur has played a different song from Abbey Road at each of their shows last tour. Another highlight was the infamous Terrapin Station played flawlessly from beginning to end. We also got to hear some new stuff like Money for Gasoline and The Mountain Song which I believe were written by Robert Hunter.  The Grateful flame carried on by Phil and Bobby doesn't seem to be going out anytime soon, they seem to be on the same page with full steam ahead. 
A very short 45 min Big Gigantic dance set followed turning it up a notch giving everyone a second or third wind for the late night set by Umphrey's McGee. (Push the Pig > The Triple Wide, 2x2, Hurt Bird Bath, Puppet String, Tom Sawyer, Don't Stop 'til You Get Enough > JaJunk.) Of course another set that can't be forgotten. The first four songs clocked in at just over an hour showing the creative power of UM's ability to master the art of improv. Tom Sawyer wasn't the best cover I've heard from UM, I would have liked to hear the well deserving keys hit that song harder but they redeemed themselves with the 2 encores.  I'll deem it a short sweet set that had a huge impact on the audience, probably the rowdiest crowd of the weekend.
Saturday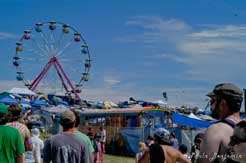 The morning started off very calm, quiet, and serine until the 9am sun came and the generators cranked up again.  Getting a fresh start we ventured out in to the other campgrounds, up and down the steep hills we walked inhaling the white dust stirred up by passing cars and golf carts.  During our little journey we came across the All Good Ferris wheel marveling over the landscape, at night the wheel came alive in the distance with the most amazing LED's that I've ever seen on a Ferris wheel.  We also came across slides that were raised by bales of hay, the walk continued on to Shakedown Street where vendors were set up a plenty.  Fulfilling our need to explore we headed to the entrance of the venue which was set up like an entrance to a castle.  The security was a bit harsh coming in this way that's for sure. I can understand checking bags but what's with the harsh pat downs. It seemed like every time we went through security wherever it was they changed the rules on us.  One minute we could buy a beer from the VIP tent and come in with it the next time they would tell us that's not allowed. Make up your damn minds and stick with it jeez.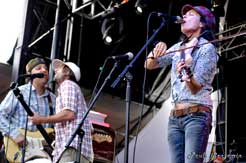 We arrived in time for some of Donna the Buffalo then Marco Benevento who seemed to be more concerned about giving away shirts and CD's then he did playing but what do you really expect with a 30 min set. I also was wondering why he wouldn't be playing with Joe Russo, if those two are at the same festival how can you not conceive The Duo. Being another scorcher outside it was sure time for some well needed shade so we skipped out on most of Mofro, but I can guarantee on one thing that he told the same stories and sang the same songs as he always does.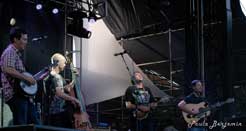 As early evening approached it was time for Yonder Mountain String Band. For an hour and a half Jeff Austin and the band gave us a musical ride reviving the hot sweaty crowd. (Casualty, Fine Excuses, Don't You Lean On Me, All The Time, Rag Mama, 2 Hits and The Joint Turned Brown > If You're Ever In Oklahoma, Complicated, Deep Pockets, Only A Northern Song, One More, Night Out, Ruby > Shake Me Up > Ruby > East Nashville Easter) More than ever it seemed that Jeff was just feeding off the 20 or so thousand people cheering. It became very prevalent in "2 Hits and the Joint Turned Brown" that this was not just any normal Yonder show it was a special connection between the band and fans. I loved when he mentioned that they would use the residual energy leftover from last night Umphrey's set to play "One More" which Brendan of UM helped write.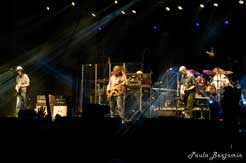 Great band after great band All Good just kept delivering with moe.  moe. just flat out killed it from start to finish. (Buster > Skrunk > Billy Goat > Don't Fuck With Flo > Tubing the River Styx > The Pit, Paper Dragon, Recreational Chemistry > Akimbo.) Beginning with "Buster" was perfect followed by "Skrunk" a song that been around since 2007 they say "skrunk is the noise Al's guitar makes when he smashes it."  "Billy Goat" and "Paper Dragon" were both first time songs for me I believe "Paper Dragon" was just conceived last year on tour.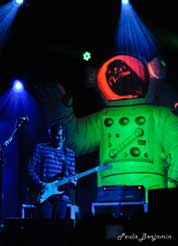 Following moe was Primus, what can I say about Primus but "Primus Sucks" a reversed psychology chant that has lasted as long as the band has been around.  They sucked so bad it was awesome.  Primus has been around since 1984 and has stayed true to the outlandish punk infused rock they started with.  Led by non-other than Les Claypool arguably one of the best bassist of our time.  This time Primus came together with their original band member Jay Lane who had been playing with Furthur for some time, he gave up his spot to Joe Russo and reunited with Les and the gang. (Groundhog's Day, Duchess and the Proverbial Mind Spread, The Eyes of the Squirrel, American Life, Tommy the Cat > The Awakening > Tommy the Cat, Lee Van Cleef, Over the Falls, Tragedy's a' Comin', Whamola, Eleven, Jilly's on Smack, The Green Ranger, Jerry Was a Race Car Driver, Over the Electric Grapevine, Harold of the Rocks.) The stage was set up with 2 life size astronauts towering over the band in the back, on the visors of the astronauts were images of different faces filling in the blankness of the helmet.  The set started with a very creepy intro.  You remember Pee Wee's Big Adventure? Well remember the scene where Pee Wee had a bad dream about the insane clowns taking his bike to the hospital? Well that little tune opened up the show, Creepy! I believe Les feels right at home when playing at All Good because he's played here 5 of the last 7 years.  Claypool stated that Primus is working on a new album due out Sept 13th, some of the songs played from the new album I thought were awesome like Jilly's on Smack."  I would have liked to hear more from my favorite album Frizzle Fry, but we did get "Groundhog's Day" and "Harold of the Rocks" from it. One of the highlights was Les putting on the ape mask and jamming out on his creation "The Whamola" which is a direct descendant of the washtub bass, an American folk instrument popular with skiffle and jug bands, and features a single string which is manipulated via a pulley-and-lever system. The pulley mechanism is mounted in place of the tuning pegs at the top of a double-bass-style neck, which is attached to a wooden or metal body featuring a bridge, pickup and stand. The Whamola is played by hitting the string with a drum stick and either fretting it against the neck with the other hand or using the lever to alter its tension and change the pitch.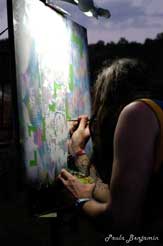 After such an incredible set, the late night geared up for Karl Denson's Tiny Universe and Pretty Lights.  Seeing Karl countless times I knew he was going to hit it out of the park with his set but what I wasn't ready for was the awe inspiring set by Pretty Lights. I had seen Pretty Light's before I believe it was 8-8-08 for Trinumeral and it was nothing like this, last time I got kinda bored and went to bed. But this, this was something out of this world.  The lights that he has invested in tops any I have ever seen.  I guess if you're going call yourself Pretty Lights then you gotta deliver.  And deliver he did in a way that brought everyone into a vortex of lights filling every void of darkness in a full spectrum of colors. Pretty Lights stood on a three tiered light box pedestal where every box changed different colors and gave the illusion of moving wildly across the stage. PL Mixed up some filthy cuts like John Denver's "Country Road" and Pink Floyds "Time", all while 30 thousand people were going out of their freaking mind, there were more glow sticks and people dancing than I had ever seen before in my life. Climbing up on the hill for this mind blowing experience was by far the icing on the cake.
Sunday
Today caps the end of a wild adventure of music and fun but it wasn't all fun a games for everyone today. Waking up we endured an excruciating story of a horrible accident that happened in the early hours of the morning taking a young girls life. Here at Homegrown Music Network our prayers go out to her family in this time of tormenting agony. Being the 15th year of All Good I had heard this was the first death which is astonishing to know considering the amount of people that show up year after year. After that gut wrenching story was managed to get our wits together and finish the day's music.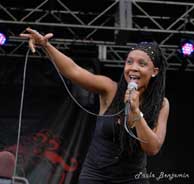 The godfather of reggae Toots and the Maytals busted out some classic tunes.  It was nice to see Toots give props to his daughter who stole the show for the beginning 2 or 3 songs. We also closed out the day with Dark Star Orchestra giving us a taste of what the Grateful Dead used to sound like. It amazes me how much like the Dead they sound. DSO usually will pick a date in time that the Dead had performed in the past and play it in its entirety but I believe this time they played a medley of greatest hits. (Here Comes Sunshine, The Music Never Stopped, Doin' That Rag, Lazy Lightning > Supplication, Rubin And Cherise, Greatest Story Ever Told, Next Time You See Me, Help On The Way > Slipknot > Franklin's Tower > Let It Grow > Drums > Let It Grow > Shakedown Street > Sugar Magnolia, Tangled Up In Blue)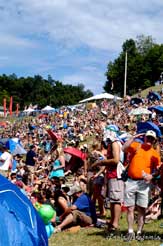 The music this weekend gets a 5 star rating based on the fact that All Good strives for top notch performers with no over lapping sets. The overall experience I will give 4 stars mainly because of the heat, the dust and the hills people had to endure during the weekend. Festival Hygiene get 4 stars because of the lack of hand washing facilities that should have been at every row or porta-johns also the trash left by everyone was staggering, even though Clean Vibes did an outstanding job cleaning up after everyone they shouldn't have to work that hard if people just picked up after themselves. The weather although perfect throughout the weekend will get 4 stars because of the heat index and lack of shade anywhere.  And last but not least the festival atmosphere gets a 5 out of 5, the positive energy felt by each and every patron could only be achieved from the hard work and dedication of everyone involved in putting on a festival of this magnitude without losing the family feeling.  I look forward to seeing what All Good has in store for us next year I am sure they will not disappoint.
Article by: Brad Winecoff
Photos by: Paula Benjamin