When Ann Wilson walked onstage to join Gov't Mule for the final set of Warren Haynes' 29th Annual Christmas Jam, she began to sing "The snow falls hard and don't you know? The winds of Thor are blowing cold." That was an apt description of this year's Christmas Jam, which saw Western North Carolina transformed into Santa's North Pole, thanks to a massive snowstorm that no one, meteorologists nor musicians and fans, saw coming. The blizzard hit Asheville on what would have been Gregg Allman's 70th birthday, and his spirit was celebrated throughout the evening. In contrast to the arctic blast outside, the vibe within Asheville's U.S. Cellular Center was warm and cozy, and sweetened with delicious jams. In the true spirit of Christmas, all profits from this musical marathon go to Asheville's Habitat for Humanity, which build homes for those in need. If you would like to contribute, please do so here.
After some warm-up piano by Holly Bowling, the show began with Warren Haynes' rendition of Gregg Allman's "Melissa," accompanied by Hawaiian ukulele master Jake Shimabukuro. Next was Shimabukuro's jaw-dropping performance of George Harrison's "While My Guitar Gently Weeps," followed by "Dragon." The reflective mood soon tuned into a barn-burning hoedown, when Margo Price hit the stage with her band. Price's music is mainstream country, but some of her lyrics are refreshingly progressive, addressing gender-inequality and environmental destruction in songs like "Wild Women" and "American Made." Blackberry Smoke's set was next, with mutton-chopped Charlie Starr leading his southern-fried rockers through whiskey-soaked anthems like "Waiting for the Thunder" and "Ain't Much Left of Me." References to Gregg surfaced again during Blackberry's set, with an improvised "Mountain Jam" tease, and a moving slide-guitar intro of "Amazing Grace" on their final song.
North Carolina's Avett Brothers take the Appalachian region's rich history of bluegrass and folk music, mix it with pop sensibilities, then deliver with a high-energy, infectious exuberance. If you see them live, you just can't help but like them. Their set was short and stripped down, without a drummer, but it got the crowd truly revved up for the first time in the evening. Songs like "Laundry Room" and "Paranoia in B Flat" were irresistible. The Avetts then moved quickly to the side stage to join Warren Haynes for Merle Haggard's "If We Make It Through December" and Bob Dylan's "You Ain't Goin' Nowhere." Next was one of the real surprises of the evening, when Ann Wilson walked out to the side stage to join Warren Haynes for acoustic tributes to the late Tom Petty ("Southern Accents") and Chris Cornell ("I Am the Highway").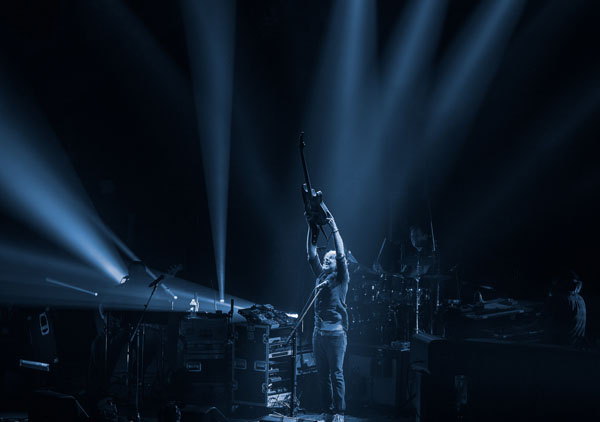 The improvisational heavyweights took over at this point, when the "classic" version of Trey Anastasio Band hit the stage. Fronting one of the best rhythm sections I've seen in a long time, Trey led the band through familiar tunes like "Gotta Jibboo" and "First Tube." They also played Marc Ribot's "Aqui Como Alla" for the first time in 16 years. The previous night, drummer Russ Lawton and keyboardist Ray Paczkowski cooked up tasty grooves as an instrumental duo at The Asheville Music Hall. Paczkowski is an incredibly funky organ player, and Lawton is right in sync with him. Sitting bassist Tony Markellis locks it all down perfectly. There was another mic-stand next to Trey, and many assumed this was for Warren Haynes, but he did not appear there. Instead, Trey joined Warren on the side stage after the TAB set, for "Miss You" and Gregg Allman's "Midnight Rider." That set closed with an incredibly moving version of "Morning Dew," performed by Warren with Holly Bowling on piano.
Next was Les Bros, assembled by Warren to pay tribute to the late Gregg Allman and Butch Trucks of The Allman Brothers Band. Haynes obviously had to make some last-minute adjustments because ABB alumni Jack Pearson and Jaimoe were not present as planned. Instead, Warren called in Paul Riddle to help Marc Quinones form a two-drummer line, Gov't Mule's Jorgen Carlsson was on bass, Bruce Katz on organ, and Lamar Williams Jr. on vocals. Lamar's father was The Allman Brothers' bassist during their commercial peak in the mid-1970's. A cast of rotating guitarists kept things lively, with Mike Barnes joining for "In Memory of Elizabeth Reed," 14-yr-old Brandon "Taz" Niederauer on "Southbound," Charlie Starr on "Blue Sky" and 21-yr-old Marcus King on "Dreams" and "Whipping Post." All four sounded great, but witnessing a kid as young as Taz play guitar with Warren Haynes on the big stage is truly heartwarming. You can see the excitement and determination on the boy's face, and there's a beautiful passing of the torch happening, as young musicians like Taz and Marcus carry the Allman Brothers' legacy forward. "Whipping Post" left the audience with goosebumps as Warren adjusted the final lyric to say "It's like a good friend told me. Lord, there just ain't no such thing as dying." Gregg Allman also sang it that way, immediately after the passing of brother Duane.
Around 2:00 am, Gov't Mule hit the stage, and launched into "Traveling Tune," a song off their new album that has a distinctive Grateful Dead feel. Next was Mule's "Thorns of Life." Towards the end of that tune, Danny Louis started improvising on organ, and his notes became slower, more compressed and drenched in reverb. The mood became somber and spooky. Soon it was evident where he was going, as Louis subtly weaved in the first hints of Led Zeppelin's "No Quarter." The crowd went wild. Everyone knew Ann Wilson was about to appear, and she did not disappoint. Warren's Jimmy Page riffs were perfect and Ann killed it on vocals. The Led continued with "Black Dog" and the viking anthem "Immigrant Song." The band also went into "You Shook Me" in the middle of "Mother Earth." Ann summoned the spirit of Janis Joplin, wailing during "Cry Baby," and finally wrapped up her set with Heart's "Magic Man." The final song, going to 3:30 am, was the classic "Mule," with Craig Sorrels on Trumpet. Once Warren finally said "good night," the audience, exhausted, overheated and blissed out, exited the venue and walked back into the cold winds of Thor.
Review by Alex Marsh
Photos by Willa Stein