Words & Photos by Jeremy Frazier
Disclaimer #1: This series of reviews is based upon the article I wrote to accompany Chad Smith's photos for Jambase. Therefore, some of it will seem slightly repetitive, and there will even be a few of the exact same sentences; I just like the way some of it sounds. But my goal is to add more meat to the musical analysis, expand upon some ideas, and include some of the random venue/crowd/intangible details that I like to stick in my comprehensive concert reviews.

Disclaimer #2: Please keep in mind that I am in no way employed by Umphrey's McGee for my writing. Even though it may seem like that at times due to the general gushing I tend to do about UM. Fluff pieces are generally something I try to avoid at all costs. But, goddamnit, I absolutely love this band. This is just me being completely honest.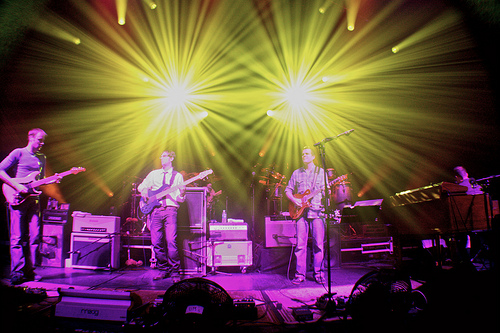 The time had finally come for the Umphrey's McGee NYE Run, a.k.a. my favorite time of Non-Festival Season!! This was to be their last NYE Run in Chicago and I sure as hell wasn't going to miss it for anything. At first I questioned the selection of The Riviera Theater as the site of run. I thought the Aragon was fantastic the previous year and I've seen the Riv get waaaay too packed before. But as the 3 nights went on, I realized that the choice wasn't bad at all... except for one minor, temperature-related detail.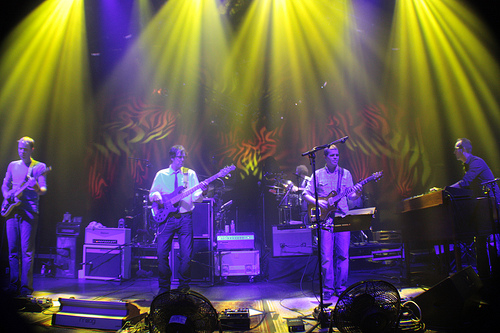 Reportedly, only the second two nights officially sold out, however, the first night still had the feel of a sold out show-- it was packed to the gills. They came charging out of the gate with "Bridgeless." This is a song that goes well as an encore song due to its devastating nature. But to throw it down right off the bat let everyone know that they meant business. "Bridgeless" segued off (indicating a return at a later time) into the best & loosest version of "Conduit" I've heard yet. I have been skeptical of this song -- especially at North Coast Fest -- but I really liked this one as they expanded the jams and seemed to explore a bit more. Essentially it sounded like they have begun to break this song in. The middle of the set brought an extended "Utopian Fir" that slipped into a dark & brooding reggae jam. It was very unique; I had never heard a dub/reggae energy brought to such a sinister level. By the end of this song I had left the photo pit and made my way through the hordes up into the balcony where I was hit by a wave... of heat.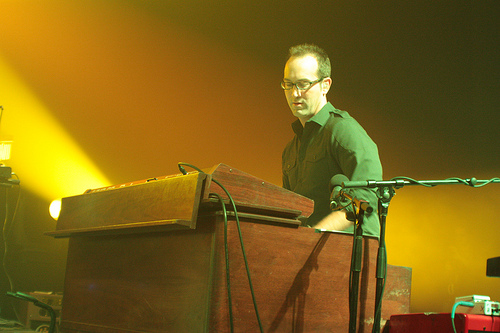 Joel Cummins
It must have been about 93 degrees up there and I turned into a big, sweaty mess in a hurry. Especially after a raging "Push The Pig." But the good thing about the balcony was the relaxation factor. Not only were there seats for maximum wookage, but I didn't see anyone get yelled at, thrown out, or busted at all. For anything. Not that there was anything out of the ordinary going on, but overzealous security can harsh my mellow in an instant. The first set ended with a cover of Bob Seger's "Hollywood Nights." It definitely made the crowd sing along with Jake's perfectly tuned Seger voice (he does some awesome impression/tribute voices). But all in all, it felt like a strange way to end a set. In fact, it was the only set of the entire run that didn't end with a sledgehammer of a song.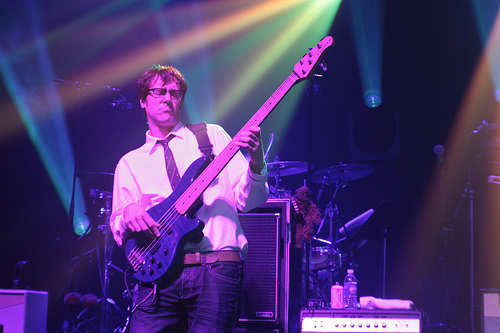 Ryan Stasik
They returned for the second set with "Much Obliged," a staple song for any joyous occasion that lead right into the reprise of "Bridgeless." This is a staple combo, as if the songs are almost meant for each other like the Grateful Dead's "Scarlet Begonias > Fire On The Mountain." As usual, "Bridgeless" came to a fantastically berserk peak, so when "Bad Poker" came up next, it was a tremendous shift in energy. "Poker" had a comfortable, bluegrassy energy with some campy drawl vocals from Jake. This was sort of like a palate cleanser that made the leap back up in energy to "Tribute To The Spinal Shaft" seem all that much more drastic. I seriously love this song; it makes me move in the same frenetic way that "Nothing Too Fancy" does. It's one of those high-octane, guitar-driven, dance fuel songs that simply won't let you stand still. The end of the set brought a fantastic combo of "The Triple Wide > Ocean Billy." "Triple Wide" is normally a straight-up untzy freakshow thanks to Farag's quick fingers, but this night they generated a gooey jam section led by Stasik's bass, and possibly those sweet Moog floor paddles he has (but I couldn't quite see what he was doing). I normally don't like "Triple Wide" all that much but this jam section was really cool. It started to fade off and I heard a few quick notes that myself and about 3 other people around me reacted to by saying, "In The Kitchen!" But it was just a tease as they eased into "Ocean Billy."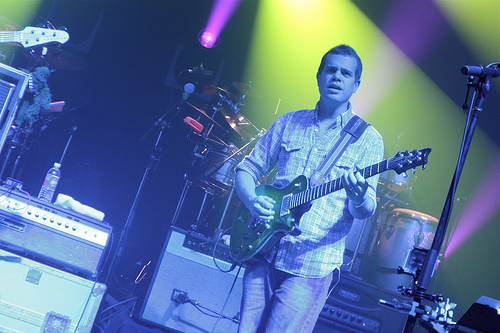 Brendan Bayliss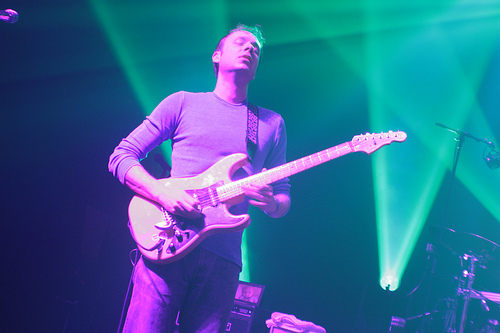 Jake Cininnger
This "Billy" was the peak highlight of the night for me. Not only was the song fiendishly intense (one of the best I've ever heard, and I seem to catch this song a ton) but also showcased the best of the brilliant mind of light director Jefferson Waful. He took a literal interpretation of the song and utilized an oceanic blue light scheme for most of the song. I was down by the front right bar peering up and it looked exactly like gazing into sun-splashed water. The top layer was a dark, cerulean blue and there were flashes of yellow at 1/4 the way from the top that sliced through the bottom 3/4 of aquamarine light. Amazing. But near the end, when Jake and Bayliss locked into those multiple brief periods of frantic shredding, Waful flipped the switch to a dangerous palette of bloody reds. The jagged layout of lights very literally made the air appear like a relentless shark attack, the savage bursts of bold red flashing over and over again in sync with the explosions of guitar. This added a visually interpretative dimension to the music that no other light directors in America can even touch. I wish I had some photos of this, but frankly, the lights had me hypnotized and I was too far gone for photography. It was seriously incredible. Waful is such an animal.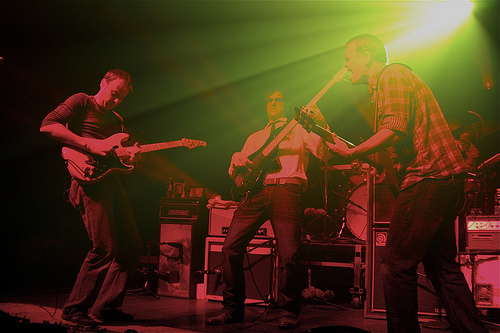 Rage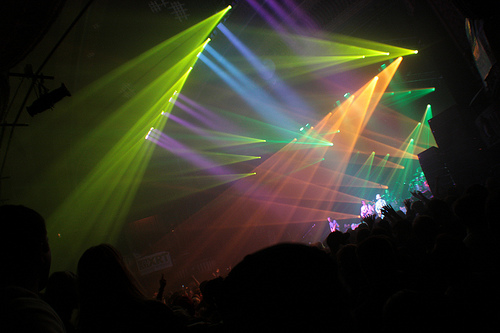 By the bar stage right, the best vantage point to see the entire sea of light.
"Billy" was absolutely stunning but the encore didn't let the energy level decrease at all. Though it's not typically used as an encore song, "Hurt Bird Bath" perfectly fit the intensity needed to follow up that second set. This song was absolutely electrifying and the interplay between Joel's synthesizers and Brendan & Jake's guitars is some of the best in their entire catalogue. "HBB" is one of my absolute favorite UM songs and this was one of the most outrageous versions I've ever heard... for the second song in a row! As I was leaving I couldn't stop thinking about how crisp & dialed in the sound was. Kevin Browning, the Sound Caresser, squeezed every single drop of sonic goodness out of the Riviera Theater. And he claimed on Twitter (@soundcaresser) that the sound was going to be better the next night. Uhhh, how??

Set I: Bridgeless > Conduit, Utopian Fir, Search 4, Push The Pig > Hollywood Nights*

Set II: Much Obliged > Bridgeless, Bad Poker, Tribute To The Spinal Shaft, Made To Measure > 2nd Self, Peg**, The Triple Wide > Ocean Billy

Encore: Hurt Bird Bath

* = Bob Seger cover
** = Steely Dan cover
 
After-Party at Metro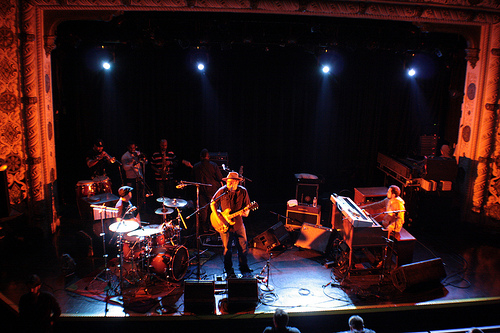 Lubriphonic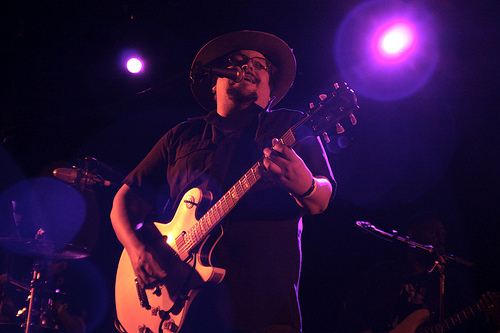 Giles Corey
I hopped on the Red Line to make the quick trip down to the Addison stop to head to Metro. Lubriphonic was up first and I made sure I was there to see all of their set. These guys have been building steam lately and I really wanted to check them out. There weren't many people there at the start but it filled up quickly as Lubriphonic pounded through their set. I had seen these guys one time before and I honestly wasn't too impressed. But this time? It didn't even take lowered expectations to be completely blown away-- these guys were insanely good. Every song was a straight-up funk assault and had the ever-growing crowd dancing constantly. This was the heaviest funk sound I've ever heard, incorporating a rugged blues edge and dense, soaring organs to the robust horn section to create a very full & complete sound. The leadman, Giles Corey, featured an array of sinister riffs and had a hammering style to his solos that was downright hostile. His voice was also perfect for this style of music. It sounded like a mixture of gravel & honey and somehow got as aggressive as his guitar at times. Crazy. They covered a James Brown tune to perfection and unleashed a smorgasbord of original material. I'm definitely going to have to keep my eyes on this band and check them out again soon; I now see exactly why these guys are gaining gravity, they kick ass.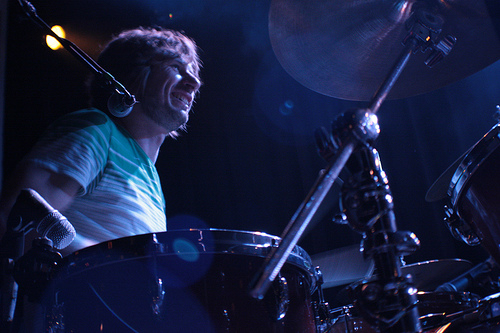 Simon Allen, a ball of rhythm & smiles on stage.
Eddie Roberts, getting his rage on.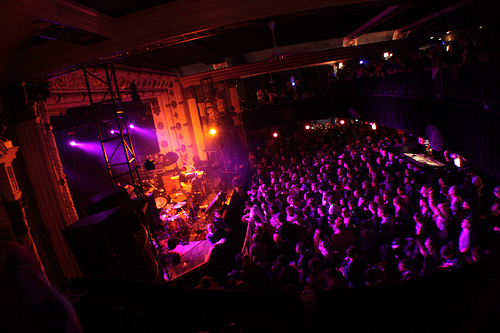 Packed houses look cool from the balcony.
There was a reasonably short intermission to clear the stage out for The New Mastersounds minimalist approach to music. They don't need a whole bunch of bells & whistles for their sound. A small drumkit, one organ, one guitar, one bass. That's it. But with that combo these guys bust out some wildly danceable, feelgood music. Their sound is a funk-blues fusion with a curiously classic American energy considering these guys are British. But it doesn't matter where you're from as long as you got the music in your blood... and these guys got that in spades. They had their usual smooth, funky goodness on display, but honestly, after the aggressive approach of Lubriphonic, the Mastersounds seemed like a step down in energy. The show was certainly enjoyable but it didn't lock me into a groove like the last time I saw them late-nite. I hit the wall around 2:15 and decided to save some energy for the next two loooong nights ahead of me. Indeed, Lubriphonic stole the show for me on this night. Did I mention that I want to see those guys again yet?