Posted by: leeway | September 28th, 2011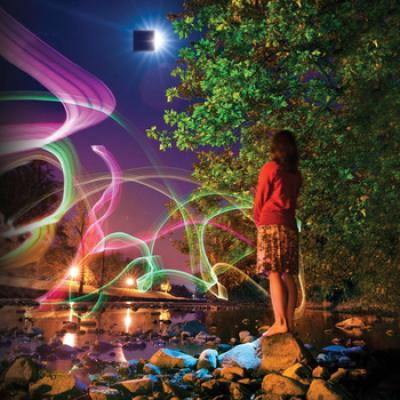 Ultraviolet Hippopotamus formed via an impromptu jam session in 2004, and has spent the last six years developing a burgeoning repertoire of songs that span different moods and musical genres. While some songs border on "radio friendly" and accessible, others display a more progressive, sonically challenging mentality. The third UV Hippo album, entitled "Square Pegs, Round Holes," exemplifies this sort of duality, as various tracks offer lingering jams and paint peeling guitar, while others pose as more nuanced and reflective. The lineup at the time of this recording was a 6 piece outfit, but the band has moved forward in 2011 as a five piece, due to the "retirement" of guitarist Sam Guidry. The five piece lineup is currently tooled with Brian Samuels (bass), Casey Butts (percussion), Dave Sanders (keys/vocals), Joe Phillion (drums), and Russell Olmsted (guitars/vocals).
"Square Pegs, Round Holes" begins on the strength of the buoyant, likable "Giants." Rollicking keys combine with energetic vocals in a song apt for convertibles and Saturday afternoon drives. "Bob the Wonder Cat" employs modulated keyboard riffs and chords of varying tone and complexity throughout the first half of the song. The track hits its mark on the strength of aggressive guitar and drums and displays lots of layers, offering much to chew on. The title track gallops out of the gates with luminescent keyboards, soaring guitar and features likable, bouncy lyrics. It even features a mild splash of kazoo in the latter measures of the song, and closes with a muscular dash of bravado. The aptly named "Run Rabbit Run" sprints by chaotically, employing feverish guitar and churning rhythm before settling into a nice, polished groove. This change in pace becomes characteristic of the song, as the song frequently ventures back and forth from feverish jaunts to more contemplative passages.
"T1J"incorporates a "livetronic" feel, with bleeping synthesizers meshing nicely with yearning guitar to add a sophisticated edge to the track. This track proves to be one of my favorites on the album. "The Scar" floats by on a relaxed, "rootsy" vibe, utilizing melodic runs on the keyboard before coalescing with intensity on the strength of guitar. "Avalon" strikes a dreamy, wistful pose and is punctuated with lyrical, thoughtful guitar. The ambitious, lengthy "Medicine" rises from the same ambient textures that precede it in "Avalon," and clocks in at just under 12 minutes. After a brief instrumental intro, optimistic lyrics encourage one to see the beauty in each day, as "it might make you feel better." The song changes direction frequently, rooting heartfelt lyrics in a playful, funk jam foundation. The album closes with "The Marine," which begins with lingering keys and tongue in cheek lyrics about a drunken hitchhiker on the side of the road. The song ventures through different passages and textures and closes with a psychedelic flourish.
In reviewing "Square Pegs, Round Holes," I am most impressed with Dave Sanders' work on keyboards, the muscular guitars of Russell Olmsted and Sam Guidry, and the overall symphonic feel of many of the album's tracks. The album displays a mature, polished arrangement of songs that range from guitar burners like "Bob the Wonder Cat" and "Run Rabbit Run" to more elusive tracks like "Avalon" and "Medicine." The overall composition works well on this album, offering summits of stratospheric guitar jam and valleys of more pensive, reflective musing. Throughout the album, the band seems to exhibit a certain playful sense-of-humor, which intrigues me to their live show, and I hope to catch them in concert soon.
- J. Evan Wade