Posted by: leeway | November 17th, 2010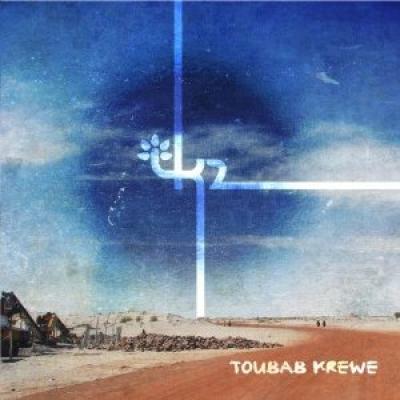 It's a hard road to make it in the music business, and a lot of incredible talents never make a dime for their efforts.  The occasional few have the right stuff for stardom, but many flounder away in the crunch time.  Gaining notoriety on a "regional" level is challenging enough, but to take one's act to a larger audience, one truly has to have the "stuff" of greatness and a bit of luck too.  Toubab Krewe, with their unique combination of West African and rock music, undoubtedly has the talent and capability, and appears to be on the path for larger audiences as well.  The band has garnered acclaim, and now tours in increasingly wider arcs from its Asheville, North Carolina home.  Their newest release, "TK2," is being distributed on the National Geographic label, while the band is playing choice venues on tours to the West.  The tracks of the album display a polished, mature sound and a nice combination of rowdy jams and elegant "chamber" music.  The album is longer in scope, featuring eleven tracks of dramatic, lilting jams;  some derived from West African rhythms and traditions, while others are complex, satisfying rockers.
The album is compelling and upbeat, forward-moving and constantly shifting; interludes are highlighted by frenzied drum work, guitar, or kora.  The song choice is excellent throughout the first half of the album, and there are no clunkers on cinder blocks in this neighborhood.  A medieval courtyard comes to life in the opening notes of "Mariama" as kora emotes elegantly and frantically.  "Nirvana the Buffalo," a live standard, gallops frantically and joyfully on the back of wailing guitar, while "Holy Grail" swells, calling one to the cathedral.  I have always been drawn to the exotic sounds of Toubab Krewe, but find the more straightforward "rock and roll" tracks to be particularly satisfying on this album as well.  They invoke strains of classic rock sensibility; punctuate them with skittering guitar or kora, making for interesting tapestries of sound.  "Sirens" exhibits a bluesy swagger, while "Carnavalito" sounds like theme music for a gypsy parade.  "Gine Fare," with power chords and deft guitar work, evokes a stadium rock sensibility.  The album closes with the enthusiastic "One Night Watkins," spotlighting excellent guitar. 
The arrangements for "TK2" are symphonic in scope, varied and ever mutable, and there is excellent interplay between instruments and musicians.  With eleven tracks, and clocking in at over 67 minutes, "TK2" proves to be a dense, satisfying package.  As Toubab Krewe charts the next step in the paths of their careers, "TK2" offers compelling evidence of future growth and livelihood.
- J. Evan Wade
Support HomeGrownMusic by purchasing through this iTunes button: