Posted by: leeway | April 28th, 2009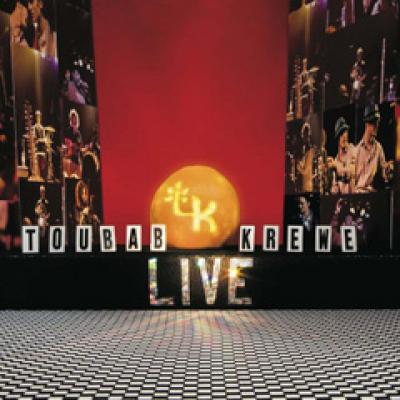 Toubab Krewe fuses West African and American musical styles and traditions to create a refined, polyethnic stew that is mysterious and satisfying.  Justin Perkins' dramatic flourishes on kora, a 21-stringed West African instrument, display arresting, harp-like qualities.  Joining Perkins in the band is Teal Brown on drums, Drew Heller on Guitar, David Pransky on Bass, and Luke Quaranta on Percussion.  The 8 selections, culled from New Years Eve shows in 2007, display the band hitting at the top of its game, as they deftly maneuver between rock, progressive, and internationally tinged musical styles.  The tracks on this album, punctuated by boisterous applause and the approval of a hometown crowd, seem warm and inviting, and well-produced by Grammy award-winning producer, Steven Heller.  The tracks range from lilting affairs, dramatic and punctuated by strings, to more progressive rock that is fueled by strong guitar, energetic percussion and precise interplay.  Toubab Krewe delivers a very seductive package with this collection of tracks.  The songs range from alluring, mysterious numbers that invoke visions of sultans and other faraway places to progressive, layered jams that deviate far away from the stale and the derivative.  Toubab Krewe's "Live at the Orange Peel" is an excellent recording and captures several particularly radiant tracks that will garner airplay in my collection for a long time to come.
The album begins with the delightful, celestial "Autorail," which meanders out of the gates on the strength of lilting kora strings and Drew Heller's excellent guitar work.  This carefree quality is a prominent characteristic of this live recording, as most of these tracks showcase excellent interplay and interaction amongst the stringed instruments.  "Lamine's Tune" motors forward on the strength of Heller's guitar, as his band mates create an interesting sonic tapestry, splashed with kora and strong percussion.  "Roy Forester," with playful splashes of kora, guitar, and percussion, sets the stage for the spoken word performance of Umar Bin Hassan in his rendition of "Personal Things."  Hassan encourages the pursuit of bountiful, meaningful legacies with his words, and the audience responds warmly.  "Kaira" sounds almost "majestic" and "palatial," like the product of some distant time, as it gallops along towards its airy, light-hearted conclusion.  "Moose" initially finds the band exploring more straightforward rock idioms, as exploratory guitar, driving bass and percussion rule the early movements of this song.  The song ultimately ventures towards another one of Hassan's spoken word performances.  This one is titled "Jimi's Juju" and is delivered with conviction amidst the backdrop of feedback and other atmospherics.  This track culminates in an exploratory jam featuring stratospheric guitar and frantic percussion that invokes the spirit of Jimi Hendrix.  The energetic "Buncombe to Badala" closes the album in intriguing fashion, offering the rowdy sensibility of surf music (a la Dick Dale's guitar) within the context of an exploratory jam.  An approving audience yells its approval as the album concludes.
Toubab Krewe has delivered an accomplished, excellent disc in its offering of "Live at the Orange Peel."  The 8 tracks on this album are refined and cultured, yet are satisfying and dance-inspiring as well.  I have emphasized how the presence of the kora defines many of the tracks on this album, but that's not a factor that I feel can be understated.  The use of this instrument, largely unique in American music circles, offers Toubab Krewe a unique sound that others have not captured, and this factor is one compelling component of their music.  However, this is not purely Justin Perkins' show, and his band mates contribute ably to the sonically interesting compositions on this album.  The overall length of this live album clocks in at over an hour, offering lots of tasty morsels to be savored and enjoyed.  With the release of this album, Toubab Krewe effectively spotlights their live performance capabilities, and presents themselves as unique artists of note in an increasingly cluttered music scene.

- By J. Evan Wade