Posted by: pkerr | July 16th, 2021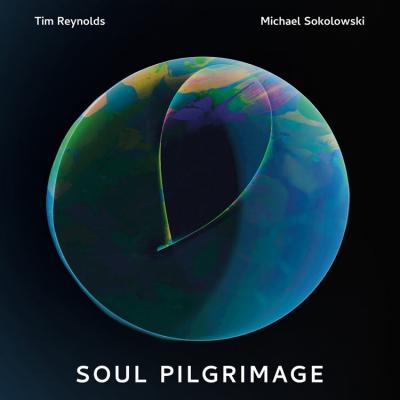 Prolific and relentlessly adventurous guitarist Tim Reynolds has released a steady stream of albums since 1988, reuniting here with Sokoband keyboardist Michael Sokolowski for a sequel three decades in the making. Their first duet album Common Margins appeared in 1992, and Reynolds rose to prominence in duo performances with Dave Matthews the following year. Soul Pilgrimage conjures the magic of their past work while embracing the wisdom acquired from the passing of the years.
The opening soundscape of "Efflorescence" reveals a bustling universe of electronic textures that subtly shift moods and rhythms, setting the scene for explorations to come. The 27-minute title track flows by like a rushing river, of one mind yet created from countless pieces - occasionally bristling with tension, often flowering with gentleness, sometimes spooky and sometimes sublime. This is meditative mood music that bubbles and churns like lava escaping the mantle, with ideas that simmer and enflame before boiling off into the ether. 
Throughout these voyages to outer and inner space, Reynolds wields his guitar like lightning, squeezing off tightly controlled bursts of energy when the pressure gets too high. Likewise, Sokolowski's keyboards prove a perfect complement, giving shade to the sun and motion to the wind, running joyfully alongside Reynolds as their muse breaks free of form and expectation. The effect is to both relax the mind and set it reeling, as sound and spirit weave together in endless combinations, collapsing and reforming like clouds in the summer sky.
"Is That You?" dips the listener into a sound bath warm with ambience and atmosphere, while the greasy alien funk of "Homunculus" provides a rare moment to dust off your feet. The record wraps with "But for Chance Operations," with plaintive guitar dripping dreamy echo and resonance. Soul Pilgrimage is a world unto itself, a peek into the unbridled imagination of two inventive and innovative musicians carving out sketches of sonic scenery richly painted in aura and aesthetics. This album came to fruition during the pandemic, and while it's remarkable that music so intimate was created at a distance, a soul pilgrimage is indeed an outward journey that ends within.
- Paul Kerr