Posted by: leeway | July 15th, 2010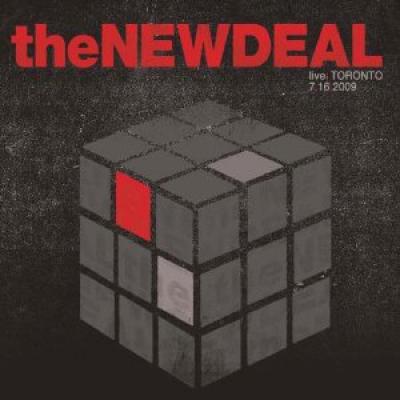 The New Deal recently released "Live in Toronto: 7/16/2009" and will be celebrating the anniversary of the recording with a prime, headlining spot at Camp Bisco this year.  Fresh off the heels of an energetic Thursday late night set at AllGood, and with other larger festival performances becoming the norm, The New Deal is uniquely poised for more exposure in "jam" circles and the greater musical world.  Composed of three inventive, excellent musicians (Dan Kurtz [bass] / Darren Shearer [drums and beatbox] / Jamie Shields [keyboard]), the New Deal presents a blend of live "house" music that is progressive and forward-moving.  The members of the New Deal can credit a steady diet of touring and live show excellence for this recent increased prominence, but a trip through Archive.Org proves they have long delivered the goods in live performances.  The liner notes of this album claim that there are "no samples, sequences, or overdubs" used in the recording, further cementing the band's reputation for fun, organic compositions.  The tracks on "Live in Toronto" present the New Deal at their respective best.  Exploratory passages and jams are spiced with occasional banter between tracks, revealing the hometown crowd to be proud and appreciative. 
The tracks on this release are expansive, varied jams, with five of the six tracks clocking in at over 10 minutes in duration.  "Now or Never" begins with a series of beeps, bloops, and bubbles until light, but insistent bass line is added to the equation.  Drums swell in intensity, creating tension ultimately released in head-rocking authority.  The track ventures through several moods and passages, as urgent keyboard undulates and snakes by, anchored by Shearer's excellent work on the drum kit.  "Gnome > Where It Is > Gnome" (pronounced "Genome") offers its introduction with fervent, insistent keyboards and driving work on the drum kit.  The swirl and undulation of keys leads to dull bass-ridden throb, as the track ratchets forward with further exploration.  "Gnome" spotlights layered drums, bass, and keys that swirl and undulate in focus.  After this panoramic 13 minute jam, the opening notes of "Jam > Mind Wanders > Pile Driver" seethe urgently and change directions frequently.  The song veers through various moods;  at times, sounding like an urgent call to arms from a Jamaican dance hall, while other passages are light and more exploratory.  This sort of duality is prevalent throughout the disc, as the tracks are schizophrenic and constantly shifting tapestries.
After exploring such vast terrain, "Deep Sun > Lights On" begins with a confident, head bobbing groove.  The track ventures forth with frantic keyboards, spiced with feedback and distorted loops, before settling into a more methodical groove.  The track frequently shifts in intensity; at times punctuated by squealing keyboards and pounding drums while other moments are more ambient and subtle in scope.  The track coalesces with throbbing bass and keyboards before easing in intensity.  The atmospheric "Jam > Deep Sun" completes this giant "electro fuzz" sandwich, and proves to be excellent, head bobbing sustenance.  The ambitious excursions provided in "Live in Toronto" close with "Jam > Gone Gone Gone," another energetic number defined by drums and keyboards.  The transition into "Gone Gone Gone" wails and pulses, culminating in a spirited head shaker to close.
With the release of "Live in Toronto," the New Deal has offered a trademark "live" performance that will play well in living rooms, dance halls or car stereos.  With tracks that present a variety of moods and intensity, "Live in Toronto" has the sort of weight and authority that could endear it to the legions of long-time New Deal fans.  On the other hand, it has the enthusiasm and verve that will be exciting and fresh to new fans as well.  In providing an hour of driving rhythms, keyboards, and throbbing bass, the release of "Live in Toronto" proves to be an unmitigated success, and a nice new addition to my increasingly "tough to crack" play list.
- J. Evan Wade