Posted by: Robie | November 23rd, 2011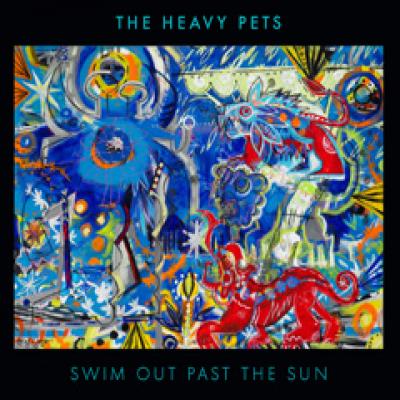 Scaling back on the guitar solos and putting the song front and center, The Heavy Pets return to their acoustic roots with "Swim Out Past the Sun". David Grisman contributes mandolin on three of the tracks - "On the Waves", "Song for John" and "Grandma June". Although it's not what I have come to expect from The Heavy Pets, I found it to be both stimulating and charming in its own special way.  And I do want to be clear that this is by no means a stripped down acoustic album. There's really only one track that I would even classify as such. There are plenty of keyboards, drums, bass guitar and even some horns.  It's a bit of Americana, folk-pop and a touch of 70's soft rock but its still The Heavy Pets through and through. 
While the band has made a name for themselves with their hot electric licks, multi-climactic instrumental solos and explosive live performances, THP draw upon the softer side of the hippie/indie folk scene with a lighter sound and with more emphasis on melody and song writing. Tracks such as "3AM", "Bridge" and "Lantern" rank up there as some of the best material they have ever recorded. Backing vocals by Shana Morrison, horn arrangements by Mike Kammers and David Grisman on mandolin add a nice touch to this more than satisfying follow up to their highly successful 2010 self titled release. The Heavy Pets prove once again that they are more than capable of consistently creating great music, no matter which direction they choose to take.  Produced and recorded by multi-platinum, Grammy and Oscar award winner Scott Mathews and mastered by Grammy Award winner Vlado Meller, "Swim Out Past the Sun" offers the listener a chance to unwind and kick back. They make it very easy for a fan to enjoy a little of the soft stuff. Put your feet up and get ready to enjoy.
- Simon Eddie