Posted by: Anonymous | November 5th, 2008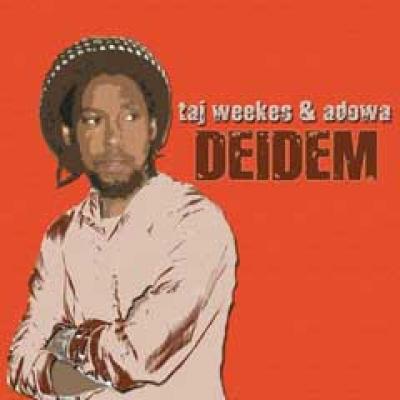 That's why it is so refreshing to hear an album like Deidem, which features a quartet of players that have their hearts and minds firmly planted in the right place. Leader Taj Weekes is a St. Lucia-born, socially and culturally motivated singer/songwriter with a band capable of creating the perfect backdrop for his thoughtful, revelatory lyrics.
The opening "Angry Language" sports a smoldering mid-tempo rhythm with watery guitars and rebellious horns, and introduces an album full of the foreboding, dramatic sound perfected long ago by The Wailers. No reggae artist can claim not to be influenced by Marley, and it's a tired comparison, but a necessary one. Can reggae music that sounds nothing at all like Marley even be considered "reggae?" It's expected that the listener will hear the familiar female backing vocal styles of the legends, as on "Propaganda War," complete with the "call-and-response" style where the female singers punctuate the male's lyrical proclamations. As derivative and incestuous as reggae music is, Taj manages to make his style notable through an ever-expanding trove of modern and historical subject matter, along with his instantly recognizable voice. His mellow, hushed tones manage to make the alarming subject matter that much weightier, as his delivery has a decidedly world-weary style.
Deidem is a pretty serious disc, and the handful of upbeat melodies found here are framed by urgent, conscious lyrics. "Hollow Display" succeeds at being mildly happy, even while the lyrics bemoan the fact that "my woman's gone away," and "Dark Clouds" displays an odd combination of joyous melodies and desperate lyrics, utilizing the "happy music, sad lyrics" template found so often in reggae and bluegrass music. "For Today" even manages to stir some genuine hope from the bottom of the mostly dark mixture, and the obligatory Katrina song, "Louisiana," might be the most hopeful on the album, strangely enough. It seemed unlikely that we'd ever get a modern-day reggae album from a new artist that can stand up with the seminal albums of the genre, but it has happened. One listen to Deidem and you'll hear that reggae music, in the right hands, is still capable of producing memorable moments.

--Bryan Rodgers