Posted by: leeway | August 9th, 2011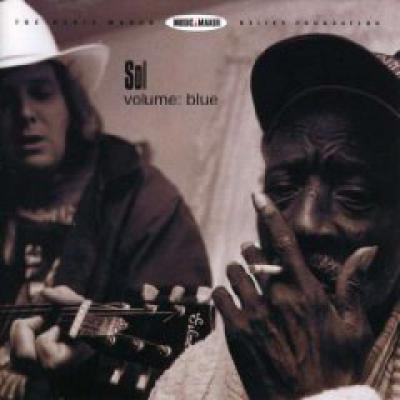 I first became aware of Sol in 2010 when I got the opportunity to review his album "Freedom" for the Home Grown Music website.  I was instantly fascinated by this album, as it presented a genre-bending mix of rock-n-roll, blues, soul and reggae.  The album grew on me with each successive listen, and it notched itself highly on my play list throughout last year and into this one.  I met him in person last summer at a nice gig at Sixth and Vine in Winston-Salem, and was instantly charmed by his humility and his thunderous runs down the fret board.  We had a few fun interactions that evening, and have communicated a few times since that show.  I was pleased to receive a package from him earlier this year with the CD, "Sol: Volume Blue" contained therein.  So, I decided I would bust one out of the Home Grown vault of recordings, and review this classic album today, some 9 years after its original release.

But to even talk about this album, one has to know a little bit of Sol's vision and history.  Sol first got in the music business by working with Tim Duffy of the Music Maker Foundation.  He worked in several capacities with Duffy, including as recording engineer, session musician, and then as a talented blues maker in his own regard.  Music Maker prides itself on keeping the spirit and traditions of the blues alive.  In pursuing this mission, Duffy and Sol spent ventured through countless back-country roads, finding old blues legends on their front porches, and recording these sessions for posterity.  These recordings became the source material of "Sol: Volume Blue," but then are twisted into diverse, interesting pastiches with the addition of electronic beats and embellishment.
"Intro" features a guitar sample from Guitar Gabriel's "Landlord Blues" and vocals from Cootie Stark.  These ingredients coalesce around the twang of Gabriel's axe with a nice, layered beat.  "Black Mattie" features the wail of Delta blues in an excellently composed arrangement, where stratospheric guitar mingles with yearning vocals to create a flavorful, bold dish.  Cool John Ferguson speaks to us in "Tribute to Gabe" (Cool John Version) as light guitar and minimalist beats frame him nicely.  Sol contributes bass to this particular track, and Matt Thorn offers his chops on guitar.  "Prison Blues," featuring several recordings from live Music Maker functions, announces its arrival with the wail of harmonica and confident beat.  The moody, darker "Gotta Have Rain" pairs the vocals of Essie Mae Brooks and Guitar Gabriel against Sol's guitar.  The song extols that one must have rain to appreciate the sunshine, and this sentiment and song correlate nicely with the following track.
"Cootie's Testimony" displays excellent, airy guitar from Cool John Ferguson, while Cootie Stark offers vocals for this buoyant, life affirming track.  "How Sweet That Would Sound" strikes a decidedly "world beat" pose with Bajuni Ngoma offering vocals (recorded in Randa, Kenya).  These segments are layered nicely, and Cool John Ferguson and Sol augment the passage with their turns on lead and rhythm guitars.  The resulting mix is evocative, yearning, and unique.  "Tribute to Gabe" (Part 1) pairs Guitar Gabriel (vocals) with Sol on guitar and added electronic embellishment.  This track offers nice groove and moods as it saunters to its conclusion.  The squawk and honk of harmonica plants us firmly back in the Delta as "Let's Do It like They Did It" surfaces next, and this brief interlude sets the stage for "Off the Blues."  This wonderful, evocative album closes with "Mister Frank," which offers Cool John Ferguson on banjo, the legendary (if unknown nationally) Abe Reid on harmonica, Sol on various instrumentation, and samples of Frank Edwards' "Chicken Raid."  After a few minutes of silence, a scintillating mystery track, chock full of harmonica and bass ends the album with a playful flourish.
There are not many albums that I would dare describe as truly unique, original recordings, but I take that stand with "Sol: Volume Blue."  This album delves both into the history of the blues, and into its future.  By spicing these seminal, bluesy recordings with elements of world beat, electronic, and other ethnic music forms, Sol ensures that the future of the Blues is rich.  Such tracks may be "off the blues" in their truest sense, as Captain Luke or Guitar Gabriel might put it, but by imbuing these recordings with added layers, Sol has given us a truly momentous recording.  Although some may have noticed this in 2002, hopefully more will notice that today.  This truly is a fantastic, one-of-a-kind album.
  - J Evan Wade