Posted by: leeway | March 26th, 2010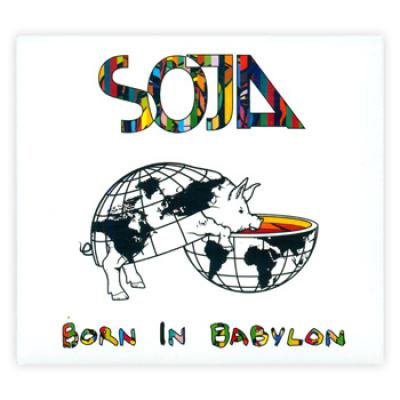 A good friend warned that this latest album doesn't sound exactly like the rest of SOJA's albums through the years, but that isn't always a reason to jump ship. This album doesn't sound altogether like a lot of SOJA's works (Go-Go isn't so prevalent; Bobby Lee sings less often; there are a few more guests), but what's here is really a choice example of how the group has developed a polished and ever-maturing sheen.
The title track features Jacob Hemphill's (guitar, vocals) immediately-recognizable vocals, calling for critics to back off. He sings, "How can I stop all these critics from their talking? Who do you think I think I am?" SOJA has a rather large fan base for an American-born Reggae group, so critics won't be able to do a lot to take that away from them. This critic just hopes to spread the word and help things grow. All of SOJA's catalogue deserves a listen, each for its own reason, and I don't hear anything that forecasts signs of change in that regard.
Go-Go rears its head on "Bleed Through." I mention this because SOJA hails from the Washington D.C. area, and D.C. is the birthplace of the style. Although the style isn't so prevalent on this album, it always gives Kenneth Brownell a chance to bring his percussive talents to the front; Go Go Mikey (of Rare Essence) lends his conga skills on this one. I'm always down for a touch of Go-Go, and it's good to know that the form still has some relevant artists breathing life into it.
One of the album's more beautiful songs is "You and Me." It creeps to life under the effort of Eddie Drennon's guest violin. Hemphill is a prolific writer, and this track was shaped "with inspiration from Boomer." These lyrics should touch any heart that loves or has ever loved another. Hemphill sings, "And when this dance is done, you and I are still the only ones. Yeah since time begun, and I'm still with you even when you're gone." Of course, the written word won't suffice to convey the emotional tug of the song itself, but the message is clear, pure, and heartfelt. In a world of artists who sing of the greatness they've achieved and of the material things of this world, we could do with more messages of peace, love, and hope. I played this song repeatedly while working on this review, and you're likely to repeat my obsessive rewinds.
"Summer Breeze" is another gem, allowing Bobby Lee to add his wonderfully-rugged vocal style to the album; it's a strong counter to Hemphill's smoother croon. One of Hemphill's wiser vocals is, "Cuz karma happens, doesn't matter 'bout which Bible I got, and I can feel it in the air whether I read it or not." SOJA's lyrics constantly attest to the spiritual drive of the band, appropriate since SOJA is an acronym for Soldiers of Jah Army. Lee's lyrics come with a force worthy of spiritual battle. His vocals are deep and bear strength of conviction. He sings that all we have to do is look to the past for the secrets of the present, "I can remember in my mind, way back before my time, a memory lived through my DNA line. I can see it in Jah signs that we could be just fine. Let history reveal the truths we need to find…So we sing it in this song, with hopes to resurrect consciousness back through our daughters and our sons." If the future is going to be one free of the mental chains Babylon swings so heavy, Lee's advice must be heeded.
Stepping from the role of a critic, I'm just another man "Born in Babylon." Music that is able to free the mind and give hope to a restless soul is rare in this world. As long as SOJA keeps creating, I'm willing to listen. But, a positive message is not enough to keep a person listening for long. Great messages can be written on paper, or simply spoken aloud. Thankfully, SOJA's musical talents and creative juices continue to gift us all and act as a support for their weighty message. Have a listen to their latest; here's waiting on the next…
- By  Jeremy Sanchez