Posted by: leeway | August 25th, 2009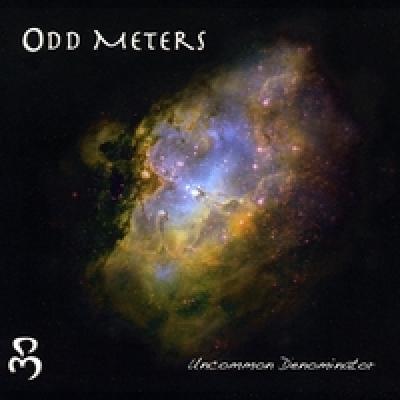 Jon Morrow and Shane Parreco of the Odd Meters first met at Brevard College in 2003 while studying music under the tutelage of Jeff Sipe and Dr. Laura Franklin.  With Morrow playing a hybrid 8 string guitar / bass, and Parreco offering his chops on drums, percussion, and vibraphone, the duo offers robust, mature jams on the tracks of this album.  The album features several guest musicians, including Jeff Sipe (Keller Williams, ARU, and others) on drums and Kofi Burbridge (Derek Trucks Band) on flute.  The resulting concoctions presented by the Odd Meters are pleasing, well-produced, and sonically challenging.  The tracks on this album seem to have distinct personalities, but all are signified by strong guitar work from Morrow, pleasing percussion from Parecco, and excellent contributions from their guest musicians.  As a reviewer, with personal tastes, likes, and dislikes, I found the tracks that featured Burbidge to be especially likable, but this stems from my love of the flute.  Burbidge's flute playing adds an elegant dimension to three of the tracks, and I found those to be three of my favorites.  The album is lengthy and substantial, with eleven tracks clocking in at over 47 minutes total.  The album is totally instrumental, with unique tracks and flavors boiling over in each of the recordings.  Parreco produced, recorded, and mixed the tracks on this album, and is to be commended for solid work on both the technical and artistic sides of the album.
"Uncommon Denomintor" begins with "Fortie," a stripped-down track spiced with modern jazz tinges and Burbidge's silky flute.  Exploratory guitar mingles with Burbidge's flute against a backdrop of sparse, precise drumming to create a yearning introduction for the album.  "A Half Step" lingers in loose waters, as measured guitar meshes with Parreco's drumming and skilled vibraphone to create an airy, sophisticated track.  Parreco's vibraphone creates a wistful tone that is noteworthy and satisfying.  "5 Fingers 3 Feet" picks up the pace, featuring excellent rhythm work and guitar.  This track, like several others on the album, proves that the Odd Meters can "do more with less."  "Double Positive" features Burbidge's syncopated flute and Mike Seal on guitar.  "Ragamatra" spotlights Parreco and Morrow playing in a meditative, thoughtful manner, as Morrow's guitar is accentuated by Parreco's calculated, tight drumming.  
"Azteca" features jam luminary, Jeff Sipe, on drums and timbales, while Burbidge contributes flute to this track.  There is a sophisticated quality to this track as flute, guitar, and percussion all interact freely in ramping up to an energetic conclusion.  "5 is the new 4" is accentuated by Stephen K. Wilson's trombone, which ambles over a loose backdrop of bass, guitar, and drums.  "Gummy Worm" displays nice interaction between guitar, drums, and trombone, ratcheting up to a fun, energetic groove that is sure to please.  Jeff Sipe contributes his talents on drums to "Coble Vensualez," with Parreco offering more of his skilled vibraphone work.  The resulting concoction is a syncopated, pleasing track that equally spotlights Sipe, Morrow and Parreco's work.  The album closes with "Busted Trampoline," which begins methodically before yielding to Morrow's expressive guitar.
The tracks on "Uncommon Denominator" prove the Odd Meters to be skilled musicians with a love for breaking down boundaries.  The album is well-versed in jazz and world beat idioms, while maintaining some reverence for both jam and rock-n-roll.  The contributions of the guest musicians augment the stable, pleasing foundation offered by Morrow and Parreco.  The musicians are to be commended for creating a sonically challenging album, and for incorporating seasoned, veteran musicians into the fold for this recording.  Several of these tracks sparkle and I particularly liked "Fortie" and "Gummy Worm," while enjoying others as well.  Bands that can successfully navigate the production of an "instrumental" album, without sounding like some compilation of convoluted elevator jazz have to be applauded.  The Odd Meters do that well on this album, as the tracks are likable, airy, and in even some instances, fun, which can hardly be said of many such instrumental acts.
(Writer's Note - Biographical detail found at
www.oddmeters.com
)
- by J. Evan Wade