Posted by: leeway | July 28th, 2009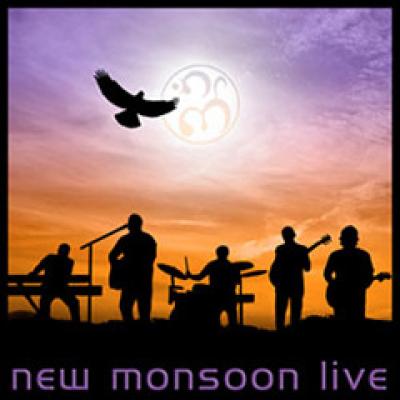 It's exceedingly difficult to capture the feel of being at a live concert, so most bands never attempt to sell recordings of their shows. Cheering fans set New Monsoon Live into motion, and the sentiment is catching.  Frequent festival goers are likely to have run across them, somewhere or another, and it's doubtful that they became anything other than New Monsoon fans. This 2-disc set is a testament as to why.
These recordings took place during a 3-night stint (three separate venues) in Texas, during September of 2008. For the first time, New Monsoon's five current members are featured on this recording, and it is a snapshot of the solid rock on which the band finds itself. The band has a wealth of songs to pull from, and they stretch them into tasteful jams that reflect the time these guys spend on the road. Through extensive touring, their songs are allowed to breathe and grow as they are interpreted and reinterpreted.
The first couple tracks are basically rock-based, and then "Sweet Brandywine" rolls through, full of backwoods foot stomping and saloon-stained piano runs. "Modus Operandi" is one of those instrumental tracks that makes me wish I was in a field swaying in the notes and the wind, but this recording will suffice, for the moment. The first disc is full of highlights (no complaints here), and "Rattlesnake Ride" closes the disc with the impact of a chugging freight train, without overshadowing the dynamite on the second disc.
"Southern Dew" is a personal favorite, and stands as the first track on the second disc. This song allows the band room to jam and stretch, although they never lose track of where they are headed. Love it as I do, too much jamming can become tedious on the ears, but New Monsoon tends to operate tastefully. "Copper Mine" oozes to life like sap rolling down the bark of a tree, before growing into a thoughtful song that pulls at southern heart strings through a pool of organ washes and electric guitar riffs. Disc two features two tracks that break the 10-minute barrier, and both are wonders. "En Fuego" is laden with banjo goodness (love that banjo) and "Country Interlude" is cheerful enough to make the sun peak through any storm.
New Monsoon Live houses two covers. The first is a raging "Freedom" (Jimi Hendrix); the man would be proud. The second is a version of the oft-played "Stagger Lee" (traditional). It's certainly hard to go wrong with either; kudos to New Monsoon for the nods to the past.
So, while most bands avoid the pressures of releasing a live (possibly wart-ridden) album to the public, bands like New Monsoon are almost obliged to release this material. Parts of songs you heard on a studio release may simply sound like distant cousins to the same songs you hear during a live performance. I'm waiting to absorb whatever they decide to package next, even if I've already experienced it a few times along the way.
- by Jeremy Sanchez