Posted by: Robie | November 1st, 2011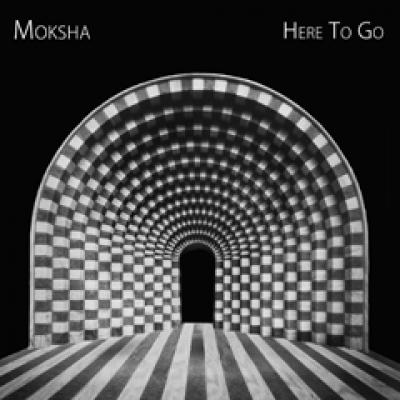 I have to say that I was pretty impressed with Moksha's 2010 release, "Mammal or Machine". It was on my list of top favorite albums last year. So my expectations were pretty high when I heard about their upcoming release, 'Here to Go'. Honestly, my first impressions of the new album were not that great. I just didn't know what to think of it.  I should also add that the first version of the album that I received was a download and the songs were all arranged in a different track order.  Listening to all the tracks in this random order made it difficult for me to grasp the album or whatever message it tried to convey.  So feeling a little frustrated I put it aside and forgot about it.
About a month later I received the actual CD and I decided to give it another go. I must say, whoever chose the final track list for all the songs is a genius! It was a completely new album for me. Is it better than 'Mammal or Machine'? It's not only better, I consider 'Here to Go" to be a classic and a serious contender for HGMN's 2011 studio album of the year. If HGMN were to have a list of the top 10 albums dating back since 1995, 'Here to Go' should be on that list. The album is slick, timeless and it only gets better with each listen. It seems like every time I listen to it I'll pick a new favorite song. It's currently 'Starswarm'. It is a CD that requires a bit of patience because to truly appreciate the brilliance of it all you must listen to it from start to finish. With the help of four-time Grammy Award winning engineer/mixer James "Bonzai" Caruso, Moksha has indeed produced a masterpiece that deserves a permanent spot in your music collection. 
 If you were a fan of the last album then the first thing you will notice is that Sam Lemos does all the vocals. He was the one who sang 'Interface' on 'Mammal or Machine' and is now a full time member of the band (See HGMN Interview).  Sam's vocals soar and help add a whole new dynamic to the core sound of the music, resembling a sound similar to a classic rock album but with 21st century production.  Their sound reminds me a lot like a cross between Rush and Pink Floyd but the music frequently shifts from reggae and world music to funk, rock and experimental jams. Listening to the album from start to finish feels as though you have taken part in a psychedelic joyride in the band's van, traveling through space from one mysterious planet to another and meeting a few outlandish characters along the way. It's a journey that's both adventurous and exciting. 'Here to Go' is a solid rock album full of sonic experimentation - melodic vocals, vibrant horns, soaring guitar, space-funk keys and a steadfast rhythm section that holds everything together with authority and finesse.
- Simon Eddie