Posted by: Robie | October 9th, 2013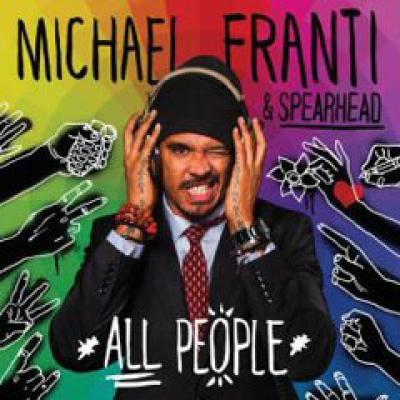 I discovered Michael Franti and Spearhead in the early 2000's. In 1997 the band came out with their sophomore album Chocolate Supa Highway – a hard hitting, politically driven album, with songs reaching back to Franti's (vocalist) roots of hip hop-ish, punk and spoken word. It is tough to say that Franti had firsthand experience with the detrimental factors of impoverished neighborhoods, unemployment, the "Us and Them" attitude, but in Chocolate Supa Highway his songs show that he was very aware of those in unprivileged urban situations. He intensely attacked those issues through his tonality and lyrics in songs such as "Food for the Masses," "Payroll," "Madness in tha Hood," and "Rebel Music (3 O'clock Roadblock)." This passion and attitude towards bringing light to the impoverished life, and urban detriment, was really the heartfelt beginning of his said present powerful message which continued in the bands next album.
Stay Human was released a few weeks before September 11, 2001. Although the overall message and topics discussed in the tunes were similar, the evolution of Franti and Spearheads present musical style, sound and tone began with this album. Rhonda Nicole from www.soultrain.com states, "Stay Human marked a major deviation from the band's earlier fare…Still present was Franti's knack for housing strong social and political messages within gorgeously crafted beats and melodies, but while the first two spearhead albums stayed primarily in a decidedly hip-hop vein, Stay Human brought more live instrumentation and particularly soulful energy to the fore." This evolution of sound continued through Everyone Deserves Music, to Yell Fire and All Rebel Rockers… that was when I stopped listening.
Before All Rebel Rockers I had seen Franti and Spearhead on numerous occasions, whether festivals, concerts or coffee shop acoustic sets (shout out to Zou Zou's Cafe & Coffee Bar in Ann Arbor, MI). They were still fairly unknown outside the community. I enjoyed their mild unpopularity. They were still ours and sang for us. They were still teeter tottering the line between underground and mainstream, but edging closer and closer to the latter. Somewhere in 2008-2010 the track "Say Hey (I Love You)" tipped them over the edge. The song was featured on commercials, television shows, sports events, and even sung by elementary school children. Despite his powerful message for a peaceful humanity as one, I was upset, sad, disgusted, because he had "sold out" and was no longer ours, but every body's. After All Rebel Rockers, they came out with The Sound of Sunshine. I can't tell you much about it, I haven't listened to it.
This brings us to the present, where my musical stubbornness has diminished – I'm a little bit wiser, a little bit older, and a little bit more distant from my underground roots, just like the band – and the album, All People. This new album is composed of 11 tracks that progresses their message of a peaceful humanity for all through powerful lyrics in progressive jampop style. "All People" starts off the album in traditional upbeat, feel good Franti fashion transitioning into the "well-crafted, unfailingly likable, activist-sage roots" of "11:59." "I'm Alive (Life Sounds Like)" pays homage to their said mainstream hit from All Rebel Rockers. And to that I give a tip of the hat – few months out and it's already made it on some commercials. "Life is Better With You" and "Closer To You" are strongly influenced by his wife. They are two very powerful love ballads that will make for a great crowd pleaser for those festival couples, dating websites commercials, and first dances at weddings. "On and On," "Wherever You Are" and "Say Goodbye" are all slower, deeper, more Ben Haper/Jack Johnson-esc tunes that close out the album.  
Musically or better yet instrumentally, All People ends up being a decent album. Lyrically, emotionally, and overall significance based on meaning or how the music feels, All People, is closer to great. When it comes down to the question of forgoing past underground roots for a more widely accepted one, I will no longer fault anyone. Not even Michael Franti and Spearhead. Their message is their mission. Whatever it takes to spread their gospel, which is one we should all identify and agree with, they will do. And they will do it playing, singing and dancing with smiles on their faces bringing bits of sunshine into the darkness of this world.
- Kevin Tshiamala