Posted by: leeway | November 24th, 2009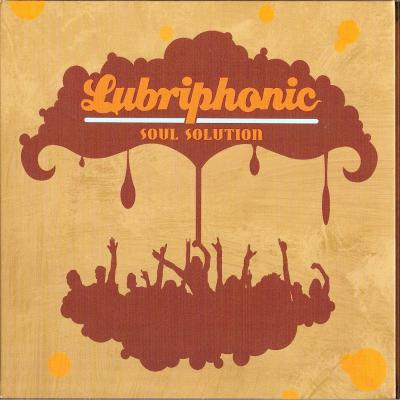 Lubriphonic, with their 2008 release of "Soul Solution," is a six piece band from Chicago, Illinois featuring energetic horns, smoldering guitar, and smooth vocals.  Their songs display an enticing blend of funk, soul, and rhythm and blues, resulting in mixtures that are warm and inviting.  These songs are infused with splashes of Sly and the Family Stone and dashes of James Brown, and are characterized by Giles Corey's trademark lyrics, vocals, and excellent work on guitar.  Joining Corey in Lubriphonic are Rick King on drums, Joewaun Scott on bass, Johnny Cotton on trombone, Ron Haynes on trumpet, and Michael Turner on saxophone.  The group (with a few guest musicians as well) delivers an exciting album with "Soul Solution
The upbeat, energetic tracks of "Soul Solution" begin with "Mixin' in the Kitchen," which ambles along with light-hearted lyrics and energetic horns.  Ron Haynes delivers an excellent trumpet solo in the latter half of the song while Giles Corey offers spirited guitar and vocals to close the song.  "Say Something Good," with bouncy horns and scorching guitar, summons the spirit of James Brown.  "On My Way" begins with enticing guitar and Corey's signature warm vocal delivery, before skipping and skittering to its conclusion.  "Mexico City Blues" invokes a spirit of reflection and rumination with its wisdom and lonely piano.  The opening notes of "Love Bomb" explode into prominence, and this energetic funk number features excellent work from the horns and rhythm section.  The production on this track is lush, featuring a fun groove that would translate well into many DJ's late night party mixes.  "Suffering Fools" trots along on the strength of horns, while "Depression Suite" is a trimmed down acoustic ballad splashed with wistful piano.
The title track of the album bursts out of the gates with blustery guitar, energetic horns and lyrics that praise the "soul solution" for your "sex revolution."  Ridiculous horn work dots the perimeter of the song, as guitar and drums ratchet the song towards a furious conclusion.   "Chalk Train," spotlights excellent guitar and horns, but this has been an attribute that defines the album as a whole.  The song coalesces into a spirited trumpet solo from Ron Haynes and he brings the song home with his expressive, precise horn work.  "Rain Keep Falling" is soaked with bottleneck guitar and the spirit of the Allman Brothers, as rollicking guitar scampers throughout the body of the guitar.  One aspect that I haven't really discussed at length would be Giles Corey's amazing vocal skills.  He sounds like equal parts Gregg Allman, Robert Cray, Corey Glover, all manner of talents, and his delivery is quite effective with the good time energy provided by his band mates.  "Another Patch of Ground" gives Corey plenty of room to croon, and he doesn't disappoint.  The song materializes into a nice Afro-Cubano groove that reminds of Carlos Santana to close the song.  "Soul Solution," in its "proper sense" (though what is proper about energetic, late-night party funk?), closes with the sparse acoustic number "Walls."  However, the album includes two "live" bonus tracks ("Mixin' in the Kitchen" and "Rain Keep Falling") to close the album off with a spirited romp.
Lubriphonic's "Soul Solution" is an enthusiastic, charming album that would register with a broad range of fans.  This album's spectacular combination of white hot guitar, expressive horns, and engaging vocals and delivery make this a package that has wide-ranging charms and appeal.  Giles Corey shines as lead vocalist and guitarist, but this recording gets much of its warmth from the contributions of the full-fledged band that supports and augments him.  There is an infectious quality to the recordings on this album, and the mixture of this album' best points prove to be quite potent.  With a relaxed vibe and a warm selection of "get down" party tracks, the production values of the album are strong and well-delivered in this release.  The overall concoction proves Lubriphonic's "Soul Solution" to be quite pleasing.
- J Evan Wade