Posted by: leeway | December 6th, 2010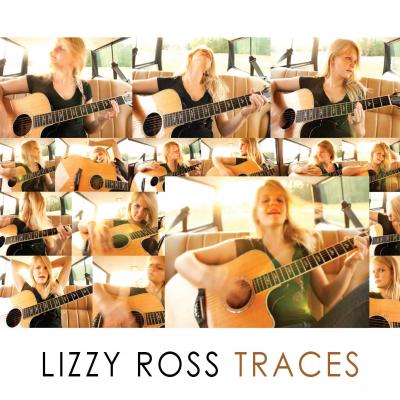 Lizzy Ross and her bandmates in the Lizzy Ross Band currently call Chapel Hill, North Carolina their home.  Lizzy's debut solo album, "Traces," utilizes mature songwriting, lovely voice, and a gritty, earthy sensibility to make interesting, genre-bending folk music.  Comparisons to the two Graces (Slick and Potter) have often been used to describe her voice, and she delivers plaintive, emotionally forthright songs.  As a "solo album," Ross definitely serves as the focus of each track, but her band mates offer instrumentation on certain tracks.  Ross's determined voice and lilting delivery is striking throughout the recording, and her lyrics will resonate with those familiar with joy and regret, even little bits of heartbreak.  There is a pleasant duality at play throughout this album.  Songs of sadness, even despair are juxtaposed with energetic strains that extol the beauty of life.  Such is the stuff of life to Lizzy Ross, it seems, and it makes for excellent songwriting.
Ross sings of love and train rides in "Cross the Cuyahoga," a ballad spotlighting her vocals against playful guitar.  "Maria" features Spanish guitar work from Dylan Shrader, a tale of romantic intrigue and a bluesy swoon in Ross's vocals.  The result is spectacular.  "Everyplace" features lilting vocals and a tale of love that will charm you, while "Needle and Thread" presents a decidedly more stark perspective.  Ross's brooding vocals are wounded as she sings of "trying to fix what don't fit right."  The light airy tone of "Wedding Cake" belies a complicated love story of broken vows and attraction.  Her voice reminds me of Rickie Lee Jones.  That's pretty tall comparison, but pertinent and well-deserved. 
Ross sings "Traces" with urgency and passion.  The chorus feels like a late-night campfire anthem in the making, and Ross belts with determination, despite lyrics of regret.  "Voices of Women" is airy and inspiring, with playful vocals that remind of Edie Brickell in her New Bohemian heyday.  "Nowhere to Fall" exhibits a lonely elegance as it speaks of the tribulations and let downs of love.  Ross recounts a flame's profession of love in "Not Yet;" she disarms the suitor with playful lyrics and guitar.  Ross belts with cold blue intensity in "Slave to the Muse," and this track proves particularly excellent.  The album closes in calmer waters with the stripped-down, acoustic "Nobody's Crying," which was penned by Patty Griffin.
The tracks in "Traces" showcase the considerable talents of Lizzy Ross.  Ross's intelligent, heartfelt lyrics are well highlighted on this album, and she sings with conviction and passion.  The production and arrangement of these songs prove to be warm and intriguing as well, and Ross shows her vast capacity as a singer/songwriter.  The emotionally resonant songs on this album display powerful vocals, elegance of emotion, and well-crafted lyrics.  Such qualities are indicative of great potential, and Ross seems to be poised for great things and greater markets, with the right amount of planning and hard work.  These songs, with themes of regret and rebirth, seem to close an emotional chapter for Ross.  However, the promise of future chapters seems quite positive and alluring for this talented songstress.
- J Evan Wade