Posted by: leeway | May 14th, 2018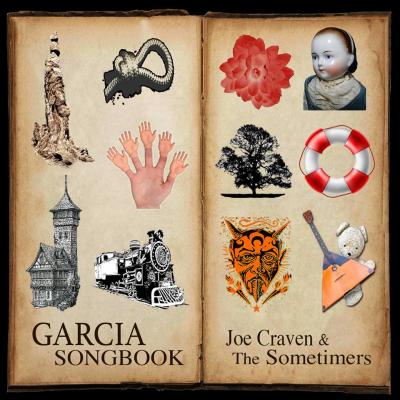 Jerry Garcia's musical inspirations came from around the world - the rainy shores of Ireland, the whiskey-soaked hills of Kentucky, and the psychedelic streets of San Francisco among many others - and he visited many points, both real and imagined, along his remarkable journey. The new album from Joe Craven & the Sometimers is called Garcia Songbook, a creative tour de force of ten songs that Garcia wrote or covered.
Craven first captured the wide-eyed stare of many fans in the '90s as the astonishing percussionist and multi-instrumentalist with the David Grisman Quintet. He approaches this music with an insider's knowledge and adoration - he performed and recorded with Garcia & Grisman for four years, including playing fiddle and percussion on the classic 1991 Garcia/Grisman album and it's 1993 follow-up Not for Kids Only. As an educator, artist and actor, his oeuvre covers a huge range of musical genres and artistic inspirations.
On this jaunty and inventive album, Craven blazes a new path across the well-worn trails of the beloved and revered Garcia songbook. Bursting forth with exciting and unexpected takes on familiar favorites, the music is seasoned with surprising flavors, deviations, re-imaginings and detours. Craven sings and plays mandolin, fiddle and percussion alongside his band The Sometimers, featuring his daughter Hattie Craven on harmony vocals, plus Bruce MacMillan (guitar, dobro & vocals), Jonathan Stoyanoff (bass & vocals) and Barry Eldridge (drums & percussion).
The album opens by diving straight into a redesigned funky rock version of "Franklin's Tower" with new chord changes and melodic twists and turns that tumble headfirst into an unforeseen fiddle hoedown and percussion onslaught. An active "Crazy Fingers" chugs forward with relentless drumming - a danceable version with a bouncy, airy breeze - and suddenly we've stumbled onto a hootenanny on a Caribbean island, the sound of a dark hollow lit by a tropical sun.
A serene and gorgeous take on Irving Berlin's "Russian Lullaby" follows, with lavish mandolin lines painting exquisite images on the musical canvas. Clocking in at almost 10 minutes, the album's longest track is an energetic run through "Help on the Way > Slipknot!" with fiddling flourishes from Arabia to Appalachia. A dreamlike ride through "China Doll" leads into a deliciously funky mandolin-driven take on the traditional Appalachian folk song "Shady Grove." "I Know You Rider" transforms into a rockabilly riot with frenetic fiddle and guitar explosions, and the Jerry Garcia Band song "Gomorrah" is reconstructed as a spirited psychedelic country & western number.
"Scarlet Begonias" is completely overhauled with new changes that maintain the original spirit while metamorphosing into Latin jazz erupting with rhythm and percussion. No longer content with just bells on her shoes, her whole outfit is now covered in bongos, shakers, wood blocks and cymbals. Wrapping up the album is the slow burning swamp groove of "Friend of the Devil" with haunting vocals, wildly colorful bass lines and soulful harmonies. Offbeat and original, Garcia Songbook is an unpredictable and exuberant exploration of one of American music's great artists, with Craven's imagination and lovelight shining brightly across all ten tracks.
- by Paul Kerr