Posted by: leeway | November 9th, 2010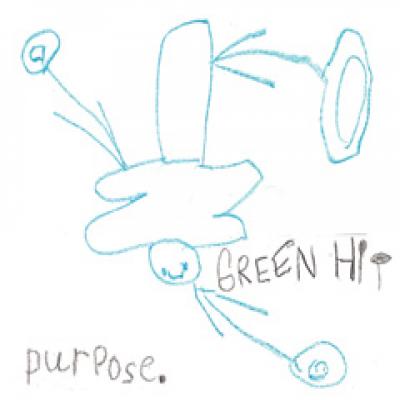 Green Hit formed in Northwest Florida in 2005.  Featuring Trey Hebson (synthesizers / sequencers / glockenspiel), Chase on Hudson (electric piano / synthesizers / loops) and Sean Sullivan (drums / percussion), the trio presents a varied palate of sounds with the tracks of "Purpose."  The album was recorded "live" in a haunted studio, and then "polished" and produced professionally.   This diverse, moody recording suggests lots of different influences.  Complicated, exploratory passages culminate in spirited runs on piano or synthesizer.  Loops and sequencers add to this potent base and make for sonically challenging, full compositions. 
"Purpose" begins with the methodical and inexorable "Red Rocks."  The track is moody and subtle in application, but closes in atmospheric arenas.  "Poppyrock Well" displays light flourishes on the keys, and a nice layered jam of interloping glockenspiel and electric piano.  This track exhibits the sensibilities of jazz, with a decidedly modern, pleasing twist.  "We Are Light" features spirited improvisation; sometimes atonal, always exploratory and shifting.  "Panduck" reminds of early Thievery Corporation, with driving work from Sullivan on the drum kit.  "Ant Hill" pairs light work on synthesizer with drums, mimicking the spirit of an ant's constant march and motion. 
"Magus," with devilish grooves, invokes the spirit of an old wizened magician.  The track, as with all the recordings from this album, ventures across many spectrums.  Driving drums and seething synthesizers make for a truly wicked concoction in many tracks on "Purpose."  "Brass Hippo" is gorgeous and evocative, and the constant shifting and morphing of this track makes for an interesting ride.  "Vondjina" begins in lovely, arresting fashion, and materializes in a polished, layered jam.  One feels called to the cathedral in this track, as synthesizers invoke the spirit of pipe organs and hushed congregations.  There is no bowing down in this church, though, only celebration.
I find the Green Hit album to be one of the more striking albums I have had the chance to review in my year and a half writing for Home Grown.  The tracks are layered, adventurous, moody, and well-executed.  These tracks begin simply, but layers of synthesizers, piano, sequences and effects bring these elements to a boil, resulting in lots of striking improvisation.  The tracks on "Purpose" exhibit lots of different moods, savory twists and a striking "refined sensibility."  One hears tinges of world beat music, jazz, electronic jam, and house in this album, and the brew proves quite potent.
- J Evan Wade