Posted by: leeway | September 9th, 2011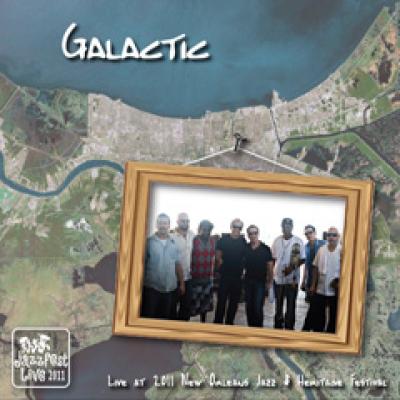 You're not likely to find a band more skilled in its particular instruments, and once you've caught these guys on the live circuit, you just might stop looking; nobody would blame you.
The first track ("Go-Go") rubs a spicy sauce that showcases the band's ability to simply groove, something that always keeps a crowd's collective feet moving. Corey Glover (of Living Color) joins the band for the next track, a song ("I Don't Know What...Funky") that made All Good Music Festival jump when he hit the stage at this year's festivities. Glover can riff (vocally) with the best, and his vocals would give any sax player a run for his money. Galactic has always covered its vocal bases, from the days of the great Theryl "The Houseman" DeClouet until the present, but Glover is an obvious boon to the band's energetic sound.
All bands have their own vibe, and any night with Galactic is sure to be a down home party; this release is no different. I could really just list all of the tracks on the disc and say, "Get this, because you know you want it!" I feel, though, that I have to pull out some heavy hitters. In order, "You Don't Know" brings that southern fire the bayou is known for, "Night People" is sultry and smooth, and "Cineramascope" has a bass line that just walks its way into your head and refuses to let go, allowing the rest of the band to play off of one another. There's truly nothing to complain about here.
Clocking in a 16:07, "Baker's Dozen" is an organ, guitar, percussion, and horn-laden experience; everyone gets a turn or three. I originally fell in love with these guys for their ability and willingness to jam away, and this is a pure example of their ability to lead such a journey. Tangential in nature, "Baker's Dozen" is a natural highlight track.
Galactic is a band that has to be experienced live, in order to be truly appreciated; their infectious aura doesn't fade quickly. That said, this release is about as close as a commercial product can get, in terms of introducing a person to the real thing; unless Galactic just happens to be in town, it's also good enough for an experienced fan's fix.

- Jeremy Sanchez