Posted by: leeway | May 8th, 2012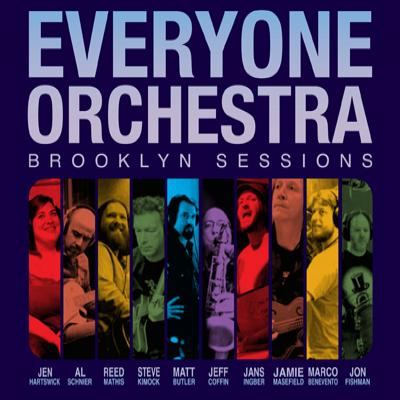 If you've ever caught Everyone Orchestra's creativity live, you know that their willingness to play without boundaries can be a wondrous gift to the audience. Not every band could pull it off, but this team makes spontaneity seem effortless.
Matt Butler's mad-conductor persona, on stage, flings his orchestra (a cast of some of the jam scene's greats) through peaks and valleys of sound that constantly keep the listener guessing. Right when you've settled into a groove, Butler's spontaneous will throws a wrench into the machine and Everyone Orchestra takes off on a new tangent. It's quite a sight/sound to behold in a live setting, but the Brooklyn Sessions recording shows that the Everyone Orchestra's magic need not be confined to the festival season and its various stages throughout the country.
It's easy to figure out why this collective is so great. Matt Butler, accomplished in his own right, has congealed a list of musicians who could easily find their names in the jam band hall of fame, if not the jazz, rock and roll, etc... Bassist Reed Mathis (Tea Leaf Green) and Jon Fishman (Phish) hold down rhythm duties, Steve Kimock's and Al Schnier's (moe.) adept guitar styles are an obvious boon, Jeff Coffin (Dave Matthews Band) adds his colorful sax runs, Marco Benevento's fearless keyboard growl is always a pleasure, and Jamie Masefield's mandolin sound is obvious, especially if you've ever heard Jazz Mandolin Project play. Top that off with the vocals of Jen Hartswick and Jans Ingber, and you have a super group! With that list, is a review even necessary?
This is a recording that is full of magic, from note number one until the last. Put together a bunch of thoughtful and masterful musicians who are already used to jamming with guest musicians, or as guest musicians, and you're going to get a piece of art of this caliber. The album begins with that previously-mentioned mandolin sound that reminded me of Masefield's Jazz Mandolin Project, before I even looked to see who was on mandolin, and then it gets funky! Ingber and Hartswick kick the soul into overdrive, Benevento starts to grind away, Coffin's sax is as brazen as ever, and it's a rush from there on... riff after riff, there's never a moment of disappointment.
Surely, there must have been so much music to choose from during the selection process, since this recording happened over a two-day jam session; oh, to have been there! That said, what we're left with is some bad-ass cream! This is one funky, jazzy, and rocking tub of cream, so jump on in and grab yourself a dollop. Spread it on thick and absorb impulse-driven creativity at its best. You're sure to want another scoop...
- Jeremy Sanchez