Posted by: leeway | May 16th, 2016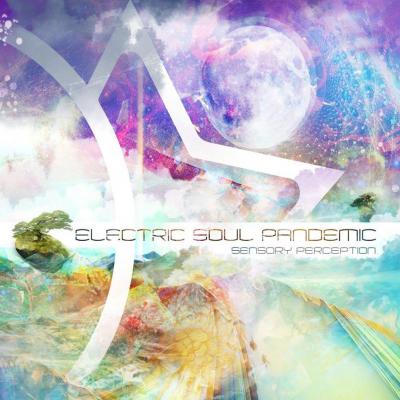 In the years since Electric Soul Pandemic's debut recording ("Communications"), the band has brought a new guitarist into the fold, Jeremy Gamba, and ESP has been hard at work developing and expanding their performance repertoire. With keyboardist Jay Beverly, guitarist Randy Elliott, bassist Scott Nichols, and drums by Justin Heter, the addition of Gamba has definitely added a tonal complexity to the band's sound and the album definitely showcases more "hot" guitar in this current iteration than may have been evident before. As these pieces of the puzzle have fallen into place, the band has proved to be one of the more consistent, determined collections of musicians throughout the North Carolina "jam" scene, and with the release of this album, ESP has shown added layers of sophistication and studio prowess. The tracks on this album reveal a band who is hitting their marks and the energetic collection of tracks on "Sensory Perception" manage to showcase lots of moods and modes of presentation. The album has many virtues; it is sharp and focused throughout. Even in its longer jams, the album's tracks deftly changes hats, with tunes ranging from reggae to jam to soul to funk, and one might even hear hints of hard rock and punk in various moments throughout the album. The collection of tracks is well-produced and sonically pleasing and proves to be an exciting second release.
"Sensory Perception" begins with the charismatic swagger of "Funk Bag," featuring Jeremy Gamba's muscular tone and lilting work on keys from Jay Beverly; this track erupts from the starting gate with an enthusiastic flourish, offering loping, head-bobbing rhythms, and strong guitar. "Arise" is a light-hearted jaunt that features searching, yearning guitar licks and a jam that feels well-structured, but loose and free as well. "All Funked Up" strikes me as a somewhat light-hearted jam, but ramps up in intensity throughout, eventually showcasing blistering guitar; the track swells in intensity, then releases into a methodical, exploratory jam characterized by strong guitar and keyboard effects. "This World" employs varying styles, with a rootsy, reggae-infused jam colliding with a more celestial, spacey groove; this track has legs and takes its time exploring various modes and moods. The track ratchets up in intensity, coalescing around keys and swirling effects, offering lots to chew on as it confidently cranks towards its conclusion. After the lengthy exploration offered by "This World," the following track "Wondering" offers energetic tonic in a shorter package; this live "standard" from the ESP catalogue gets a nice treatment in the studio, featuring engaging lyrics, strong guitar and a sense of playful presentation.
Rollicking, honey-dripped keys signal the intro of "Powdered Toast," establishing a foundation for interplay between Beverly's keys and Gamba's guitar; the track swells and sways in intensity with moments of loose jam peppered with segments of insistent guitar. "The Storm" is another long time ESP "live" standard that benefits from studio treatment; this track has a sense of urgency, a sense of confident bravado; as it swirls and sways into its final measures, scorching guitar dots the periphery as the track rattles to its conclusion. "The Otherside" is energetic and care-free, but the closing measures of the song really shine, featuring an urgent, swelling jam that showcases howling guitar. "No Doorknobs on the Moon" is a deceptive track where layered, loose jams collide with frantic, chaotic measures that feel far more "punk" than "jam." The ensemble plays well together here, with tight arrangements and strong interplay from bass and drums. The album closes with the aptly named "Harmonic Meltdown," a track featuring lots of tonal complexity; at times, the track is measured and calculated; other times, it is loose and exploratory, washing away in a swirl of effects, keys, and guitar.
I was a big fan and ardent supporter of ESP's first release, as I thought that album had a sense of bravado and fun that was fun to listen to, fun to hear on headphones, fun to play at parties with my friends. But, with the release of "Sensory Perception," the resulting concoctions in this album prove even more satisfying. The production qualities are high, the recordings are more nuanced and daring, and the band takes some definite chances on this album, releasing two 10-minute plus jams on the 10 tracks provided. Throughout the recording, the band's focus is clear and the resulting brew proves to be quite tasty and satisfying. There are no "lemons" in this recording. The album comes across as fresh, fun, energetic and well-executed and I look forward to seeing what (and where) Electric Soul Pandemic does next.
- J. Evan Wade