Posted by: leeway | February 19th, 2009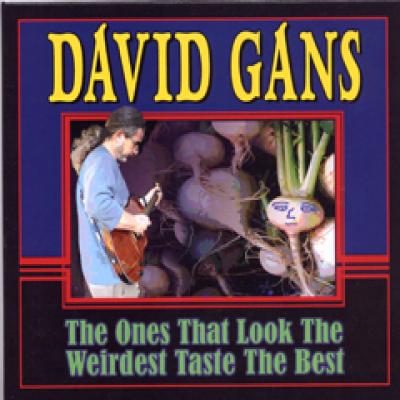 Featuring Tim Carbone (who also produced the album), John Skehan, Andy Goessling, and Johnny Grubb of Railroad Earth, this album has a full, "warm" sound that presents Gans in a different vein than his usual role as a solo singer / songwriter.  The album features a wide variety of styles, as some of the songs are "rockers," others hearken back to folk traditions, while others offer Gans' unique perspective as an intelligent songwriter and longtime Dead Head (he's the host of the long-running, nationally syndicated Grateful Dead Hour).  Such diversity in the tracks inspires different moods, as certain songs present a rather sardonic wit ("Shove In the Right Direction" and "Down to Eugene"), while other songs are more self aware and yearning ("Save Us From the Saved" and "Autumn Day").  The album features Tim Carbone's appealing turns on violin, as well as solid performances from his bandmates in Railroad Earth.  The band establishes a likable, warm foundation for Gans' vocals and lyrics, and the marriage of the two is productive and pleasing.
"A Shove In the Right Direction" kicks the album off in jovial, rollicking fashion, as Gans' ballad about workplace uncertainty is punctuated by flirtatious interplay between violin, mandolin, and banjo.  "Down to Eugene" pays homage to the merits of a Grateful Dead show, indicating such shows to be a cure-all for the blues, featuring wistful harmonica and Gans' playful commentary on the parking lot scene.  "An American Family" offers the story of Ellis and Mary Andrews, a down-on-their-luck couple dealing with the fallout of a sagging economy and persistent unemployment.  Gans warns against zealotry and religious fanaticism in "Save Us From the Saved," a sparse folk number that is punctuated with Carbone's violin.  The exotic, otherworldly "Echolalia" features delicate guitar and serves as an instrumental jewel at the heart of the album.  "Like A Dog" (which was co-penned by Grateful Dead lyricist Robert Hunter) invokes the spirit of Tom Waits and honky-tonk saloons before sailing into the smoother waters of fluid guitar.  The album closes with the charming "It's Gonna Get Better," which declares the need for optimism as things go awry in an increasingly complicated world.
In presenting "The Ones That Look the Weirdest Taste the Best," David Gans has offered a charming collection of songs that catalogue his wry perspectives as a singer, songwriter, and as a prominent figure in the Grateful Dead community.  The album pulls from lots of different traditions in these songs, as the simplicity of bare bones folk is evident in certain tracks, while others feature robust musical interplay and exchanges.  On several tracks, Gans offers a sardonic wit and a story-telling style that reminds me John Hartford at his peak.  On other tracks, where the subject matter takes a serious turn, he sings in a simple, emotive style that is far less humorous, but just as effective.  The inclusion of Tim Carbone and his bandmates from Railroad Earth has infused the album with a full-bodied, robust sound and the talents of these contributors are prominently displayed throughout the album.  In these tracks, Gans indicates a need for patience and fortitude in a difficult, fiscally unsure world, but offers music and fellowship as useful, helpful tools to deal with these problems.  The resulting prescription seems logical, self-fulfilling, and well-delivered in the tracks on this album.
- By J. Evan Wade