Posted by: leeway | March 25th, 2009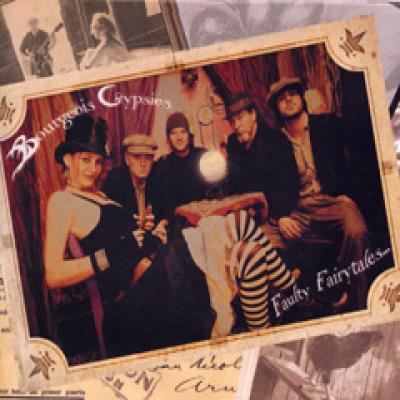 The California-based quintet offers tracks on this album that range from stripped down sing-along tunes, straightforward "rockers," to blues numbers infused with the spirit of old, lonesome ballads.  As a band that features lots of different gears, playing blues, rockers, and ballads with equal facility, the tracks on this album prove the Gypsies to be a varied, eclectic, and talented band.  Kaisa MacDonald plays guitar and sings the lead vocals for the majority of the tracks on the album, while Arnold Mitchem complements her vocals and guitar with his own accomplished work.  The trio of Jonathon Gibson, Peter Miller, and Keith Rutherford provide bass, drums, and guitar respectively in completing the equation.  This album has a real "down-to-earth" quality, as these songs showcase rustic roots, a pioneering spirit, and offer a brew steeped in blues and dripping with poignant observations.  The resulting musical concoction is charming and well-delivered.
"Falling" begins in elusive fashion, featuring matter-of-fact vocals and a hint of bottleneck guitar.  "Unsquare Dance," with its dash of hillbilly hoedown and engaging violin work, is a likable, upbeat song that adds some fun to the mix.  "Bluebirds," a wistful number, features MacDonald's yearning vocals and heartfelt lyrics and explores contradictions in love, noting that her love falls down to her while a bluebird flies overhead.  "Can't Lose You," with traces of Southern twang and West Coast folk, reminds us that good results are hard to come by and can't be taken for granted.  The delightfully sweet and short "Cowgirls" invokes the spirit of saloons, while "Worry" features yearning violin and vocals.  "Train Song" is the most off-beat song on the album, with discordant arrangements and vocals that mimic the sounds of a locomotive.  "Dry Land" changes directions, posing MacDonald's vocals against straightforward, engaging blues and strong guitar work.  "Downieville," chopped from the reeds of the Mississippi Delta, showcases Arnold Mitchem in a likable number.  The urgent strains of "Stayed Out Late" come to light next, featuring strong vocals and intelligent, understated guitar work.  The album closes in strong fashion with "Bright," a blues number built on a strong foundation of drums and bottleneck guitar.
I really enjoy the "gypsy spirit" that pervades this album, as the tracks feature excellent vocals and lyrical work from MacDonald and Mitchem.  Their efforts are complemented nicely by their band mates, who provide a solid rhythmic foundation.  The musical tapestries that these five individuals sew together have a charming quality, as certain tunes are mysterious and aloof, while others seem like honky-tonk sing-along classics.  The album draws from many different styles of music, and offers differing moods and perspectives.  While certain tracks are serious and ambitious, a spirit of playfulness and fun is definitely captured on other tunes on the album.  The album displays a certain complexity in not being purely a "country" album, or a "blues album," but somewhere in between with a smattering of mutual influences.  All of these factors, when coupled with MacDonald's natural charisma (which is even evident in this studio recording), make "Faulty Fairytales" a very interesting release that others would be smart to discover.

- By J. Evan Wade