After years of selling and giving away thousands live recordings, Zach Deputy and his musical partner Paul Kearns are excited to share this studio recording with fans.

     "At times it seemed like it would never come out," said Zach Deputy. "I was touring non-stop and couldn't find more than a day in a row to record in Atlanta." This album represents one of the many musical facets of Zach Deputy. Fans know that Zach and Paul perform as a duo, with Zach creating next generation live looping, accompanied by Kearns on percussion, to create a full band sound. Out Of The Water, on the other hand, features a full compliment of some of the South's top musicians, including Mose Davis on Hammond B-3 organ (The Isley Brothers, Funkedelic, David Ruffin, etc.), bassist Sam Sims (Maxwell, Michael Jackson, kd Lang,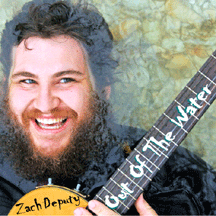 etc.) and drummer Sonny Emory (Earth Wind & Fire, Steely Dan, B-52s, etc.). Despite the accomplished sidemen available to him, Zach Deputy still plays all of the instruments on some tracks, and is credited with vocals, acoustic, electric, slide and treated guitars, bass, keyboards, synths, drums, percussion and marimba on the recording, in addition to writing all of the words and music. He also lent a hand in the production, from engineering to mixing, and is the co-producer of the album.
    Moving seamlessly from sultry R&B to soulful funk to love ballads, Out Of The Water offers 12 tracks that capture Zach Deputy's diverse musical and cultural influences. A South Carolina native, Deputy's family tree has Puerto Rican and Cruzan roots. Thus, the tropical sounds of Calypso and dancehall rhythms coexist happily with hip hop and rock beats, all forming a foundation for the dexterous guitar work and multiple octave vocal stylings of this talented young artist. Often at a loss for describing his own music, Zach Deputy addresses his influences in his comical way: "I was inspired by Bobby McFerrin and James Brown, but blown away by Ray Charles. I like to think of my music as the illegitimate bastard child of these three greats, raised by Michael Jackson in a beachside shack on St. Croix." Unheard in these references is Deputy's love of old school conscious hip hop, but this can be found live and on the record, as Zach can flow with the best of them, improvising smooth lyrical gymnastics as easily as he jams on his instrument.
   Out Of The Water will be available online at iTunes, Rhapsody, eMusic, Napster, GrooveMobile and Groupy Tunes in time for the official release date. Out Of The Water will also be available at select retailers through the Homegrown Music Network's (HGMN) distribution service. Of course, the best place to buy it is at a show. Zach Deputy will be touring non-stop in support of the new release, from the Mississippi to the Atlantic, Miami to Minneapolis to Montreal and all stops in between. Pre-orders are available through zachdeputy.com, cdfreedom.com and homegrownmusic.net. For more info. a complete tour schedule and much more, visit
www.zachdeputy.com
.