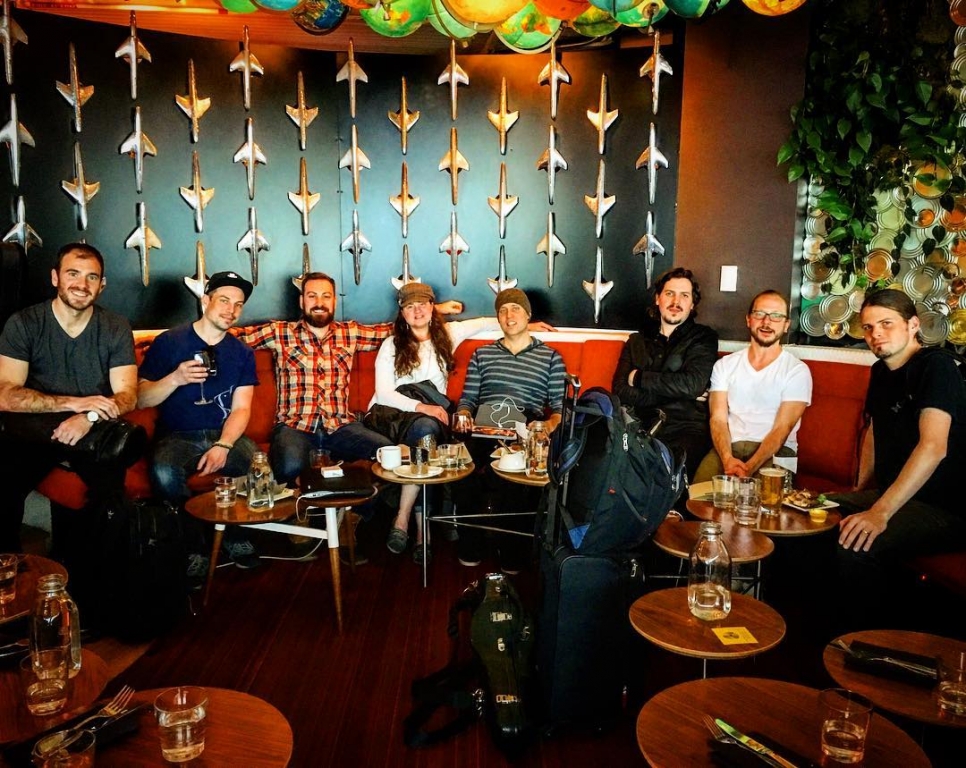 Today, The Motet announced new lead vocalist Lyle Divinsky (Turkuaz) and saxophonist Drew Sayers (Garret's brother) as official members of the band. 
 
"As difficult as change can be, the addition of Lyle and Drew has felt like an incredibly natural progression for the band.  They are already brothers," says Motet keyboardist Joey Porter. "We are all feeling really inspired and are excited about the future."
 
Lyle Divinsky, a native of Portland, Maine, brings his powerful presence and love and light to The Motet. The unsuspecting soul man was awarded the Songwriter's Hall of Fame Abe Olman Scholarship (John Legend was the recipient in 2002), was hailed by Fuse TV's as an "Artist to Watch" and reached #4 on the UK Soul Chart's Top 40 earlier this year.
 
Powerhouse tenor saxophonist Drew Sayers, most recently of John Brown's Body, brings his huge sound and rich tone to The Motet.  Drew, who played and wrote horn arrangements on Beyonce's last two albums, has performed on late night TV, and produced the 2015 John Brown's Body release "Kings and Queens in Dub," also brings his writing and producing skills to the band.
 
The Motet in its new line up hits the road beginning today, February 18 in Greensboro, North Carolina.  Over the coming months, the band has stops throughout the South and the Midwest, ramps up the festival season with plays at Euphoria Music Festival and during New Orleans Jazz Fest (for a Mixtape 1977 set), and much more. The complete list of currently confirmed tour dates is included below. 
 
The Motet are Garrett Sayers (bass), Joey Porter (keyboards), Ryan Jalbert (guitar), Gabriel Mervine (trumpet), Dave Watts (drums), Drew Sayers (saxophone), Garrett Sayers (bass), Lyle Divinsky (vocals).
 
 
The complete list of The Motet's currently confirmed Winter Tour dates is as follows:
2/18
Greensboro, NC
The Blind Tiger
2/19
Asheville, NC
Explore Asheville.com Arena Opening for Umphrey's McGee
2/20
Asheville, NC
Asheville Music Hall Blue Ridge Rockway Afterparty
2/21
Chattanooga, TN
Revelry Room w/ Smooth Dialect
2/23
Huntsville, AL
Lowe Mill w/ Seeds
2/24
Nashville, TN
Basement East w/ The Heard
2/25
St. Louis, MO
Old Rock House w/ Dumpstaphunk
2/26
Lafayette, IN
Lafayette Theater w/ The Heard
2/27
Covington, KY
Madison Theatre w/ The Heard
2/28
Grand Rapids, MI
Founders Brewing Co. w/ The Heard
3/4
New Orleans, LA
NOLA Brewing Anniversary Party
3/17 - 3/18
Durango, CO
Animas City Theatre
3/19
El Prado, NM
Taos Mesa Brewing
4/10
Austin, TX
Euphoria Music Festival
4/14
Charlottesville, VA
The Jefferson Theater
4/15
Washington, DC
The Hamilton w/ The Nth Power
4/16
Philadelphia, PA
Theatre of the Living Arts w/ The Nth Power
4/28
New Orleans, LA
Howlin' Wolf performing Mixtape 1977 w/ Karl Denson's Tiny Universe performing Prince's "Dirty Mind"
4/30
New Orleans, LA
Tipitina's w/ Pimps of Joytime
5/21
Richmond, VA
Virginia Beach Funk Out
5/27
Martinsville, VA
Rooster Walk Festival
5/28
527- 5/29
Clarks Grove, MN
Chillicothe, IL
Revival Fest
Summer Camp Music Festival
7/22
Morrison, CO
Red Rocks Amphitheatre w/ Medeski, Martin & Wood and Vulfpeck
8/6
Thornville, OH
The Werk Out Music Festival
8/13
Scranton, PA
Peach Fest