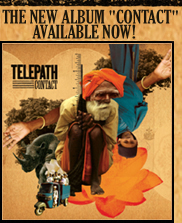 On Tuesday, December 30th, Telepath will take part in a STS9 official after-party at The
Masquerade in Atlanta Ga. On New Year's Eve, the band will bring in 2009 with a return to the World Grotto in Knoxville, TN for a night of celebration with belly dancers, African drumming, a champagne toast at midnight, and an early-morning breakfast.
In late January, Telepath will kick off their first tour of 2009 with a return to the Southeast, Texas and Tennessee.  Riding on the success of their second album "Contact", which was recently released in the US and on Buffalo Records in Japan, Telepath will return to Charlotte, Charleston, Nashville, the House of Blues in Houston and Dallas, and as support to the
Disco Biscuits
in Oxford, MS. Check
www.telepathmusic.com
or
www.myspace.com/telepathmusic
for complete tour dates and info.
Telepath Tour Dates
12.30.08  The Masquerade  Atlanta, GA (Official STS9 Late-Night supporting Bonobo)
12.31.08  The World Grotto  Knoxville, TN (New Year's Eve at the Grotto with
Telepath, belly dancers, African drumming, a champagne toast at midnight,
and early-morning breakfast!)
1.21.09  The Boone Saloon  Boone, NC
1.22.09  The Pour House  Raleigh, NC (Chronicles of the Landsquid supporting)
1.23.09  The Pour House  Charleston, SC (Chronicles of the Landsquid supporting)
1.24.09  The Double Door  Charlotte, NC (Chronicles of the Landsquid supporting)
1.27.09  The Nick  Birmingham, AL (The Great Big No supporting)
1.28.09  The Mushroom  Tuscaloosa, AL
1.29.09  The Blue Nile  New Orleans, LA (w/Gravity A)
1.30.09 The House of Blues Lounge  Houston, TX
1.31.09  The House of Blues Lounge  Dallas, TX
2.1.09  Stubb's  Austin, TX
2.3.09  Newby's  Memphis, TN
2.4.09  The Lyric Theatre  Oxford, MS (Supporting the Disco Biscuits)
2.5.09  Rhythm and Brews  Chattanooga, TN
2.6.09  12th and Porter  Nashville, TN
2.7.09  The World Grotto  Knoxville, TN