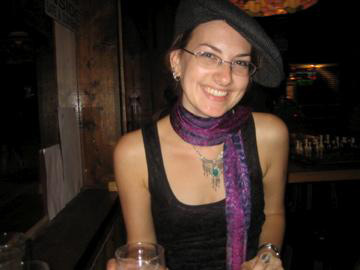 Interview by: Chris Robie

Photos by:John Ewing, Adam McCullough, and Michael Weintrob
HGMN: What is your role with Sullivan Hall?
J:
I wear a lot of hats with Sullivan Hall.  Primarily, I work with the concert promoters, CEG Inc, who exclusively book Sullivan Hall.  My role ranges from being one of three who research, listen and book new local and touring acts with promoting our confirmed shows through print, media, Internet and guerilla marketing.  Basically, it's my goal to book great bands and make sure people know about the shows. On top of the back end work, I also work the door at the club and run the shows.  To work at the venue, you must make sure bands know what it is they need to do and put on a smooth, successful show...while dealing with fans, press and managers there for the bands.  You have to maintain order and keep everyone informed so the show moves on time.  You over see the whole production of the show.
HGMN:
I used to book for a club in Atlanta and I pretty much did the same thing. I think working the door was the most stress for me.  Do you work the club every show or do you alternate with someone else?
J:
I am one of 3 consistent people who work the door.  Each person represents CEG. and on occasion there are 2 of us working the door on larger adv. sale events.  It's not really stressful but you definitely deal with some obnoxious people.  You learn how to handle them and if you can't, security there has their way with them. We have certain rules and standards that are important for us to stick to so that allows less wiggle room and less stress for certain things.
HGMN:
What do you love most about your job and what do you dislike most about your job?
J: I love my job on those nights where the music really works together and all the bands have put in efforts toward promotion, to their fans and most important, their show.  When people come up to me and tell me they love the band or that they had a great night.  I love seeing people interacting and getting really excited about hearing a new band.  I love getting an EPK and really being surprised by how good the music is and feeling like I can offer a band a great opportunity.  I love hearing new bands that play well and have a great vibe. The overall love is of the music and being a person who aids in the efforts of putting together a great show is the main factor in loving the job.

    What I dislike most, is the unprofessionalism many bands do have in their emails and personally at their show.  There is never a reason to feel greater or deserving of a particular show.  How you act directly relates to the overall memory of your band.  One thing that is the golden advice for anyone to know in this business is simply to be kind to anyone you're working with directly.  Many people in this business do wear many hats and you never know when you'll be dealing with them again.  Bad blood in this industry remains.  There are bands that have screwed the club over in the past and on shear principle, have severed their business relationship with us. There isn't too much to hate.  I suppose it can be difficult to be monetarily successful.  Many people work for small commission or payment to do what they love.  Though there are plenty of ways to make a nice living.
HGMN:
I've heard many good things about Sullivan Hall. What's it like?
J:
Sullivan Hall truly has an intimate feel for both the artist and the fan. CEG is a company that has over a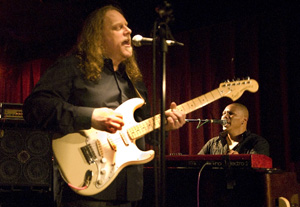 decade of experience in booking and managing bands, promoting shows, working with artists and being live music fans.  We are all friends with lots of bands and managers.  When Lion's Den was set to be redone (Sullivan Hall is in the same space as the former Lion's Den), we really took time in creating the best experience for the artist based on the concerns and needs from bands we know.  The stage is 20'x20', we installed a brand new Meyer PA system and the last addition was the intelligent lighting that REALLY creates the ambiance seen rarely in smaller venues.  So the sound is crisp, the sightlines are great and it's a really positive music experience.
HGMN: What's your typical crowd like?
J:
It really depends on the shows; it ranges from 18-60's.  More music lovers, than hipsters.  We have dancers, hippies, and Wall Street types.  Many mid-20 something.  I find that the majority of people who show up for our headliner acts, really love the smaller music venue vibe and the music.  Plenty of 50+ ladies dance with the employees at the club. We get those people who are those out and about New York City people. (does that make sense?)
HGMN:
I lived in Manhattan for 6 months. I know what you mean. Do your shows compete with any of the other local venues in your area?
J:
In general, we compete with clubs of similar capacity and similar booking choices.  We are 1 block north of Bleecker Street where you know you're guaranteed live music any day you pass by.  We are trying to appeal to the live music fan who will get used to the level of shows Sullivan Hall presents.   There will always be high competition in this city.  But I think that we're already creating our niche fan bases by the music we book.  We do a lot of shows with bands from New Orleans on a constant basis.  Anders Osborne, Trombone Shorty, Bonerama and Big Sam's Funky Nation have all been repeat shows (since Lion's Den) and I always see many familiar faces.  Same goes for our reggae shows with SOJA and Dub is a Weapon.
HGMN:
You had Marco Benevento take up temporary residency there and he brought along a lot of special guests. What was that all about?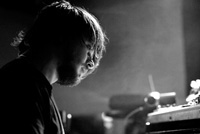 J:
It started with Marco playing the Lion's Den back in Aug. 2007 after the first of the club renovations with Garaj A Benevento (Stanton Moore, Mike Dillon, Skerik and Benevento) and loving the venue.  We proposed a residency that would coincide with the opening of Sullivan Hall.  Many special guests were simply a part of this because Marco had relationships with them.  I think he really wanted an opportunity to bring everyone together.  Now that Tonic closed and with the release of "Invisible Baby", it was a situation that lent itself to both parties.  The residency was killer and each week was something new.  The residency was a great opportunity for musicians to check out the new space and for us to really establish the club to live music fans in the city.  Marco Benevento is coming back April 11th/12th with Eric Kranso, Briggan Krauss and Bobby Previte for a 2 night run.  The key is making the artists feel comfortable and putting on great shows to work with them again.  Marco's a great guy and a sick performer.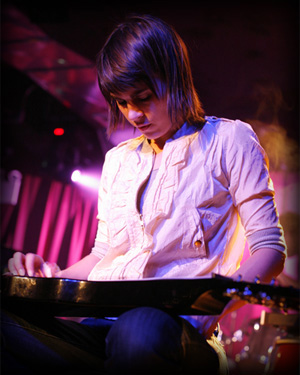 HGMN:
I saw some pic's of Warren Haynes & Kaki King on the venue's website. Were they some of the special guests involved? Did they just come in and play because Marco invited them? How did that work exactly?
J:
Well Kaki King was a confirmed guest the 4 week of the residency.  Ivan Neville sat in with him that same week.  And Warren Haynes came because he shares the same agent as Neville.  So Haynes was a surprise.  We got a call the day before letting us know he was coming down.
HGMN: Tea Leaf Green performed for your grand opening. Was that planned?
J:
It was planned, yes.  CEG has been working with Tea Leaf Green for many years now and developing the band in the NYC market.  From 2 sold out shows at The Knitting Factory to playing at Irving Plaza, the band has an established working relationship with CEG and are friends of ours.  The show was only confirm a few weeks before, but Mike and Howie, the owners and partners, of CEG noticed their tour dates were in New York and free on Jan. 1st. There were advertising restrictions since the band was performing with Gov't Mule at The Beacon that Sat. before, so we had 2 days to get the word out and sell tickets.  Ultimately selling out the night.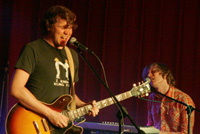 HGMN:
What's the most outrageous band rider you ever received?
J:
Nothing crazy...many of the artists prefer Organic foods...not cold water...or lots of whiskey. 
HGMN:
Do you have anything special planned for the near future?
J:
Oh yes.  I mentioned Marco Benevento's back, but Fri. April 4th, Big Sam's Funky Nation are having their album release party and we finally have wireless at the club so radiojohnson.net is setting up to stream the whole show live!  We're really excited about this new ability.  This will open up a new way for people to learn about the club and offer bands/artists a way to work out live feeds during their shows. Over the next few months, a lot has been confirmed.  During Green Apple Music Festival (4/17-4/20) we have Charlie Hunter Trio, The Heavy Pets, The Frontier Brothers, Anders Osborne and Sullivan Hall is hosting the Official Wrap Party of Green Apple with Surprise Me Mr. Davis featuring The Slip and Nathan Moore with special guest The Low Anthem and Jonah Smith. I think Sullivan Hall's line-up mixed with the vibe of Greenwich Village and the intimacy of the venue size will really offer itself to be one of the leading small music venues in New York.  The club is run and operated by music fans and we have a killer stream team who aid in the success and awareness of the shows.  We're excited for what will come.
Show Listings:
http://www.ticketweb.com/t3/event/EventListings?pl=cegsulliavn&orgId=211...
Official venue web site:
www.sullivanhallnyc.com