AVAILABLE AT MIDNIGHT (Sept. 4)~FREE! on www.seepeoples.com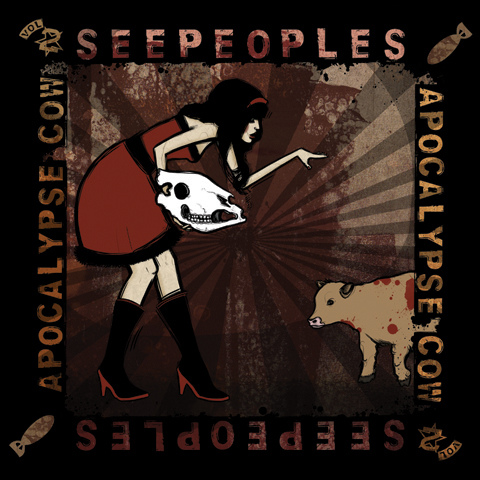 SeepeopleS is proud to announce the release of their long-awaited 4th full length album, Apocalypse Cow Vol.2. Over two and half years in the making, the release is a landmark in the evolution of SeepeopleS' unique sound and a return to the hybrid rock and electronica sound that made their second album, The Corn Syrup Conspiracy, a true underground classic.  The album is being released FOR FREE beginning September 4th at midnight on SeepeopleS' website,
www.seepeoples.com
as a musical financial bailout (you're welcome America). The twelve track version of the album will be available for download for six full months until the hard copy 17 track version is released in early Spring 2010, in time for the band's 10 year anniversary.
SeepeopleS has been a known force in the underground music scene for years.  Formed in Boston in 2000 by visionary songwriter, Will Bradford, the band relocated to North Carolina, which has been home since 2004.  The band has shared the bill with such acts as Death Cab For Cutie, Franz Ferdinand, Ben Harper, Cracker, Blues Traveler, and the Presidents of the United States of America, to name a few, as well as touring with jambands, Perpetual Groove and Lotus. Bradford has also done some extensive touring solo, most notably with Dave Matthews' collaborator Tim Reynolds.  While SeepeopleS has undergone numerous line up changes over the years, the sound has always remained the focused vision of songwriter Will Bradford.  The current members Will Bradford, Matt McDonald (formerly of Perpetual Groove), Ben Wells, and Adam Chase (formerly of the Phish cover band Strange Design and pop act Black Eyed Susan) are a heavy hitting lineup, replacing Peter Pisarcyzk, now in Lynyrd Skynrd, Tim Haney, who is currently touring with Stephanie's Id, and Dan Ingenthron (Inchworm).
Apocalypse Cow Vol. 2 was co-produced by Will Holland at ChillHouse studios in Boston, MA.   Holland is best know for his work with the Pixies, Dead Can Dance and Fall Out Boy, as well as producing Earl "Chinna" Smith and Kiddus-I.  While touring of late has been light to concentrate on the album, the band's legendary performance at All Good Music Festival ensured that music fans are just as hungry as ever for more SeepeopleS.  The band will be announcing their full tour in the coming months, but in the meantime, are playing select CD release dates (Asheville, Athens, Boone, Knoxville), as well as co-headlining the Green Mountain Eco Festival September 25th 26th, in Eldridge, Missouri, alongside the Itals, Particle, DJ Logic and the Ozric Tentacles.  SeepeopleS will be playing 2 sets on Friday and Saturday and will be debuting much of the new material from APC2.  Will Bradford's and SeepeopleS' front of house engineer Brooke Binions' electronic music act, FreepeopleS FrequencY, will also be playing a late night after- hours set on Friday.  For more information on the festival, please visit
www.greenmountainecofest.com
.
For more information on SeepeopleS and to download the new album please visit the band's official website,
www.seepeoples.com.
More tour dates will be announced soon.  The band is also currently in production of the first music video from APC2 for the first single from the album, "Modern Times."  Stay tuned for more information coming soon.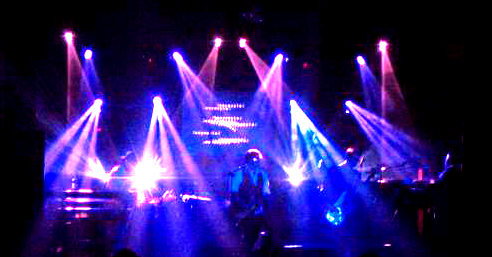 www.seepeoples.com
CD RELEASE DATES
9.16  Caledonia Lounge - Athens, GA w/ CDub
9.17  Club Catalyst - Knoxville, TN  w/ Spoonfed Tribe and Jescoe
9.18  Stella Blue - Asheville, NC   w/ By Morning
9.19  Boone Saloon - Boone, NC
9.25 & 9.26  Green Mountain Eco Fest - Eldridge, MO w/ Ozric Tentacles, Particle
10.22 Old Rock House - St. Louis, MO
10.23 Outland Ballroom - Springfield, MO
10.24 Mojo's -  Columbia, MO
Press Passes are available for ALL SeepeopleS shows

Please correspond if you are interested in setting up an interview w/ SeepeopleS