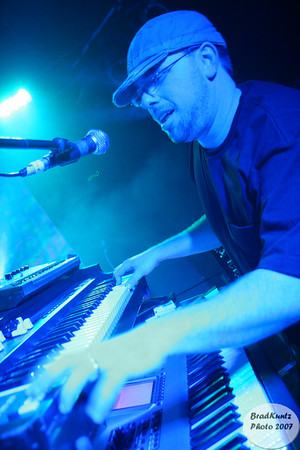 September 1st, SeepeopleS will unveil their 4th studio album, Apocalypse Cow Vol. 2.  In keeping with their philosophy and the times, SeepeopleS is offering their own financial bailout, by giving the entire album away for FREE! The album will be available for download at the band's  site, www.seepeoples.com midnight September 1, 2009.  The band is releasing a 15 track "hard cover" version on January 1st, 2010 in honor of the band's 10 year anniversary. Starting this June and throughout the summer, the new songs will be previewed at myspace.com/seepeoples.  These songs represent a return to the "electronic" roots of SeepeoleS, and a return to the sound that made their second album, The Corn Syrup Conspiracy, an underground classic.
   In other SeepeopleS news, SeepeopleS is happy to announce that Matt McDonald, formerly of Perpetual Groove, is joining the band as the full time keyboard player.  McDonald has played a handful of shows with SeepeopleS as well as playing with Bradford's other band, the electronic big beat act, Freepeoples Frequency.  Matt is joining the band as a permanent part of the renewed sound that made SeepeopleS what it is today.  Former keyboardist, Peter Keys left the band at the beginning of 2009 to begin touring in Lynyrd Skynrd, filling the shoes of the late Billy Powell.   Matt McDonald talks about joining the SeepeopleS on his blog at www.mysubversivemedia.com. The band begins their touring season with a few select appearances, including a headlining slot at Awesometown Music Festival in Morrisville, PA.  The festival takes place May 8-10. For more info, please visit www.awesometownfest.com.
  Other dates include the Comagun Music Summer Soulstice Festival (June 19, 20) in Asheville, NC and the Winston-Salem, NC Downtown After Five on June 25 with the Mantras.  The official Apocalypse Cow Vol. 2 Tour starts September 10 and will include dates throughout the US including the West Coast for fans west of the Mississippi. Visit 
www.seepeoples.com
for the full schedule of dates being secured and announced in the coming months.