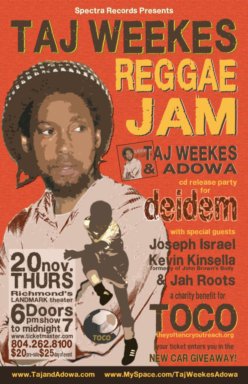 St. Lucian roots reggae artist Taj Weekes and his band Adowa headline a benefit concert for Weekes' children's charity, They Often Cry Outreach (T.O.C.O.), on Thursday, November 20, 2008 at 7pm at Richmond, Virginia's Landmark Theater. Joining them for the "Taj Weekes Reggae Jam" are socially conscious reggae artists Kevin Kinsella of John Brown's Body, Joseph Israel and Jah Roots.
This benefit concert marks the start of Taj Weekes & Adowa's Fall 2008 Tour. The group recently wrapped up their six-week Summer 2008 Tour, which included several prominent world music festivals such as the Sierra Nevada World Music Festival in Califor nia, the Taos Solarfest in New Mexico and the South Bend Reggae/World Music Festival in Indiana, in addition to show dates along the West Coast and across the greater U.S.
"Taj Weekes Reggae Jam" also celebrates the release of Weekes' sophomore album entitled DEIDEM, meaning "All of Us." Proclaimed by Billboard Magazine as one of "six albums that herald the roots reggae resurgence," DEIDEM is described by veteran music journalist and XM Satellite Radio Program Director, Dermot Hussey, as "raising the level of songwriting within the idiom of reggae music."
With potent and penetrating lyrics, DEIDEM delivers a passionate commentary on the relevant issues of our time including global warming, the effects of Hurricane Katrina, the crisis in Darfur and the current war. Though the topics are insightful and serious, the grooves, melodies and rhythms are the familiar backbeats that reggae fans know and love. World Music Central writes, "An impassioned communicator who uses no-nonsense reggae=2 0music as his means, Weekes is precisely what the world needs more of in these troubled times."
Weekes' commitment to humanitarian issues is demonstrated by his work as Goodwill Ambassador to the Caribbean in cooperation with the International Consortium of Caribbean Professionals (ICCP) and as founder of T.O.C.O.  TOCO is dedicated to improving the lives of underprivilege d, at-risk and orphaned children around the world. A portion of the proceeds from the "Taj Weekes Reggae Jam" will be donated to T.O.C.O. to bring awareness to the issues that affect the20Caribbean such as HIV/AIDS, global warming and poverty.
Spectra Records will raffle off a brand new car at the event and each ticket holder will automatically be entered into the drawing. The winner will be announced during the show. Copies of Taj Weekes' album, DEIDEM, will also be given away to a number of lucky concertgoers.
The Virginia Commonwealth University's Common wealth Times and their radio station, WVCW, have signed on as a media sponsor for the benefit concert and the event is expected to sell out based on the combined draw of all four conscious roots reggae acts. Tickets are available through Ticketmaster.com or at 804.262.8100.
Spectra Records, producer of
"Taj Weekes Reggae Jam,"
is a progressive record label at the forefront of today's music industry, representing recording artists across all genres of music. From Grammy nominated and Country Music Hall of Fame artists to world music and classic rock, Spectra stands out as a record company dedicated to providing stellar music products at a fair price to the consumer and fair recording and licensing agreements to the artists.
Taj Weekes & Adowa website:
http://tajandadowa.com
T.O.C.O. website:
http://theyoftencryoutreach.org
Spectra Records website:
http://spectrarecords.com