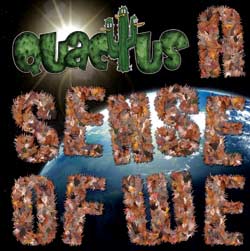 We are very excited to introduce our latest album A Sense of We.  Seamlessly blending several genres into a cohesive interpretation of our interconnected existence. Mixing rock, funk, reggae, metal, dance and psychedelia, "A Sense of We" will transport you to a world where technical virtuosity and danceable grooves collide, proving that once you go quack, you never go back! Features special guests Steve Molitz (Particle; Phil and Friends) and Mike Mangan (Big Organ Trio). 
Relix Magazine
chose the first track "At Ease" as the Editors Pick of the Month in the April-May 2010 Issue.
Musical and cultural experimentation are alive and well.  The band Quactus  makes sure of it.  On September 02 they will celebrate the release of their 2nd album, A Sense of We, the best way they know how.  They will jam on stage at Winston's with VERY SPECIAL GUEST -
STEVE MOLITZ
(Particle; Phil & Friends) for a night of musical and cultural experimentation.   To the band, a sense of 'we' is what we all celebrate when we come together and share in the enjoyment of music, a cultural phenomenon as primitive as it is relevant.   
Quactus and their musical friends will set out to bring the sound and spirit of the album to life for 3 1/2 hours with no set breaks.  The experimentation will also be present beyond the music as performance artists of all kinds inhabit the premises to astound the attendees with visual and visceral mayhem.
This will be a multimedia event featuring extra performances by:
~HoopSoul - Meral Aydin
Have your mind blown with a night of freaks, beats, artists, and dancers!
FREE ADMISSION
Other Upcoming CD Release Shows

9/03/10, Ventura, CA Golden China
9/18/10, Henderson, NV E-String
10/16/10, Phoenix, AZ The Sail Inn