August 28, 29, 30, 2009
The scenic Nelson Ledges Quarry Park presents Summerdance II, an Electro-Instrumental Dance Festival featuring Lotus from Philadelphia, PA, headlining Friday and Saturday nights.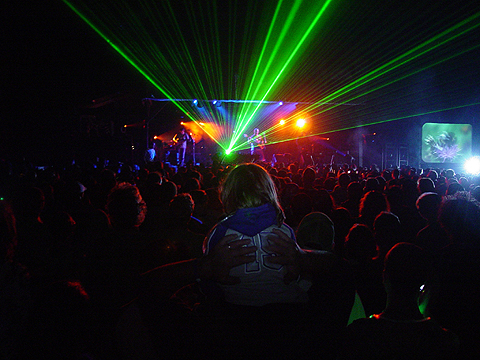 Nelson Ledges Quarry Park is a privately-owned, 250-acre campground and concert facility located about 45 minutes east of Cleveland, Ohio.  Between April and October, the Park hosts very reasonably-priced weekend concert festivals.  Camping, swimming, hiking, basketball, and kids' playgrounds are only some of the enjoyable options available at the family-owned and -operated Nelson Ledges Quarry Park.

 
Proprietor Evan Kelley is proud to present some of the best electro-organic dance acts in the nation for Summerdance II.  From Boulder, Colorado, EOTO and The Motet Trio bring their compelling grooves and otherworldly melodies.  San Francisco's MO2-Mind Orchestra, Philadelphia's Telepath, New York City's Digital Frontier, Boston's Lovewhip, Athens, Ohio's Papadosio, and Pittsburgh's Jazzam round out the stellar lineup.  Underground sensation DJ Rootz (Boulder, CO) will rock electrifying late night sets both Friday and Saturday nights.  Also appearing: The Werks, The Histronic, and Jeff Bujak!

 

Heavy-duty production values for Summerdance include super-beefy lights and sound guaranteed to fry your noodles!

 

Admission is $45 for Friday through Sunday, or $35 for Saturday through Sunday.  No dogs or glass bottles.  There is no extra charge for camping.

 


For more information, contact Evan Kelley at Nelson Ledges Quarry Park

Phone: (440) 548-2716
Email:
nlqp@modex.com
NELSON LEDGES QUARRY PARK
12001 Nelson Ledge Road
Nelson, OH  44231 
Website:
http://www.nlqp.com