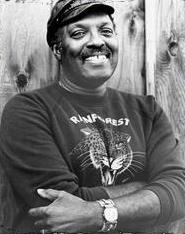 In the 1970s, Saunders began collaborating with Jerry Garcia, with the Grateful Dead and with Garcia's bands The Legion of Mary and Reconstruction.
He's led his own bands, as Merl Saunders and Friends, playing live dates with Garcia, as well as Mike Bloomfield, David Grisman, Tom Fogerty, Vassar Clements, Kenneth Nash, John Kahn and Sheila E.
In 1990 he released the world music and New Age classic album Blues From the Rainforest, a collaboration with Jerry Garcia and Muruga Booker. This led to the release of a video which chronicled Saunders' journey to the Amazon, and the subsequent album Fiesta Amazonica.
He has worked with musicians Paul Pena, Bonnie Raitt, Phish, Miles Davis, and B.B. King. Merl also recorded with The Dinosaurs, a "supergroup" of first-generation Bay Area rock musicians.
He has his own record label, Sumertone and has also recorded on Fantasy Records, Galaxy Records and Relix Records as well as the Grateful Dead and Jerry Garcia labels. He worked with the Grateful Dead on the theme music for the 1985 TV show The New Twilight Zone, and with Mickey Hart on the score for the show. His son Merl Saunders Jr. is a senior executive director of The Recording Academy.
Unfortunately, Merl suffered from a stroke that has paralyzed one side of his body and curtailed his musical career.
His projects have withstood the tests of time and are still worth looking for.
---

To encourage you to explore more of Merl's great recordings, Home Grown Music is offering a 10% discount on any CD that he performed on through October 31st.  Offer available for phone in orders only - call 800 653 3929.
"Save The Planet So We Have Some Place to Boogie!" - Merl Saunders