Seasoned veterans of Chicago's blues scene Lubriphonic is a horn-infused, funk and soul stew.  The Gig Is On is their new CD which is due out later this fall and features a vintage sound steeped in soulful horn melodies that balance the searing guitar and pulsing rhythm section. To give the music community a 'taster spoon' of what Lubriphonic is all about, the band is offering the CD for free download via their website.  Lubriphonic's funkier side shows up large with guest keyboardist Ivan Neville and his New Orleans treatment on four CD tracks. The CD Release Party for The Gig Is On is being held Saturday, September 25 at the Double Door in Chicago. Additionally, Lubriphonic is confirmed as the opening act at the October 8 Widespread Panic show at the Midland Theater in Kansas City, MO, a rare opening slot indeed for Widespread Panic, Confirms Hometown CD Release Party & Offers Free Download of New CD During September.
Lubriphonic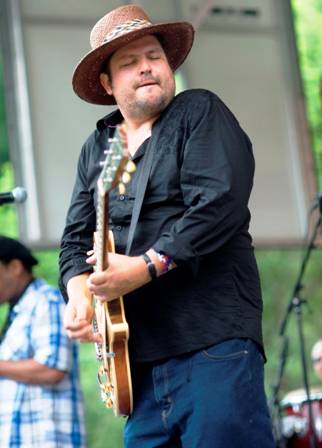 Lubriphonic is the brainchild of guitarist Giles Corey and drummer Rick King which began as a residency at Chicago's legendary Checkerboard Lounge, where they recruited some of the best blues, funk, and rock musicians in the city for improvisational live sessions in which the kinetic energy that make a band were initiated.  The evolution from performing as sidemen for the city's most legendary blues stars such as Buddy Guy, Otis Rush and Koko Taylor into an original group came from the hunger of each musician to develop an intense and simmering sound.
That sound continues as Lubriphonic's nationwide tour threads down the West Coast this week with their CD Release Party coming up in Chicago next week. Music fans of all ages and backgrounds will find something familiar and enjoyable about Lubriphonic and with no strings attached, everyone can download a full copy of their new studio CD, The Gig Is On, here.
Lubriphonic Tour Dates

Sep 16 - Santa Cruz, CA - Moe's Alley w/ Big Organ Trio

Sep 17 - Crystal Bay, NV - Crystal Bay Casino w/ Big Organ Trio

Sep 18 - San Francisco, CA - Red Devil Lounge w/ Bonerama

Sep 25 - Chicago, IL - Double Door

Sep 29 - Madison, WI - Majestic Theatre w/ Ivan Neville's Dumpstaphunk

Sep 30 - Davenport, IA - Redstone Room w/ Ivan Neville's Dumpstaphunk

Oct 1 - Urbana, IL - 88 Broadway

Oct 2 - Iowa City, IA - The Mill 

Oct 8 - Kansas City, MO - Midland Theater w/Widespread Panic

Oct 9 - Milwaukee, WI - Mo's Pub

Oct 10 - Milwaukee, WI- Mo's Pub

Oct 14 - Grand Rapids, MI- Billy's Lounge

Oct 19 - Pittsburgh, PA - Thunderbird Cafe

Oct 20 - Philadelphia, PA - World Cafe Live

Oct 21 - New York, NY - BB King's w/Incognito

Oct 22 - Roanoke, VA - Martin's

Oct 23 - Atlanta, GA  - Variety Playhouse w/Incognito

Nov 5 - Charleston, SC - Pour House w/ Ivan Neville's Dumpstaphunk

Nov 6 - Charleston, SC - Pour House w/ Ivan Neville's Dumpstaphunk

Nov 11 - Live Oak, FL - Bear Creek Music Festival

Nov 12 - Live Oak, FL - Bear Creek Music Festival

Nov 19 - Indianapolis, IN - Birdy's

Nov 20 - Carbondale, IL - Tres Hombres