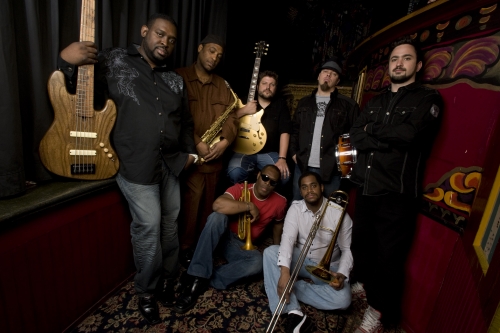 With the help of New Orleans Ivan Neville on keys, The Gig is On perfectly showcases the broad range of sounds incorporated in the band's unique fusion of roots music with explosive rock n' roll and sensuous old-school dance music - part Rolling Stones, part Funkadelic and part Otis Redding.

Starting as the brainchild of guitarist Giles Corey and drummer Rick King, Lubriphonic is rounded out by five more of the finest funk, blues & rock musicians in Chicago (including a full horn section). On their own, the members of the band have either recorded or performed with such legendary artists Otis Rush, Buddy Guy, Koko Taylor and many more. They have fused their talents and experience as side-men in order to create an original project that is soulful, unique, and exciting.

Winning over crowds with their high energy performances, Lubriphonic has toured across the country, including two slots at The High Sierra Music Festival & two shows at The Telluride Blues & Brews Festival. The group has opened for acts as diverse as George Clinton, Maceo Parker, Derek Trucks, Karl Denson, Jon Popper Project, The New Mastersounds, The Greyboy Allstars, Buckwheat Zydeco and more.

Lubriphonic's prior two releases, Soul Solution and Lubriphonic Live, have been featured in Jambase, Hittin' The Note, and Relix Magazine, where the band was picked as an "On The Verge" artist.


Lubriphonic is:

Giles Corey - vocals & guitar | Richard King - drums | Pennal Johnson - bass |
Garrick Patten - sax | Norman Palm - trombone | Andrew Toombs - keyboards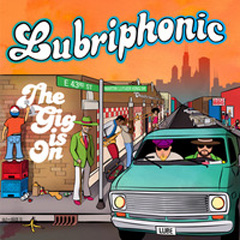 Tour Dates

SEP 29 - MADISON, WI - w/ Dumpstaphunk
SEP 30 - DAVENPORT, IA - w/ Dumpstaphunk

OCT 1 - URBANA, IL
OCT 2 - IOWA CITY, IA - The Magic Bus
OCT 2 - IOWA CITY, IA - w/ Uniphonics
OCT 8 - KANSAS CITY, MO w/ Widespread Panic
OCT 9 - MILWAUKEE, WI - Widespread Panic Aftershow
OCT 10 - MILWAUKEE, WI - Widespread Panic Aftershow
OCT 14 - GRAND RAPIDS, MI
OCT 17 - CLEVELAND, OH
OCT 19 - PITTSBURGH, PA
OCT 20 - NEW YORK, NY - w/ Incognito
OCT 21 - PHILADELPHIA, PA
OCT 22 - ROANOKE, VA
OCT 23 - ATLANTA, GA - w/ Incognito
OCT 31 - Kill Devil Hills, NC

NOVEMBER
NOV 5 Pour House - CHARLESTON, SC - w/ Dumpstaphunk
NOV 6 Pour House - CHARLESTON, SC - w/ Dumpstaphunk
Nov 10 - Cox Capital Theatre - Macon, GA
NOV 11-12 - LIVE OAK, FL - Bear Creek Music Festival>
NOV 19 - Birdy's - Indianapolis, IN>
NOV 20 - Tres Hombres - Carbondale, IL

http://www.lubriphonic.com