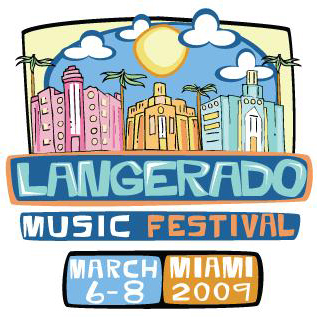 Death Cab For Cutie, Snoop Dogg, Ryan Adams and the Cardinals,Thievery Corporation, Slightly Stoopid, Flogging Molly, Dashboard Confessional, Broken Social Scene, Cold War Kids, Girl Talk, Chromeo, Mute Math, and Black Kids
Are joined by Gym Class Heroes, The Faint, The Pogues, Zac Brown Band, Matisyahu, The Disco Biscuits, Umphrey's Mcgee, Robert Randolph and The Family Band, Michael Franti and Spearhead, The Virgins, and many more
Tickets on sale Friday December 12th noon est at www.langerado.com
March 6-7-8, 2009 at Bicentennial Park in Miami, FL.

 Today, festival organizers make an initial artist announcement to make the Magic City proud.  Death Cab For Cutie, Snoop Dogg, Ryan Adams and the Cardinals, Thievery Corporation (Live), Slightly Stoopid and Dashboard Confessional join Flogging Molly, Broken Social Scene, Girl Talk, Cold War Kids, The Faint, Gym Class Heroes, Tricky, Chromeo, Mute Math, Black Kids, Cafe Tacuba, The Pogues, The Virgins, Zac Brown Band and more.  Langerado is also proud to welcome back veterans from Langerado's past including Matisyahu, The Disco Biscuits, Umphrey's McGee, Robert Randolph and The Family Band and Michael Franti and Spearhead and extend a warm welcome to the many artists performing at the festival for the first time.  Artists will perform on multiple stages throughout the three day event and more artists are still to be announced!

Tickets to the 7th Annual Langerado Music Festival go on sale Friday December 12th at 12pm EST.  Purchase tickets with no additional service charges through http://langerado.musictoday.com and at www.langerado.com.  

In addition to world class music, Langerado will offer local arts and crafts, delicious food vendors, and a variety of festival activities for the whole family - all on-site at Bicentennial Park's 30 acres of waterfront.  With Bicentennial Park located just minutes from Downtown Miami and Miami's South Beach, visitors and locals can enjoy easy access to Miami's many hotels, international restaurants and sizzling nightlife. Taking advantage of Miami's after-hours scene, Langerado will host official late night shows and parties at various local venues throughout Miami including world-famous South Beach, the Design District, Coconut Grove and beyond.  Stay tuned to www.langerado.com for the most up to date information on artists and late night show announcements.