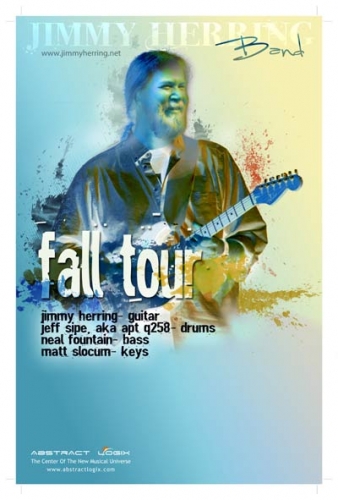 Pioneering a daring hybrid which crosses rock energy with the sophistication and improvisational fire of jazz, Herring's dynamic, exploratory guitar playing has been a key component of such renowned groups as the Aquarium Rescue Unit, Jazz is Dead, Project Z, and, most recently, Widespread Panic - with whom Herring plays lead guitar to this day. Much esteemed by his fellow musicians, Herring has also been called upon for stints with Phil Lesh and Friends, the Allman Brothers, and the Dead.
2010 marks the formation of the current rendition of The Jimmy Herring Band, featuring Herring on guitar, drummer extraordinaire Jeff Sipe (Aquarium Rescue Unit, Jazz is Dead, Shawn Lane), prolific keyboardist Matt Slocum (Susan Tedeschi, Derek Trucks), and the phenomenal Neal Fountain on bass (Col Bruce Hampton, Alex Machacek).
"I love all these guys and feel very comfortable playing with them.  They're all members of an extended family of musicians that stem from the world of Colonel Bruce Hampton. We joke all the time about how there are two kinds of musicians, those who have played with Bruce Hampton, and those who have not!  These three guys really have no musical boundaries.  As different as we all are, what we have in common is that we don't make any distinction between genres of music.  To us music is music and that philosophy is one of the things we learned from Bruce.  
The Jimmy Herring Band will be performing a wide range of material, including compositions from Herring's long-awaited and much-acclaimed 2008 solo debut "Lifeboat." 
 "The music for the upcoming tour will be a mixed bag.  Some stuff from the album and some covers I have always wanted to play.  Hopefully there will be enough freedom for everyone to relax and have equal creative input.  It's important to me to have fairly simple music that will allow for us to reinterpret it on a nightly basis.  Another thing I learned from Bruce Hampton is, the simpler the music, the easier it is to reinterpret it each time you play it."
Herring who just toured with Drummer Lenny White (Miles Davis, Return To Forever) will be one of the headliners at the New Universe Music Festival in Raleigh, North Carolina on November 20-21 as well as performing there with The Lenny White Group and  paying a tribute to guitar icon John McLaughlin with whom he co bills the House of Blues concert in Boston on November 16th.
Tour Dates
10-Nov Infinity Hall, Norfolk, CT
11-Nov Chameleon Club, Lancaster PA
12-Nov Toads New Haven, CT
13-Nov The Met-Pawtucket , RI
14-Nov Port City Music Hall,Portland, ME
15-Nov Highline Ballroom, NYC
16-Nov House of Blues,Boston (with John McLaughlin)
18-Nov Visulite Theater Charlotte, NC
19-Nov The Handlebar Greenville, SC
20-Nov Lincoln Theater, Raleigh, NC
21-Nov Lincoln Theater, Raleigh, NC
22-Nov Hat Factory,Richmond, VA
1-Dec  Cox Capitol  Macon
2-Dec 40Watt Athens
3-Dec Pourhouse-Charleston
4-Dec Live Wire Music Hall-Savannah
5-Dec Pisgah Brewing, Black Mountain
6-Dec  Rhythm and Brews, Chattanooga, TN
7-Dec Minglewood Hall Memphis
8-Dec Mercy Lounge, Nashville
9-Dec Bijou Theatre, Knoxville
10-Dec Variety Playhouse, Atlanta
11-Dec Workplay, Birmingham