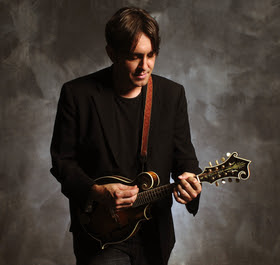 ASHEVILLE, NC -- Mandolinist, vocalist and songwriter Jeff Austin is unstoppable. He is celebrated for his fleet fingers and penchant for improvisation on stage, but those qualities also speak volumes about how he chooses to live. Austin has cultivated his natural musical abilities and allowed himself to be driven by his boldest instincts. In this way, he has been able to build positive, exciting momentum around his life's greatest passion. While not on the road with Yonder Mountain String Band, Austin is joining forces with various friends for other special projects.
Jeff's enthusiasm for the vast, vibrant world of music was rooted in him as early as he can remember: "I was always raised very musically. My mom always had music playing; she always sang." It's no surprise then that Austin himself grew up singing too. From beginning to end of his years in grade school just outside of Chicago, he sang in classes, choirs, and musicals, allowing his musical influences to lead him where they may. "I started listening to Willie Nelson and Waylon Jennings," Austin says. "And then the Beatles, that turned into Bob Dylan, and then the Grateful Dead and Phish."
Serendipitously, Austin met banjoist Dave Johnston while attending the University of Cincinnati with a major in Musical Theatre, around when Jeff was starting to envision a different path. Austin states, "At the time, I was auditioning for Broadway and off-Broadway shows. I walked away from everything I was set up to do because I realized that I just wanted to be in a band."
Johnston encouraged Austin to try the mandolin so as to join his band The Bluegrassholes, so Jeff learned how to play the only way he knew how – with music: Picking up an instrument for the first time was exhilarating for Austin. "I never took lessons," he admits. "I just threw myself in that world. I've always kind of learned in the line of fire.
In 1998, Austin and Johnston relocated to Nederland, Colorado. While working at a bar called the Verve, Austin met Adam Aijala and Ben Kaufmann, with whom he and Johnston would form the Yonder Mountain String Band. Together, the four musicians have created a wild, high-energy niche among the bluegrass legends of old and the up and coming jam band scene. Over fifteen years, Yonder Mountain String Band have built an intensely loyal fan base by playing festivals and venues across the nation, sharing the stage with legends like Jon Fishman, Phil Lesh, Mickey Hart, Bill Kreutzman, Earl Scruggs, Pete Thomas, and Jimmy Herring, and releasing five studio albums and five live recordings.
"My time with Yonder has taught me what is possible," Austin says. "It has shown me that if you work hard at it and you believe in it and there's a part of you that's meant to do it, it will happen. It's cliched, but it's true."
It is with this rich personal history at his back that propels Austin into a new creative direction as he prepares to step into the spotlight as a solo artist. On his forthcoming debut project, Austin's songwriting remains rooted in Americana inspiration and the frantic energy of the jam genre but also, reaches even further weaving in more mainstream themes, reminiscent of his co-write contribution "Fiddlin' Around," that was featured on the 2010 Grammy nominated Dierks Bentley album, Up on the Ridge. While the upcoming, untitled solo effort is still a work in progress, it can already be summed up succinctly as Austin's love letter to storytelling. "I love writing a three-minute song with a hook that would grab a five-hundred-pound marlin as much as I like writing something that goes, 'okay, after the bridge, it's going to open up and just go wide.'"
Indeed, "wide" is what Jeff Austin is all about. He wants new and different, complex and interesting. He wants everything the music world has to offer, and he's willing to work hard to get it.
Please visit JeffAustin.com for more information and further tour dates. Keep up to date with Jeff on facebook.com/JeffAustinOfficial and twitter.com/Jeffreyaustin10.
Jeff Austin on Tour w. Danny Barnes, Eric Thorin and Ross Martin
5/07 Wed - NV Nightclub - Knoxville, TN
5/08 Thu - Terminal West - Atlanta, GA *
5/09 Fri - The Blind Tiger - Greensboro, NC
5/10 Sat - Aiken Bluegrass Festival - Aiken , SC
5/30 Fri - Pour House - Charleston, SC
5/31 Sat - Penguin Fest @ Greenfield Lake Amphitheatre - Wilmington, NC +=
6/01 Sun - Pisgah Brewing Company - Black Mountain, NC +
6/03 Tue - Lincoln Theater - Raleigh, NC
6/04 Wed - The Hamilton - Washington, DC +
6/05 Thu - The Lyric Theatre - Blacksburg, VA
6/06 Fri - Riverbend Festival - Chattanooga, TN
6/07 Sat - Blue Plum Festival - Johnson City, TN
8/01 Fri - Gathering Of The Vibes - Bridgeport, CT %     
8/09 Sat - Grand Targhee Bluegrass Festival - Alta, WY
8/22 Fri - Nedfest - Nederland, CO
9/5-6 Fri- Sat - Lockn' Festival - Arrington, VA%
* w/ New Master Sounds
+ Leftover Salmon
= w/ Keller Williams        
% Grateful Grass ft. Keller Williams, Jeff Austin and Reed Mathis