The Howlin Wolf - Friday April 22
New Orleans Jazz & Heritage Festival - Sunday May 1  
Tipitina's - Sunday May 1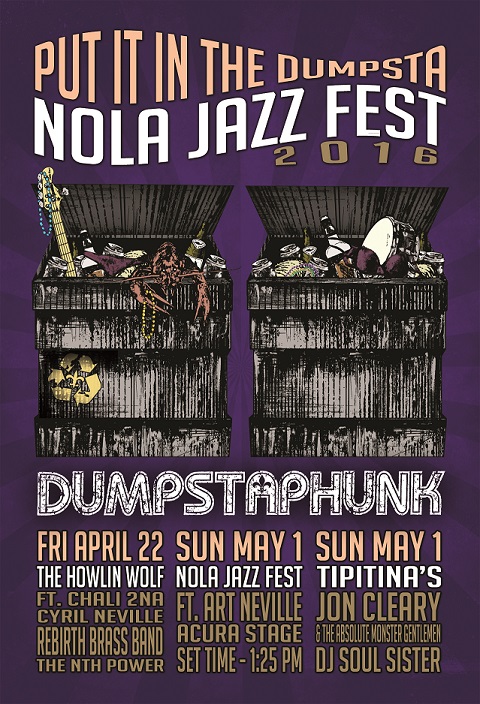 New Orleans natives Dumpstaphunk return to 2016's New Orleans Jazz Festival for their 12th consecutive year. Starting it off at The Howlin Wolf New Orleans on Friday, April 22, the band will feature special guests on their set with Chali 2na, Cyril Neville,  Naughty Professor Horns, as special guests Rebirth Brass Band and The Nth Power. On Sunday 5/1, they will perform at the Fairgrounds with Art "Poppa Funk" Neville and Steeltown Horns at 1:25pm on the Acura stage.  After their set, they will close out Jazz Fest at Tipitina's featuring Steeltown Horns and special guests Jon Cleary & The Absolute Monster Gentleman  and DJ Soul Sister. In addition, each band member can be found playing nightly with different musicians around town during JazzFest. 

CALENDAR LISTINGS: 

THE HOWLIN WOLF FT. CHALI 2NA, CRYIL NEVILLE, NAUGHTY PROFESSOR HORNS AND SPECIAL GUESTS REBIRTH BRASS BAND AND THE NTH POWER 
Friday, April 22, 2016
Address: 907 S Peters St, New Orleans, LA 70130
Tickets: $30.00
Ticket Link: http://smarturl.it/Dumpsta_April22
Doors open at 9:00pm | Show at 10:00pm
NEW ORLEANS JAZZ & HERITAGE FESTIVAL FT STEELTOWN HORNS AND ART NEVILLE 
Sunday, May 1, 2016
Stage: Acura Stage
Set Time: 1:25pm
TIPITINA'S FT STEELTOWN HORNS AND SPECIAL GUESTS JON CLEARY & THE ABSOLUTE MONSTER GENTLEMEN AND DJ SOUL SISTER
Sunday, May 1, 2016
Address: 501 Napoleon Ave, New Orleans, LA 70115
Tickets: $25.00
Ticket Link: http://smarturl.it/Dumpsta_0501
Doors: 8:00pm | Show at 9:00pm | 18+
ABOUT: 
Dumpstaphunk stands out among New Orleans' best as one of the funkiest bands to ever arise from the Crescent City. Born on the Jazz & Heritage Festival stage, and descended from Neville family bloodlines, these soldiers of funk ignite a deep, gritty groove that dares listeners not to move. Their performances combine ingenious musicianship and complex funk and jazz arrangements with soulful melodies that are simple enough for anyone to enjoy. In Big Easy tradition, dueling baselines from Tony Hall and Nick Daniels III set off one of the dirtiest rhythm sections on the planet, while Ivan Neville lights up the Hammond B3 keys and cousin Ian Neville's funky guitar riffs send the groove into overdrive. The band recently welcomed their newest member, Alvin Ford Jr. to the quintet, a New Orleans born and raised powerhouse drummer. Dumpstaphunk tosses around lead vocals and four-part harmonies the way Sly & the Family Stone did, but with three studio albums under their belt, Dumpstaphunk stands on the merit of their own material. Songs like "Dancin' To The Truth" off their latest record, Dirty Word (Red Hot Records), offer an escape into the funky sublime, sharing the true spirit of New Orleans with every note.
OFFICIAL WEBSITES:
Website - http://www.dumpstaphunk.com
SoundCloud -  http://soundcloud.com/dumpstaphunk
YouTube - http://www.youtube.com/DumpstaphunkNOLA
Facebook - http://www.facebook.com/DumpstaphunkNOLA
Twitter - http://www.twitter.com/Dumpstaphunk
Instagram - http://instagram.com/dumpstaphunk
RSVP TO DUMPSTAPHUNK'S NOLA JAZZFEST FACEBOOK EVENT
IVAN NEVILLE, TONY HALL, IAN NEVILLE, NICK DANIELS II and ALVIN FORD JR JAZZ FEST SCHEDULE - INDIVIDUAL SHOWS